The UK has a referendum on Thursday to determine whether the country should leave or remain in the EU. So what would "Brexit" do to Liverpool FC and the city?
The biggest problem in answering any "What would happen after Brexit?" question is that nobody – if they are being totally honest, which they rarely are in all of this – really knows, so it all gets a little bit theoretical. The two campaigns are not political parties trying to win an election. It won't be their decision that happens after the referendum.
How Brexit would affect Liverpool itself, the city the club gets its name from, plays a huge part in what it could do to Liverpool FC.
The Irish Ambassador, speaking at a recent business breakfast in Liverpool, said "Trade between Ireland and the UK supports 5,000 jobs and £65bn of trade." Liverpool benefits from a large part of that trade, given its proximity to Ireland, and this – as well as trade with other EU nations – would be at risk. The ambassador says the UK couldn't pull out, stop paying and still get "the same deal".
He also disagreed with the idea of Britain losing the independence it already has should it leave Europe: "I see no prospect of a super state that eats up sovereignty," he said. "Contrary to opinion [the EU] is not big on regulation, it is not costly and it is not a threat to sovereignty." Would the Irish give up their sovereignty lightly? Would Spain, France, Italy? Would Britain?
For that matter would Liverpool? The mistreatment and neglect the city and its people were shown in the eighties by the English government of the time helped strengthen the "Scouse not English" resolve.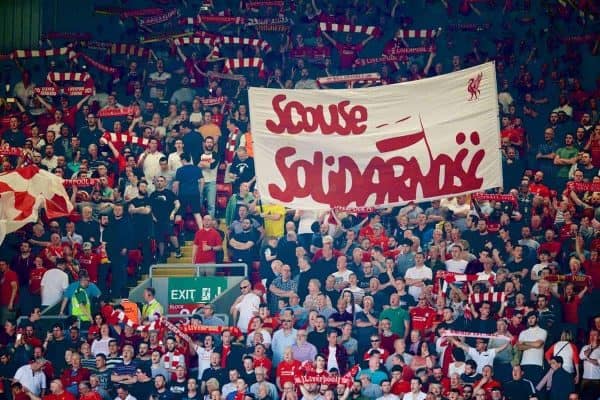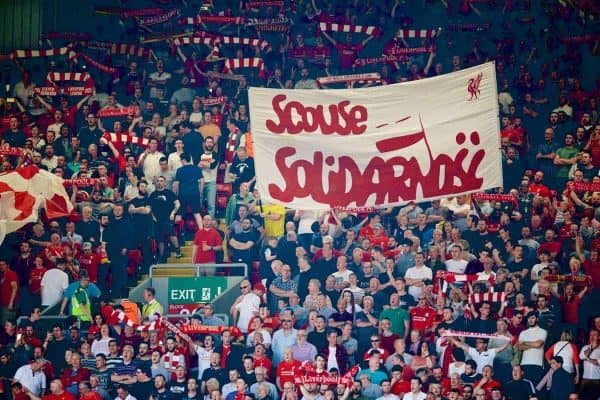 British history is littered with it mistreating its subjects, Ireland being just one example, yet to a lesser but still despicable extent it treated some of those on its own shores with similar disdain, even as recently as 1981 when members of Margaret Thatcher's government were calling for Liverpool to be left to rot as part of a "managed decline".
Liverpool, of course, recovered, thanks in no small part to EU funding. Would Whitehall have authorised that level of spending (around £2.3bn since 1994)?
Perhaps the answer can be found in the UK government's recent decision to divert €100m of EU funding away from Liverpool in a manner one Supreme Court judge described as "unimpressive".
The Liverpool Echo is one of a number of major regional titles in the north of England to urge its readers to vote "Remain", including papers in Newcastle and Manchester, and as part of that it gave its opinion on what the immigration argument means for cities like Liverpool, where the word 'Scouse' is itself of Scandinavian origin in a city that has long been a "cultural melting pot".
So what about Liverpool FC?
What most people seem to now be agreed on is that Brexit means a great deal of uncertainty and fears it will happen are already having an impact.
Uncertainty is being blamed for a long term fall in the value of the pound. Exchange rates now also seem to be fluctuating based on the opinion polls, according to the Wall Street Journal, who on Monday said Sterling (not the player) "Soars After 'Brexit' Poll Shows Preference to Stay in EU."
The markets seem to prefer a Remain vote, rallying when they see signs it might happen, suggesting an improvement should the nation vote to stay. The pound is still weak overall, trading at €1.39 a year ago, at the moment it is €1.30 and could plummet to €1.05 if Britain votes to leave. That's according to a report in the pro-Brexit Telegraph, which says currency traders are predicting scenarios similar to if not worse than the 2008 crash and Black Wednesday.
You know that list of ideal Liverpool transfer targets you've got, all those people you'd like Ian Ayre to stop monitoring and just get out and buy? How many are from outside the UK? The last thing Liverpool need right now, as we look to rebuild our squad, is a weak pound.
Liverpool paid, for the sake of argument, €40m for Roberto Firmino last summer. At the time that works out £28.8m in English money so, in this very simplified example, Ayre had to go down to Thomas Cook in his lunch hour and get £28.8m changed into Euros before jumping on his Harley and getting the next ferry to the mainland.

If he wanted to do that now, he'd need to take an extra £2m with him because, based on the current exchange rate, €40m is £30.8m, not £28.8m.
If those currency traders are right, he would need an extra £9.3m post-Brexit. Nearly £10m more for one player. European clubs wouldn't need to find that, of course, meaning Liverpool would miss out on more targets than they do already.
All the figures being quoted left right and centre do get a bit off-putting in the end but it's a worrying possibility.
English clubs who sell players overseas might find they can command much higher fees thanks to the weakened pound but isn't it time Liverpool stopped selling their most valuable players anyway? English clubs might find it easier to get a European club to match their asking price in pounds, but they'll find those pounds don't buy them anywhere near as much if they go out shopping for replacements outside the UK.
There will also be an impact on wages and English football may no longer seem so attractive, even to English players, and that's before any tax differences are taken into account. According to Full Fact, an independent fact-checking charity, "Leaving the EU wouldn't make it much easier for the government to reduce the nation's total tax bill, should it want to, because savings on the membership fee would be outweighed by the costs of lower growth."
With football tickets already at, if not already beyond, the limits of affordability for many fans, the impact of a struggling economy could be serious for Liverpool. The success of the new Main Stand is reliant on businesses and wealthier fans paying out thousands a year for hospitality tickets and it seems fairly obvious that this kind of spending would be on the list of items they would be cutting out first should they start to feel the pinch.
Conversely, this situation could open doors for more ticket sales to fans from outside the UK, who would find the costs more attractive if currency rates were working in their favour. They can stay overnight in the hotels the EU helped to fund, flying into the airport the EU helped to improve, and maybe the influx of cash they bring to the city the EU helped to rebuild will go into further investment into the tourism infrastructure of the city so that Liverpool won't need further EU money to continue to grow.
This, of course, assumes Liverpool FC continues to be a reason for people to travel from across Europe and the rest of the world for a game of football.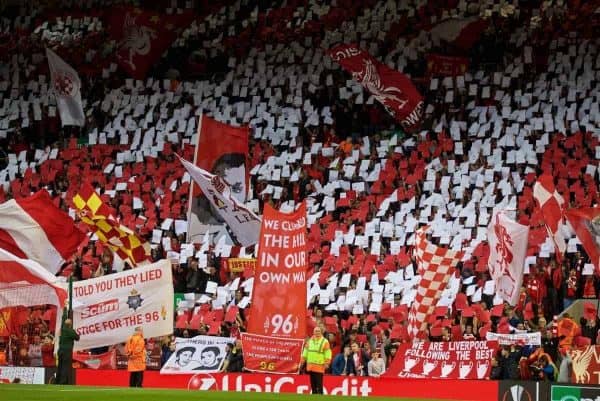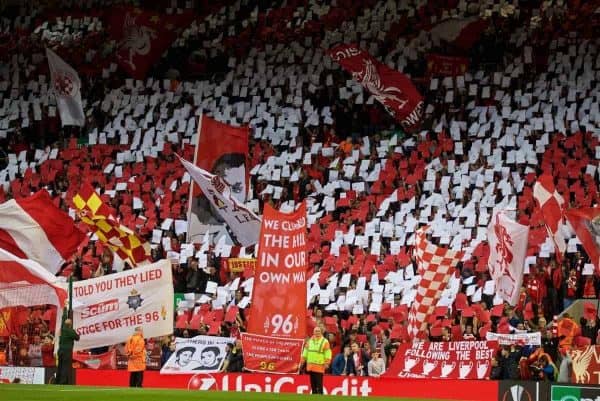 Liverpool fans want the club to be a success financially, but is that the way they want it to be achieved, for even more regular match going fans to be priced out by an increasing number of tourists who bring a higher "revenue per seat" figure?
That brings us to the Leave campaign's main argument when trying to sell their ideology to voters. Immigration, and their contention that it is currently out of control.
It could be that in reality there is no difference after a Leave vote. The deal struck with the EU to keep trading and other agreements in place – however much money the UK has to pay for it – may well include the retention of freedom of movement, much the same as it is now, so no need for visas or work permits for people from the EEA – even footballers – which would leave a lot of pro-Brexit voters wondering what exactly it was they voted for.
Arsenal boss Arsene Wenger has already spoken about the possible effect on the game. "Will the European players be considered as they are now? For example, will the French be considered like South Americans players [needing work permits]? That would completely re-question the influx of foreign players.
"Will England go that way? If they did, that would leave the Premier League with some questions."

Would players from the EEA be allowed to stay at their English clubs? Would players from the EEA find it much harder to sign for English clubs?
Whatever the changes are, they won't happen overnight, it could be at least two years before changes are actually implemented, but it does seem to be a very likely scenario.
Richard Scudamore, the Premier League chairman, says all 20 clubs support Britain staying in the EU. He told the BBC: "There is an openness about the Premier League which I think it would be completely incongruous if we were to take the opposite position."
Comparing it to his own battles within European football, where rumours of a breakaway league regularly surface, he said: "Ultimately you can't break away, you can't just pull out, you have to get in and negotiate and try and organise and try and influence."
Brexit could eventually raise questions about the value of what Scudamore might call "the product". If clubs have to use more British players, players who might currently be expected to play a division or two lower down the leagues, would BT, Sky and broadcasters around the world pay quite as much to televise it?
If the economy does suffer, would football get through it again? It did in 2008, but there's no saying it would another time.
Football was brought into the argument even more this week when David Beckham got involved, talking about how the mainly British sides he played in for Manchester United would not have won things had it not been for the European talent they also had. He also spoke about being "privileged to play and live in Madrid, Milan and Paris with teammates from all around Europe and the world," something he might have found harder to do had Britain not been part of the EU.
Beckham also said: "For our children and their children we should be facing the problems of the world together and not alone. For these reasons I am voting to Remain."
This rattled Leave, seemingly, and they later got told off by Beckham's wife, Victoria, for using an out of context and 20 years old quote from her on social media to try and suggest she actually supported the Leave campaign. She made it clear she didn't.
So it was left to Michael Gove to try and respond to Beckham.
"Sol Campbell is for Leave as indeed, I think, is John Barnes," said Gove.
Gove thought wrong.
Speaking to Sky News, Barnes said the Leave campaign contacted him to thank him for his support: "I made it categorically clear: I don't support the Leave campaign. I support Remain."

Barnes says that to just look at English football in order to make a choice on Leave or Remain would be "a very selfish view", adding:
"I've got to think about what I think is right for the country.

"I wanted to be left out of it, unfortunately now they've brought me back in and I really want to tell people how I do feel about it.

"If everybody decided to go their own way, where will the world be? If you look at the history of Britain in the past, being the world leaders from a moral point of view, from a compassionate point of view… We are the first to jump ship because now the going gets a bit tough?

"This is not what, in my opinion, being British is about. It's a very selfish view. So I understand the problems we have on immigration, but do we have a worse problem than they do in Germany, France, and Greece? They have a bigger problem, but they're there to try and help it, to try and come to a solution by sticking together.

"I'm surprised, I'm flabbergastered, that Britain are the first to jump ship when the going gets tough."
He also said he supported Remain "from the immigration point of view".
There is so much to consider and John Barnes is right, this is one time where we shouldn't take football quite as seriously as we usually do. He is also right that we shouldn't make our decision for selfish reasons, although no doubt many will.
Selfish thinking would have meant no funding for Liverpool from the EU and almost certainly no recovery for the city, certainly not the way it has so far. The health of the city relates directly to the health of the football club that carries its name – and vice versa.
Liverpool strikes me as a city that yes, looks after its own, often because it had to, but is brimming with compassion and its people will always seek to help those worse off than them. Maybe that stems from knowing what it's like to be mistreated and to be left to suffer.
You have to vote the way you feel is right on Thursday, you have to make your own decision and you have to check the facts you are basing it on. You have to decide who you trust on the issues you feel matter the most and also whether you will be able to trust them, in the event they do find themselves in power, after the results are in.
This is not a decision to take lightly and if you feel it is important to recall the sacrifices our grandparents made so that we were still free to vote on such matters, perhaps a bit of reading is the least bit of sacrifice you can make to honour theirs. Maybe find an impartial source, like Full Fact, but make sure you do get the facts so you know you put your mark in the right box. It'll be too late next week to complain you were misled by the side you voted for.
You've read this far, so a little bit more won't hurt, for the good of your football club and, more importantly, you, your family, your friends and your country!
FURTHER READING:
Editorial note: The city of Liverpool has benefited greatly from European funding. Leaving the EU would likely, almost certainly, be bad news for the city within which the football club that this website is about resides; that's why this is being written about here.