Roberto Firmino's pressing ability has made him Jurgen Klopp's first-choice striker, a Liverpool club analyst has explained.
Firmino started at the tip of Klopp's 4-3-3 for Sunday's 4-3 victory away to Arsenal, and spent much of pre-season operating as the German's lone centre-forward.
This sees him build on the 11 appearances he made up front in 2015/16, in a spell that saw him score six goals and lay on a further five assists.
But it isn't Firmino's cutting edge in front of goal that has made him indispensable, according to ESPN pundit Stewart Robson, who detailed a conversation he had with one of Klopp's analysts.
"I was at the Barcelona game, and I spoke to their analyst next to me," he explained.
"He was doing all the analytics and passing them down to Klopp.
"I asked him 'what do you look for in your team?' and we talked about who he's going to play up front.
"He said the reason they play Firmino up front [is] because he's the best closer-down [of the ball].
"Everything revolves around what they do when they don't have the ball.
"He said [they] either play a total press—which Firmino is in the side to do, he starts it off and everybody goes with him—or they try and work out who's the worst player at the back for the opposition, try and shift the ball to him and then close down."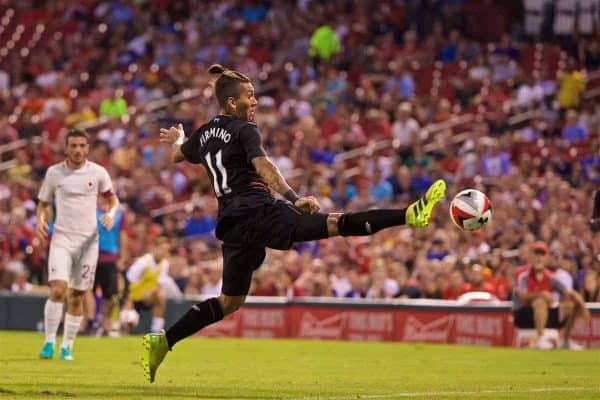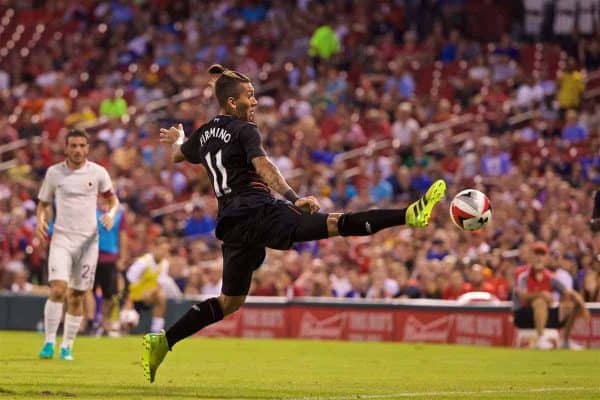 Liverpool's high-intensity pressing game saw them scythe through the Arsenal defence in the second half at the Emirates Stadium, and Firmino was at the heart of this.
The Brazilian has seemingly moved ahead of both Divock Origi and Daniel Sturridge in Klopp's attacking ranks for certain fixtures.
He averaged more successful tackles (three) per 90 minutes last season than any other Liverpool attacker, with Origi (0.7) and Sturridge (0.3) averaging a third of his output between them.
Speaking after Liverpool's nine-game warmup schedule this summer, Klopp hailed Firmino as a "worker," saying he was his "man of the pre-season."
"From the very first game he has been performing, even if he has not scored," he said. "What a worker!"
Firmino is central to the success of Liverpool's pressing system, and with Klopp moving to a 4-3-3 formation this season, he will find the majority of his opportunities come up front.
This could spell trouble for Origi and Sturridge, as well as Danny Ings, though Klopp recently said that "even two up front is possible" as he adopts a malleable tactical approach in 2016/17.