Three years ago, just over a mile away from Anfield, a fundraising football match for the Hillsborough Justice Campaign, Jamie Carragher's 23 Foundation and the Dirk Kuyt Foundation took place at Walton Hall Park.
A team of Liverpool-supporting Reds, including Walton MP Steve Rotheram, took on VEP Woerden, a group of Dutch lads who had travelled over from Holland. The visitors won 7-3 in front of a crowd of 150.
The night before, a three-hour 'Justice Across the Mersey' booze-cruise was held on the ferry Gerry Marsden loves and after the match a fundraising auction took place in New Derry Social Club. Over £6,000 was raised.
And I'm telling you this now because?
Because on Monday night one of the lads involved in the fundraising match will be on the pitch at Anfield. His name? Anthony Taylor. A Premier League referee from Wythenshawe, Manchester.

Amidst all the hullaballoo about Taylor's appointment for his first Liverpool versus Manchester United fixture, I've seen no mention of the fact that he gave up a Saturday afternoon to travel to Merseyside to referee a match to raise funds for the HJC.
Instead there has been outrage from some that a bloke from Manchester could be selected to officiate a Liverpool-United match at Anfield. The assumption is obvious. He's a Manc. He'll be biased towards them. Fergie is picking refs for Mourinho now.
It's not a view I agree with. And nor should anyone who recalls our 2003 Worthington Cup semi-final first leg defeat at Sheffield United's Bramall Lane (where a giant adverting board for The S*n was placed in front of the away end and South Yorkshire Police put on 100 extra officers dressed in riot gear after warning ticketless fans not to travel).
Before that match, Neil Warnock – who looks more and more like Tony Soprano's mum every time I see him – had a moan when he discovered that Wirral-based Mike Dean – who says he is a Tranmere Rovers fan – had been appointed as the referee with the implication being that he would favour Liverpool. The reality was very different.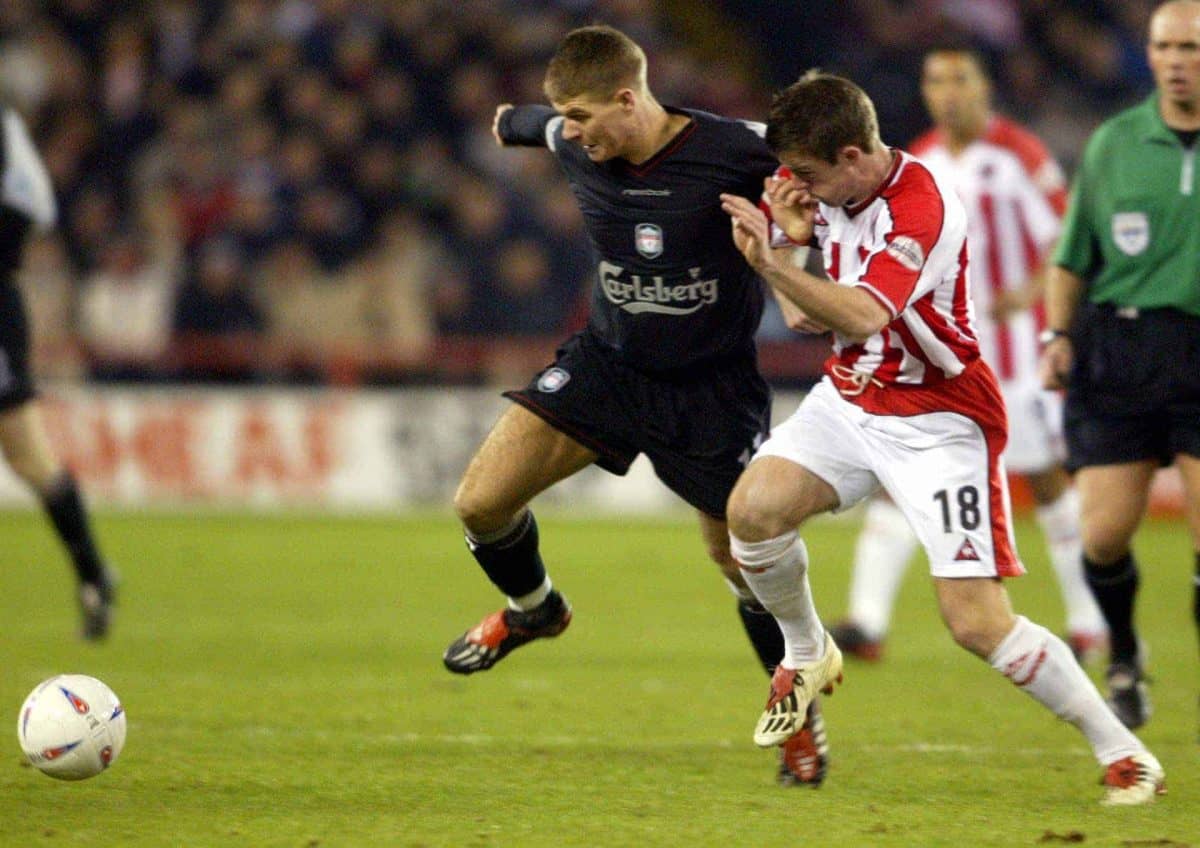 Dean had a shocker. He only gave Michael Brown a yellow card for a potential leg-breaker on Chris Kirkland and booked four Liverpool players (Diao, Traore, Diouf and Henchoz) for largely trivial offences as the Reds lost 2-1.
Maybe he over-compensated due to Warnock's pre-match barbs. Perhaps he was just rubbish on the day. Or maybe if there was a Scooby-Doo ending Gerard Houllier would've whipped off his mask and discovered bitter Blue Derek Hatton underneath.
Whatever the reason, I was made up when Dean was replaced by Alan Wiley for the 2006 FA Cup final (because of the Wirral connection) as any controversial decision that went Liverpool's way in Cardiff would have resulted in questions about his integrity, potentially stopping him from giving any such decision in the first place.
Anthony Taylor has got the same problem on Monday night. Any questionable calls that go United's way will be perceived around here as being because he's a Manc, any dodgy decisions given in favour of Liverpool will have United's followers thinking he's over-compensating for being a Manc or is really a secret City fan with a tattoo of Pep Guardiola on his back (or is it just Mark Clattenburg who gets tattoos done?).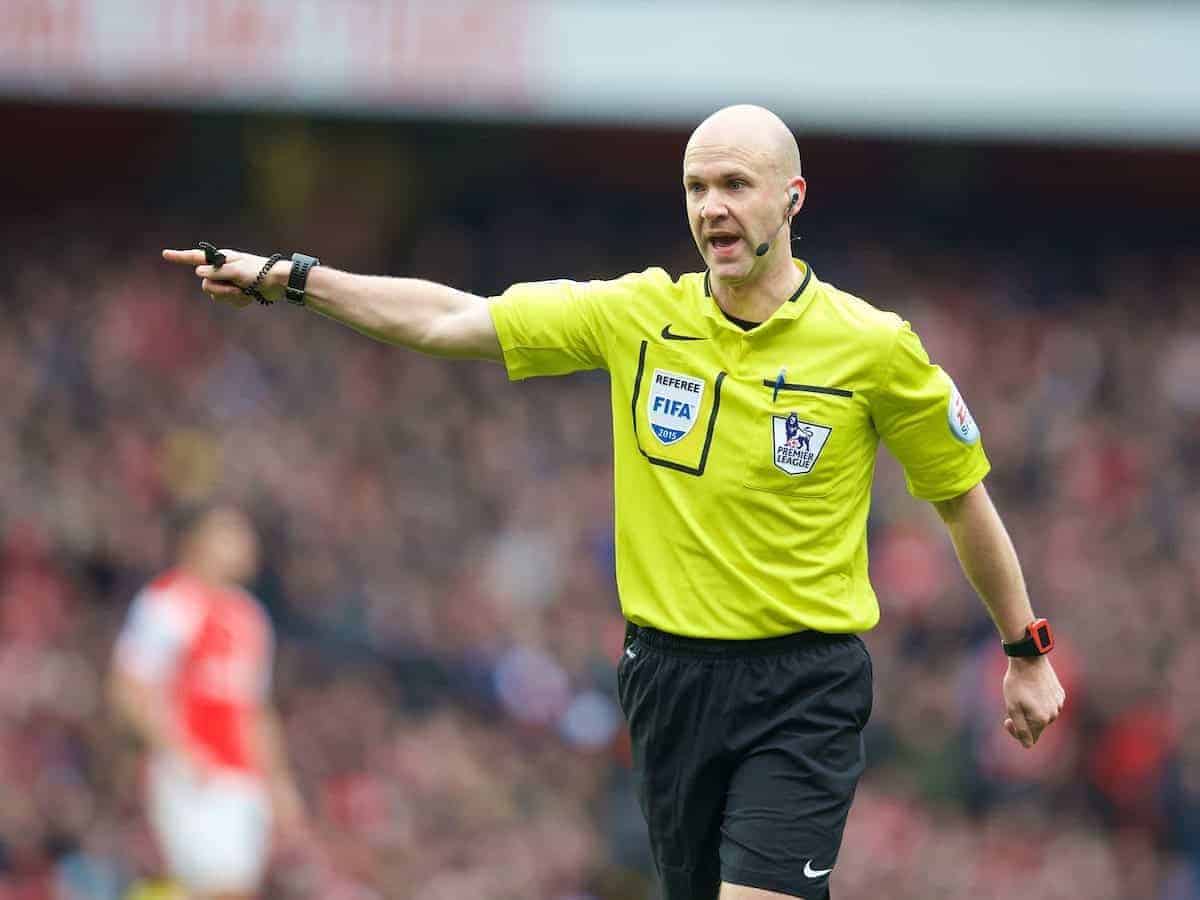 Keith Hackett, a former ref from Sheffield who was head of Professional Game Match Officials Limited – the body that appoints officials – has been critical of the decision to give Taylor the Anfield game as it puts him in an awkward position, although he failed to mention his own display in Liverpool's 1-0 defeat at Old Trafford in 1994 when he awarded Michael Thomas a penalty after being fouled by Andrei Kanchelskis only to overrule himself after speaking to a linesman and giving United a free-kick instead.
My point is this. Getting wound up by thinking a referee might not be impartial due to the location he is from isn't the right frame of mind to be in before a big game. It creates a 'getting your excuses in early' mentality, something more commonly associated with Evertonians ahead of Merseyside derbies, and since when did we start thinking like that?
In any case, perceptions of referees are badly skewed by a natural bias towards your own club as most supporters only remember the bad decisions that went against their team rather than the fortunate ones that went for them. The mere mention of names such as David Elleray, Graeme Poll and Mike Riley gets my blood pressure rising, yet the stats show that Liverpool won far more Premier League games with those refs in charge than they lost.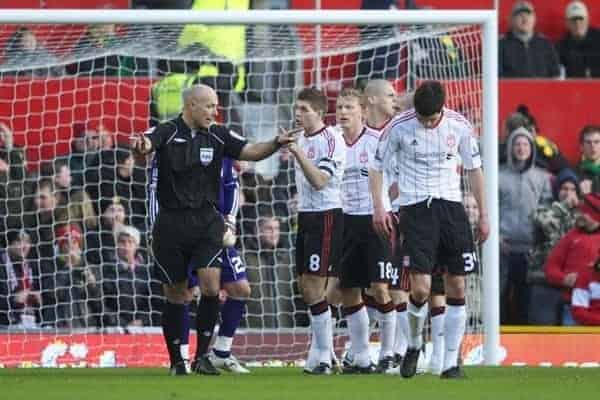 We even beat United at Anfield with Howard Webb refereeing. Honestly (and if you're wondering just how Liverpool have done against Man United under different referees in the Premier League era then check out the table at the bottom of this article, you can draw your own conclusions from it).
So while I've no idea whether Anthony Taylor will have a good game or not on Monday, it's worth pointing out that the Reds have won 11 and drawn 5 of the 20 previous Premier League games he has taken charge of and, having done his bit to help raise funds for the Hillsborough Justice Campaign, I'd say it is extremely unfair to judge the Altrincham supporter on where he is from before we've seen how he performs with the whistle.
What you should really be worrying about is how the Redmen defend set-pieces. We've conceded goals from corners and free-kicks to pretty much every United centre-half during the last 20 years and have you seen the size of their team these days?
Let's hope Roberto Firmino and co keep the goals flowing at the other end then as I suspect we might need them…
• Chris McLoughlin (@TheKopMagazine) writes for the This is Anfield matchday programme and LFC Magazine. You can get copies of both from sportmediashop.com, Anfield or official club stores.
Liverpool v United referees (PL era) by LFC win percentage
Referee Record LFC Win %
G Ashby P1 W1 D0 L0 100%
A Marriner P3 W2 D1 L0 66%
M Riley P4 W2 D0 L2 50%
G Barber P2 W1 D0 L1 50%
A Wiley P2 W1 D0 L1 50%
P Dowd P2 W1 D0 L1 50%
M Clattenburg P2 W1 D0 L1 50%
G Poll P8 W3 D1 L4 37.5%
H Webb P4 W1 D0 L3 25%
D Elleray P4 W0 D2 L2 0%
M Atkinson P3 W0 D0 L3 0%
S Bennett P2 W0 D0 L2 0%
M Halsey P2 W0 D0 L2 0%
K Hackett P2 W0 D1 L1 0%
D Gallagher P1 W0 D1 L0 0%
R Styles P1 W0 D1 L0 0%
P Don P1 W0 D1 L0 0%
R Milford P1 W0 D0 L1 0%
K Morton P1 W0 D0 L1 0%
S Lodge P1 W0 D0 L1 0%
M Oliver P1 W0 D0 L1 0%