With Steven Gerrard in the stands for Liverpool's 2-0 win over Sunderland, Jurgen Klopp's side showed a new-found ability to win without stars.
How fitting it was to see Liverpool's all-time great watching on from the new, pristine Main Stand at Anfield, like a kindly god gazing down from the heavens, as the Reds dug deep for a vital victory over a defence-obsessed Sunderland.
Mere days after he announced his retirement to the footballing world, Steven Gerrard was back where he belonged: matchday at Anfield, surrounded by the sea of Kopite red.
Emotions were no doubt mixed for Gerrard, but only one specific sensation will have lingered once the full-time whistle blew—jubilation. Another three points in the bag and another rallying cry that Klopp's Reds really mean something.
This is the new era of Liverpool, without getting caught up in the hyperbole. True, it was only Sunderland, at home. The same Sunderland who were physically unable to register a win in their opening 10 Premier League games.
But the opposition, generally speaking, were irrelevant. This is the same Liverpool squad who lost to Burnley and were frustrated by Southampton. And this same Liverpool side will have another 'Burnley game' yet again, at some stage.
That isn't the point. What is, however, is by the time the full-time whistle echoed around the stands of Anfield, Liverpool had proved once and for all their longest-serving, lingering, ugliest habit had finally been abandoned.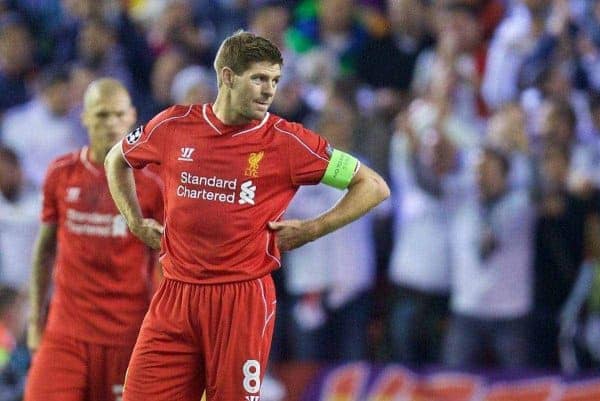 Over-reliance. Dependence. The uncompromising need to laden as much pressure onto the shoulders of a single player that his knees threaten to buckle at any given moment. Gone.
It was oh-so typical that Gerrard should witness this, firsthand, in the wake of leaving the beautiful game for good. In a playing capacity, anyway.
For so many years, countless years, the majority of the years that made up his entire football career, Gerrard had to carry the Reds.
On most occasions 'carry' didn't even suffice. Drag, haul, grasp with excruciating force by the scruff of the collar—Gerrard not only guided Liverpool, but won games for them, on his own.
And now here he was, 36-years-old having kicked his last competitive football, watching on as the Reds went about methodically devising a plan to dispatch opponents who were in the process of parking a fleet of double-decker buses.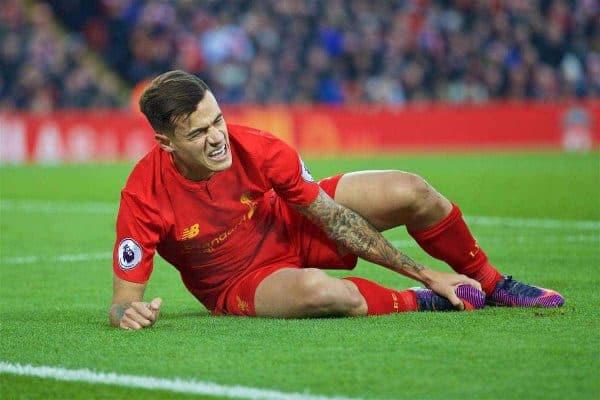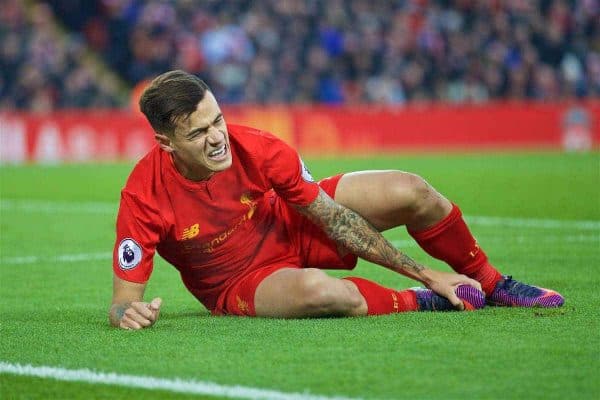 Prior to kickoff the first blow was struck. Daniel Sturridge, key man and perhaps the finest finisher in English football, out. Shortly after blow two was landed, as figurehead Philippe Coutinho was removed from Anfield on a stretcher, wincing in pain.
This is without mentioning the already disheartening news of the in-form Adam Lallana still recuperating at home.
Time and time again, in situations such as this, Liverpool's worst habit would come back to bite. With no-one to depend upon, to turn to, panic would emanate through the squad, seeping its way into the Kop itself and setting fans on edge.
Think back to the games when Liverpool lost Gerrard. Or Liverpool lost Torres. Or Liverpool lost Suarez…
They were often painful, forgettable encounters, where confidence could be drained faster than Wayne Rooney putting away a pint at a wedding.
But here, in front of their favourite son, the man who without Liverpool could barely function, the Reds went about doing a job on David Moyes' side and jumped every hurdle in their path with aplomb.
It wasn't an easy win, but it never looked in doubt. The way Divock Origi stepped up, to slot straight into the gritty action and score a goal worthy of a Champions League highlight reel, really speaks testament to the new era under Klopp.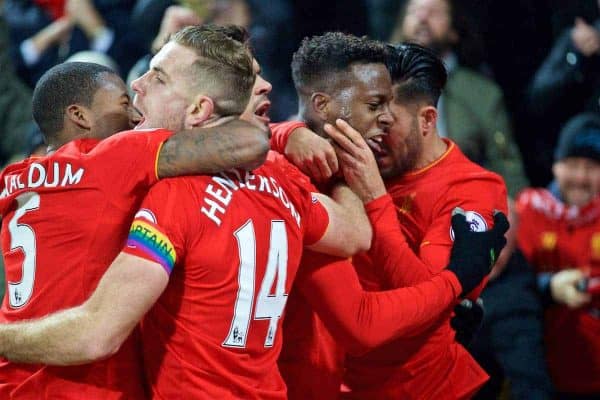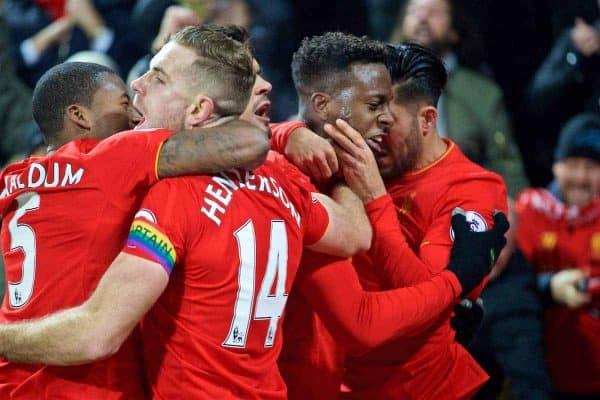 The Belgian forward probably thought he wasn't even going to get a look in. Sturridge, for all the headlines that he made in missing the clash, was highly likely only to come off the substitutes' bench. These are unfounded times for the Reds.
It only feels like five minutes since Brendan Rodgers' men, reeling in the wake of Luis Suarez's departure, were putting every single one of their eggs in the basket in praying for the return of Sturridge.
It was too much. Too much pressure and expectation for one man to handle, particularly when the man in question was juggling a new injury every other month. Gerrard carried this throughout his entire career. Torres and Suarez too, at intervals.
Yet, finally, this painful dependency has been kicked into touch. Klopp's full-throttle Reds appear only to have a 'right, next!' approach when it comes to a change in the starting XI.
The German has moulded his squad into a conveyor belt of hyper-fit, uber-competitive footballers, each chomping at the bit to get out onto the turf and leave their mark.
All this has been done, we should not forget, with only minimum delving into the transfer market.

To his credit it was Brendan Rodgers who brought Origi to the club, saw the glint in the rough diamond and insisted the club acquire his services before the 2014 World Cup got underway.
But now, with Klopp, things are different. The Liverpool we see today is cohesive beyond belief.
It's no coincidence that the last time Liverpool truly looked something special—that miraculous 2013/14 season under Rodgers—was when the whole momentarily became greater than the sum of its parts.
For a fleeting moment the squad rose as one. Gerrard, reaching the twilight of his Reds career, dropped into a deeper role—dictating play but requiring others to come into the game. Suarez flourished, Sturridge amazed, Jordan Henderson showed he had truly arrived, Jon Flanagan rose from the shadows, Raheem Sterling burst onto the scene in unprecedented fashion. We could go on.
But that momentum died instantly, like a bullet to the head, once the squad broke up during the summer that followed, with the shockwaves of the Suarez departure corroding all belief.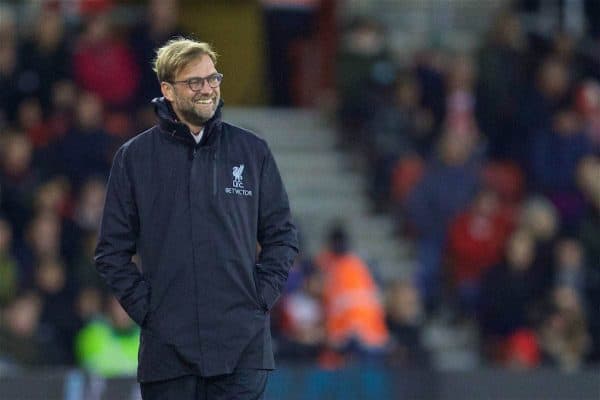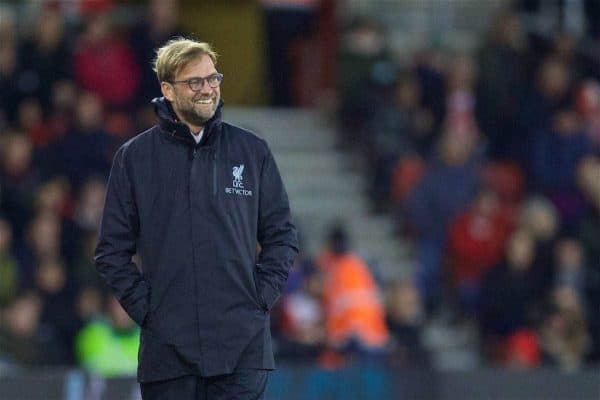 Yet now that feeling has returned. Klopp is a highly intelligent man, it didn't take him long to realise Liverpool needed to get playing in this manner once more. It was his very plan right from the word go.
Presently Liverpool have Coutinho in the form of his life, one of Europe's top performing players. Yet his absence can be catered for. Sturridge, too. Lallana, also.
Chop and change, men can come in and for the first time in what feels like forever the Reds can switch personnel with the efficiency of reloading a gun—each bullet as deadly and as efficient as the last.
The challenge of course is to prove this not only against the biggest teams, but consistently across the season as a whole.
It's still early days, and titles are not won by beating the side rooted to the bottom of the table in late November. Then again, they're not lost by doing that, either.
Bournemouth up next in the league, away on the south coast. No Coutinho, no Sturridge? No chance? Not any more.