There has been an eclectic mix of great, good and average players to have represented both Liverpool and Leeds United throughout history.
The two sides meet in a League Cup quarter-final at Anfield on Tuesday—their first meeting since a 1-0 win for the Reds in the same competition in 2009.
Liverpool and Leeds are two British footballing institutions, even though the latter's troubles in recent years have masked that somewhat.
Over the years, the Reds and the Whites have had some wonderful players in their ranks, with a select few turning out for both.
Here's an XI made up of them, in a good old-fashioned 4-4-2.
Goalkeeper – Scott Carson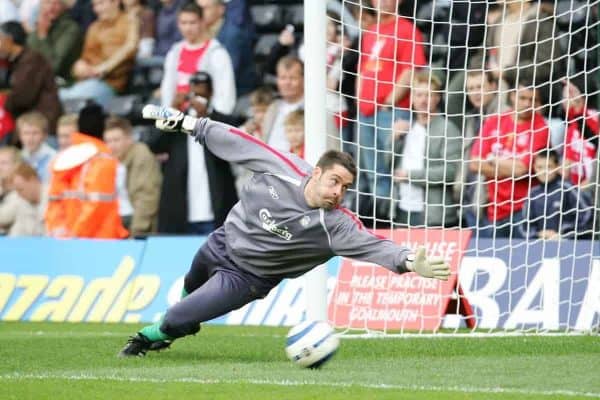 Scott Carson made his Leeds debut in January 2004, at the age of just 18, but he made just three appearances at Elland Road before Rafa Benitez snapped him up for £1 million a year later.
The young Englishman played backup to Jerzy Dudek and Chris Kirkland in Liverpool's remarkable road to Champions League glory in 2005, but he did turn out in the quarter-final first leg against Juventus. His error gifted Fabio Cannavaro a potentially crucial away goal.
Things never got going for Carson on Merseyside, and having appeared just nine times for the Reds, we was eventually sold to West Brom in 2008.
Now 31, Carson is plying his trade with Derby County in the Championship.
Right-Back – Jim Beglin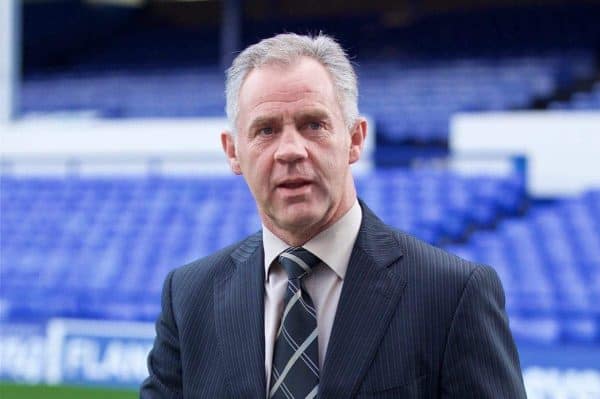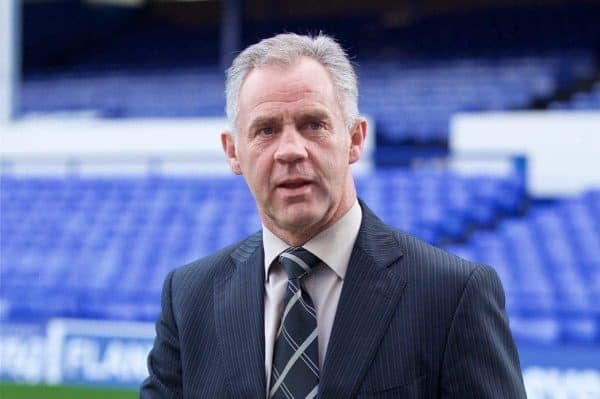 Although a left-back by trade, Jim Beglin was versatile enough to play on the right. The Irishman joined Liverpool in 1983, and became a key squad member during a successful period at the club.
Between 1985 and 1987 he made 83 appearances, winning the league and cup double in 1986 and playing a part in Kenny Dalglish's goal that clinched the First Division title.
Sadly, Beglin's career was cut short at the peak of his powers.
A horrific broken leg suffered against Everton in January 1987 saw him never return the same player, but he did manage a stint at Leeds between 1989 and 1991.
Centre-Back – John Scales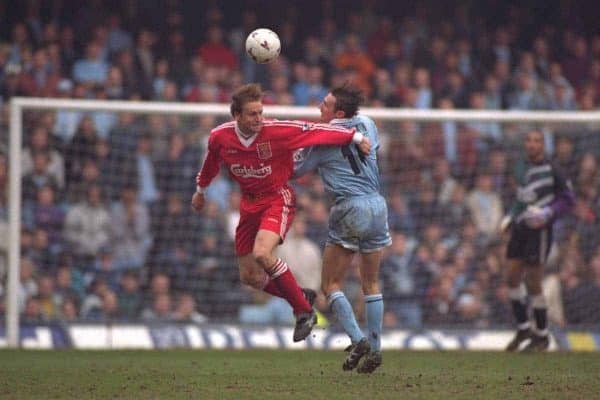 John Scales' playing career started out at Leeds, although we're cheating a bit here, because he never actually played for them.
After spells at Bristol Rovers and Wimbeldon—he always felt a little too sophisticated for Wimbledon's "Crazy Gang"—Roy Evans snapped him up for £3.5 million.
Although a talented, elegant centre-back, Scales will always be remembered for being part of a much-maligned Reds back-line—one that was never as bad as some claimed.
He put in some good and bad performances during his two years at Anfield, but never came close to being a truly commanding member of the side.
Centre-Back – Dominic Matteo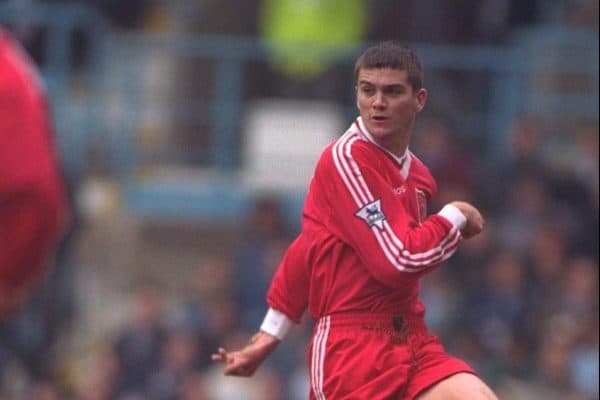 Dominic Matteo progressed through Liverpool's youth teams in the early 90s, and was awarded his debut against Man City in October 1993.
Much like Scales during the same period, Matteo could be both good and bad, but he grew in stature as the millennium arrived.
Surprisingly, the former Scotland international was sold by Gerard Houllier in the summer of 2000, with Leeds signing him.
Matteo became a regular in a very exciting young side under David O'Leary—a team that included Rio Ferdinand, Lee Bowyer, Harry Kewell and Alan Smith.
The centre-back started in the Champions League semi-final defeat to Valencia in his first season at Elland Road, and remained at the club until 2004.
Left-Back – Stephen Warnock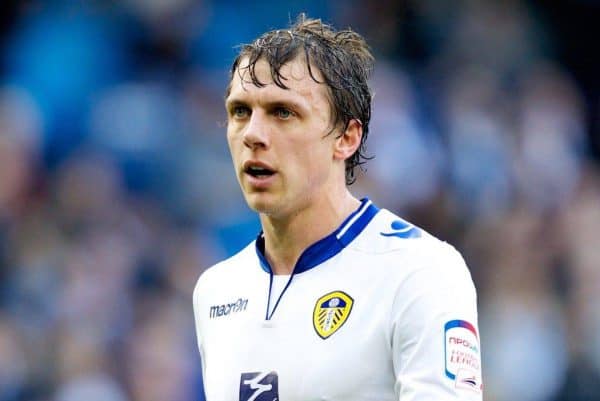 Another product of Liverpool's youth system, Stephen Warnock enjoyed a solid spell at Anfield, even if he never became first-choice left-back.
Benitez gave him his debut against AK Graz in 2004, and he appeared six times in the Champions League in 2004/05, as the Reds clinched their fifth European crown.
With John Arne Riise ahead of him in the pecking order, it was never going to be easy for Warnock to play often, and he eventually left his boyhood club in 2007.
After spells at Blackburn Rovers and Aston Villa, he moved to Leeds in 2013, where he played 67 times and scored three goals.
Thirty-four-year-old Warnock is now at Wigan Athletic.
Right Wing – Nick Barmby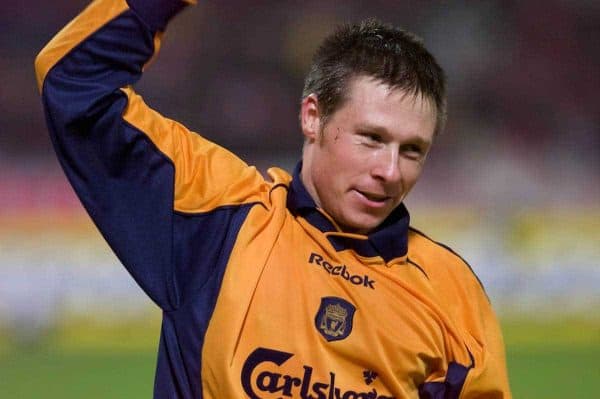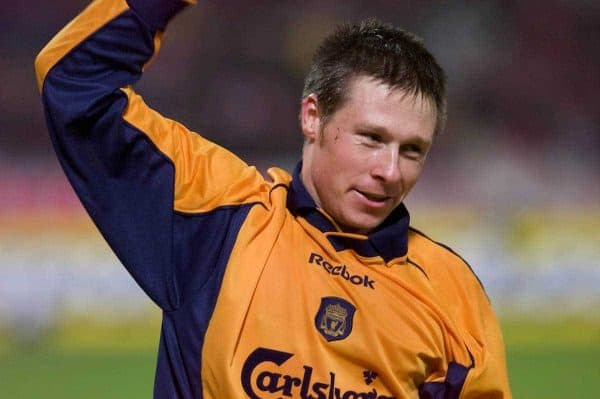 Nick Barmby caused huge controversy in 2000 when he opted to leave Everton for Liverpool, making him the first player to move from one Merseyside club to another since Gary Ablett in 1992.
The former England international was an effective member of Houllier's treble-winning squad, scoring eight goals in 46 matches in 2000/01.
Barmby never quite hit the heights many expected, however, and he left to join Leeds in 2002.
He spent a rather uninspiring two years at Elland Road, and it became abundantly clear that his career had peaked by that point.
Centre Midfield – Gary McAllister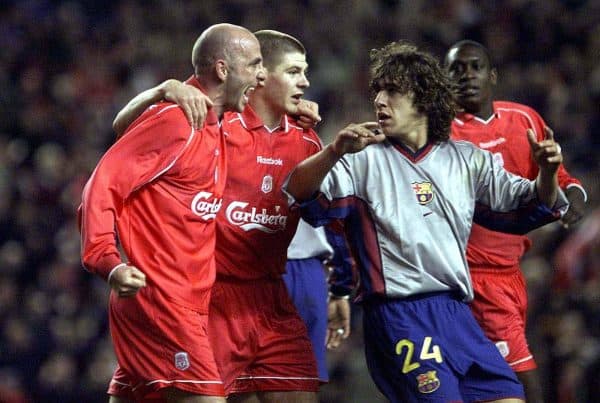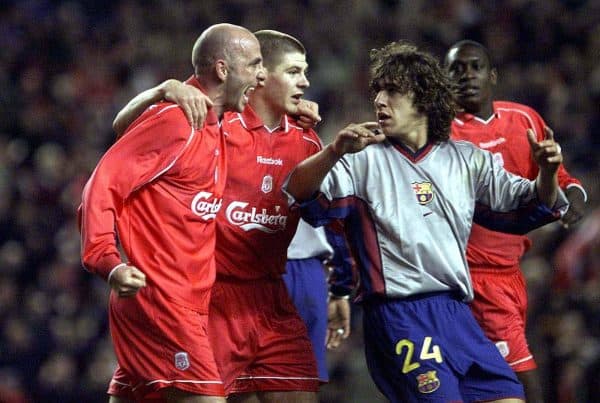 Gary McAllister was a footballer of immense ability, and the fact that he is loved by both Liverpool and Leeds fans is testament to the service he gave to both clubs.
The influential midfielder won the First Division title with Leeds in 1992, making 294 appearances and scoring 45 goals overall.
Having enjoyed a successful spell at Coventry City, Houllier signed the then-35-year-old McAllister to Anfield in 2000, in a move that surprised many.
The Scot cemented his place as a Reds legend, however, winning the cup treble and scoring a stunning last-gasp winner at Goodison Park in April 2001.
He acted as a father figure to youngsters such as Steven Gerrard, Jamie Carragher and Danny Murphy, and proved to be a crucial signing.
Centre Midfield – James Milner

Milner burst onto the scene at Leeds as a 16-year-old, and in December 2002, became the Premier League's youngest ever goalscorer. That record has since been broken by Everton's James Vaughan.
The youngster put in some typically gutsy performances for the Whites, but he couldn't prevent them from being relegated to the Championship in 2004.
Milner understandably left his boyhood team to remain in the top flight, and enjoyed productive spells at Newcastle and Aston Villa, before winning two titles with Man City.
Liverpool signed the Englishman on a free transfer in the summer of 2015, and he has proved to be a very good signing.
He grew into his first year at Anfield, and is currently thriving as a left-back, having been utilised there by Jurgen Klopp. At 30, he is still going strong.
Left Wing – Harry Kewell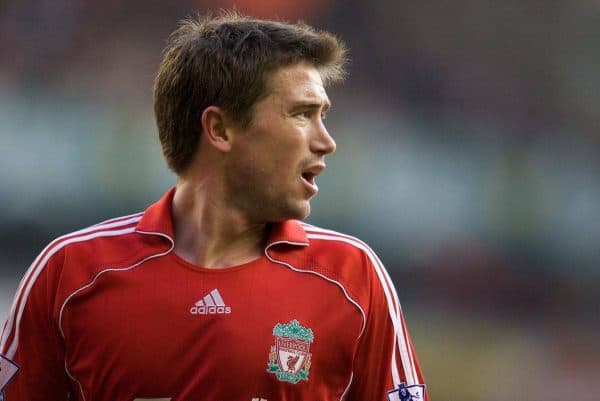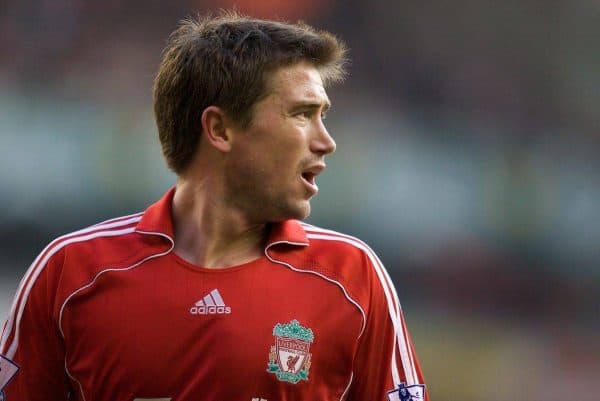 Not many Liverpool signings have been more disappointing than Kewell.
The Australian was sensational for Leeds during the late '90s and early '00s, with few left wingers in European football more of a threat.
When Kewell revealed he would be joining the Reds in 2003, many felt he was the final piece of Liverpool's jigsaw, as they searched for a first Premier League title.
Although there were moments of class during his five-year stay, he never came close to hitting his Leeds heights, and injuries curtailed his progress. He limped out of both the 2005 Champions League final and 2006 FA Cup final.
Kewell was far from dreadful for Liverpool, but considering the expectations we had of him, he flattered to deceive greatly.
Striker – Robbie Fowler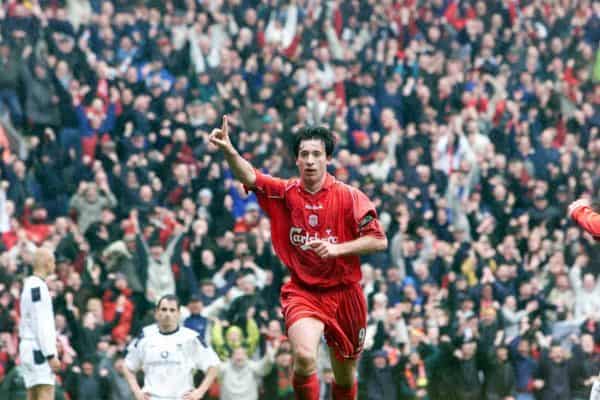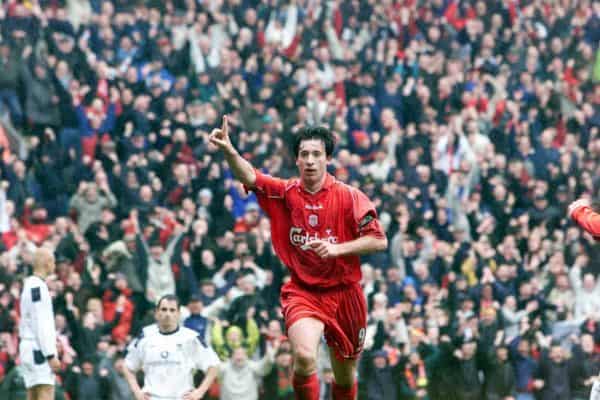 One of the most popular Liverpool players of all time, Robbie Fowler's goalscoring feats are the stuff of legend.
In the mid-90s, he was truly unstoppable, and in terms of natural finishers, he has to be seen as one of the best in English football history.
"God" slowly began to fall out of favour under Houllier, however, and in November 2001 he joined Leeds, scoring 14 goals in 33 appearances for them.
Fowler made an emotional and shock return to Liverpool in January 2006, and although he wasn't the player he was a decade earlier, it was just a joy to have him back.
Striker – Ian Rush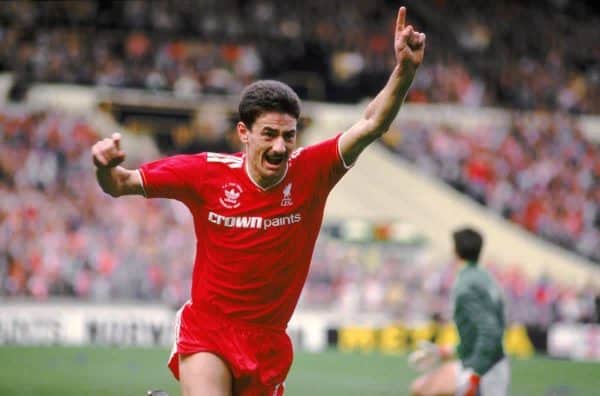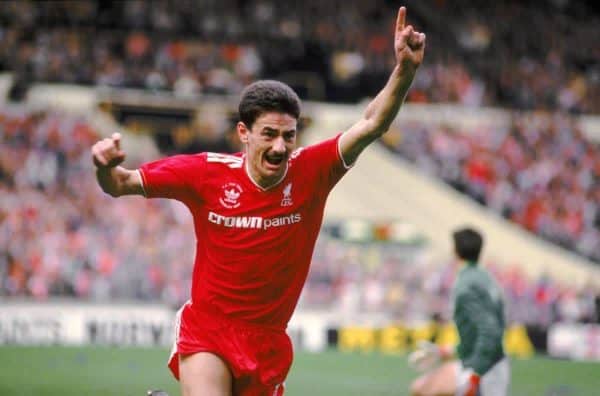 Fowler may be legendary, but when it comes to the greatest goalscorer the Reds have ever had, nobody comes close to Ian Rush.
The Welshman is a true all-time great, and his endless flow of goals were the driving force behind Liverpool's success in the 80s.
In total, he found the net 346 times for the club—a record that may never be beaten.
By the time 1996 came around, though, Rush was coming towards to end of his career, and he left for Leeds shortly after Liverpool's FA Cup final defeat to Man United.
He only managed three goals in 43 games for his new club, and left for Newcastle a year later.
Substitutes: Tommy Younger, Lee Peltier, Jermaine Pennant, El Hadji Diouf, Robbie Keane, Gordon Hodgson