Recently This is Anfield received an email, from a supporter in Sweden. Although he lives miles from L4, this Red is as perfectly in tune with the fears of Scouse supporters living in the shadow of the ground, as anyone else possibly could.
Anton Erik is a die hard Liverpool fan of many years and his words are a wake up call to us all.
Here's some of what he has to say:
"we as fans have to realise the great power we have to influence the game. Imagine if we could create the same atmosphere in every home game as we had against Dortmund last season. We would be unbeatable. Call me naive, but I think we can create an atmosphere like that every game."
Anton's fears are that we have been falling way short of that standard in recent times. He worries that Klopp has had to cajole supporters, once famed for their vociferous backing, into staying until the end and getting behind his players. Too often the atmosphere at Anfield has been dire and it must change.
Anton's words laugh in the face of anyone who claims that the declining atmosphere at Anfield can be framed purely in terms of a locals versus 'out-of-towners' issue. It patently isn't. It matters not where you were born, or where you live; it only matters that when you attend a Liverpool game, you sing your heart out and get behind the team.
If you need more evidence to support this assertion, look back at footage of the team's far east tours and you will hear Poor Scouser Tommy and Fields of Anfield Road sung as loudly and as passionately as it ever has been on the Kop. The accents may not be Scouse, but the hearts are.
I ask you to reflect on the near 100,000 people, who packed themselves into Melbourne Cricket Ground and gave a rendition of You'll Never Walk Alone that made the hairs on my neck stand up, from several thousand miles away. Now tell me that only Scousers care about atmosphere.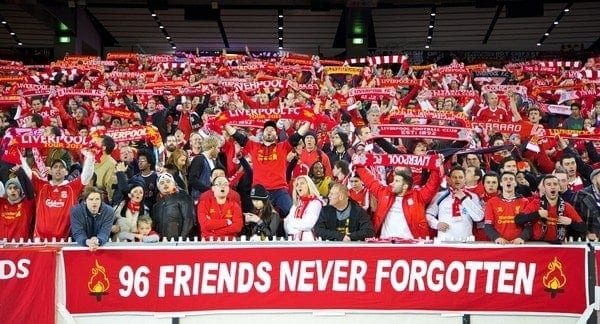 It's true we created it and nurtured it. It's our DNA that runs through it and it is undeniably us who gave it to the world. But it is not solely our responsibility to protect it. That task belongs to every Reds supporter who enters the turnstiles on match day, regardless of their origin.
Anton gets that and I'm sure countless thousands of non Scouse Liverpool supporters do too. That is after all the reason they support Liverpool. Those who call these supporters glory hunters, are spectacularly missing the point. Liverpool have not won the league title since 1990, yet these fans turn out in their thousands to friendly matches that mean little to spend money they don't have to support the Reds.
They may have inherited their allegiance from parents who remember the halcyon days, but they were under no obligation to retain them. In an era of 24 hour sports coverage, in which teams buy success and where fans sometimes switch clubs more often than players, it is nothing short of miraculous that Liverpool F.C. have retained such a huge global fan base.
Why should this be? What attracts supporters to Liverpool F.C., despite having no tangible connection to the club or city? I don't believe it's the trophies of the past or even those we've won in recent times. It is not Istanbul, it is the spirit and mythology of Anfield. These fans believe that Liverpool is different from all the other clubs; its supporters are gritty, funny, loud, bolshy and above all fiercely united in a common purpose.

The club understands that the atmosphere at Anfield is our unique selling point. Yet paradoxically they are contributing to it's decline and I see no evidence that they understand this, or that they intend to do anything meaningful about it. But before I criticise the club, let's agree exactly what it is we are trying to preserve.
In his letter Anton states, "we can either choose to be as loud as we can and sing our club to victory, or we sit in silence, moan and create anxiety to the players."
Anton is concerned about the noise levels inside the ground. His concerns are justified, but is that all there is to it? Other grounds make a lot of noise, but that doesn't make them unique? Do we want a ground full of people singing "Who are ya?" and doing seal claps, or worse still, belting out "same old (insert name of team here) always cheating," at the top of their lungs?
This sort of generic, mindless dross is light years away from the culture I grew up with at Anfield. I believe the things that set us apart from other grounds and supporters, was our Scouse culture. I believe this is what attracts people to the club today, as much as the players and the trophies.
Defining the essence of Liverpool isn't easy. Of course we are not one homogeneous group, but I believe we share a common outlook on the world that shapes the way we act and respond to situations and people. At it's heart being Scouse is about irreverence and is generally anti-establishment.
The Kop I grew up standing on was never cliche and prided its self on doing things its own way. Humour was important to us, the wickeder the better; but it generally came with a twinkle in the eye.

Liverpudlians pride themselves on being different from the herd. Many would happily declare independence from the rest of the country if they could. It has been said that Liverpool looks out across the sea, to Europe and America, not inwardly as others do.
We are a mongrel city, proudly filled with the ancestors of immigrants and refugees; Celtic, Scandinavian, Chinese, African and Asian. This is what gives the city its unique character, its passion and its creativity. It also gave us our signature dish. Scousers are citizens of the world and ever since the English establishment turned on us in 80s, many of us have no time for Union Jacks and God Save the Queen.
That's why people come from all over the world to marvel at the Kop. It's because they've seen the old pictures of our banners, homemade, witty and poetic; telling stories of conquest and designed to entertain and enlighten. They've seen the Pathe news footage and heard the haunting sound of the standing Kop in full voice. They are convinced that Liverpool is unique and they are part of something almost magical.
Anfield, they believe, is like no ground in the world and its people are like no other. Is all that just mythology? Anyone visiting in recent years would be forgiven for thinking so.
But it was a magical place once. It was the goose that laid the golden egg; the distillation of decades of Scouse culture. It may not dead yet, but if we sit back and do nothing, it will be soon. It won't be foreigners or out of towners who kill it; instead it will be a failure by all of us to fight for it.
We don't need a Kop filled only with Scousers in order to bring all that back. That would betray the heritage of this city. However, those who visit Anfield, even if it's only the once, have to become part of our culture, help it to evolve and add their own essence to it; just as the immigrants and refugees of bygone days helped shape the city's culture in the past.

Locals have a responsibility too, but they need to be in the ground to exercise it. This is not about asking for preferential treatment here. It's about a level playing field. This is where the club has a key role to play.
I understand the desire to monetise the atmosphere at Anfield. I'm realistic about this. After all, why would business men or women think any differently? If any of you think John, Linda and Tom are here because they saw videos of the Kop singing Beatles songs in the 60s, then can I suggest you go and have a lie down.
Of course the owners want to win, but only if it makes financial sense. That might be the prudent sensible thing to do, but that's not how supporters see their club. To us the club is part of our psyche; we have an emotional attachment to it. It is part of our community and it has enriched our history and our lives. It's more than pounds and pence to us.
Fenway Sports Group may well believe that they are locked in a battle for commercial superiority with our rivals. However, if you enter into that contest knowing the cost of everything and the value of nothing, you are fighting with one hand tied behind your back in my opinion.
If the club fails to hear the concerns of supporters around our atmosphere then there will nothing left for the tourists to photograph or video. We'll all turn up and sing our anthem, before taking our seats to mutter and mumble our way through 90 minutes of football. Anfield will become just another soulless stadium, sanitised and commercialised and turning a tidy profit; but dead inside.
Anton's letter is a plea to supporters to make some noise, to get behind the players no matter what. I applaud him. He is absolutely correct in his assertion that we can and should replicate the atmosphere of the Dortmund game, week in and week out. That is all of out responsibility, but the club must play its part too.
Apparently we are all part of one big happy family. If that's really true, then when one part of the family feels that something is wrong, then it's up to all members to work together to put it right. That's about the manager, the players, the supporters and the owners all doing their bit.
It is surely time for the latter to revisit ticketing. I applaud their response to the walk out, but it's time to go further. The population inside Anfield on match days is ageing. The ownership have made strides towards addressing this, but they must do more. It is simply impossible for many local kids to afford tickets for the game now.

When I was in my teens, I could afford to go to the match on my own. Nowadays I struggle to justify the money I spend and I'm on a full time salary. My eldest child can't afford to go regularly without help from me. This story is replicated all over the city. Where will the next generation of supporters, steeped in the traditions of the club and city come from?
Surely the club should use some of its TV windfall and merchandising bonanza to go even further in subsidising attendance for young supporters. I refuse to believe this is impossible, especially when we see the club climbing the league tables of financial performance and revenues increasing at a staggering rate. I'm not asking for all of it, but I believe the supporters deserve a greater slice of the pie than they currently get.
That's not all though. Let's find ways for supporters to sit together with their mates. When I went the game we would meet up inside the Kop. We'd stand together. You had confidence in numbers and that bread the sense of solidarity and unity that has epitomised the fan base in recent years. If I tried to get a song going, I knew my mates would join in and that others around us would follow suit.
Today supporters meet outside the ground, in pubs or in the fan park, but go their separate ways once they enter the turnstiles. Surely it's not beyond the wit of man to come up with a solution to this. For me they have no choice but to engage with this issue, but will they?
They are in possession of one of the biggest names in world football. They have an asset that is truly unique, but they risk crushing the one thing that separates their acquisition from all the others; the club's spirit and culture. In doing so they'll render it a uniform and generic enterprise that exists only to break even or turn a modest profit.

So I have heard Anton's plea to reject the crushing silence that currently fills Anfield at times; and to abandon the moaning and whinging when the team is struggling. I urge all of you to listen and respond to his call to get behind the team "no matter what". It is, as he says, not a tough ask if you love Liverpool.
However, I also call upon the ownership of the club to give supporters like us a helping hand. Work with us to arrest the decline before it's too late. If you don't 'feel' the club the way we do, then at least understand the financial ramifications of losing the one thing that marks your asset out as different from all the rest.
The time to reclaim our famous atmosphere is long overdue. We should see ourselves as more than customers, who moan when the show isn't sufficiently entertaining. Instead we must recognise that we are supporters who have a vital role to play, especially when the team is struggling. We are worth more to this club than any sponsorship deal or financial partnership. So let's act like it.
Our job is to lift our lads and terrify theirs. For too long, as both club and supporters, we've been dining out on past glories. It's time to create some new ones.