The media felt Jurgen Klopp's team restored their pride and hinted at a return to form as Liverpool battled to a 1-1 draw against Chelsea.
Liverpool ended their dire run of defeats as they battled back for a point with a spirited display against Antonio Conte's side.
David Luiz's free-kick set the Reds en route to a fourth straight home loss, but Georginio Wijnaldum's header and a superb penalty save from Simon Mignolet to deny Diego Costa ensured the points were shared.
It was a much-improved display from Klopp's side, especially the high-spirited second half produced in which the Reds looked the more likely winners, and the boss can feel more upbeat about his team's efforts.
Though ultimately it wasn't the result wanted, the performance must act as a springboard for progression from this point on, and with Sadio Mane back and a manageable fixture schedule following, there is certainly reason for optimism.
Here is how the watching media assessed an entertaining draw at Anfield.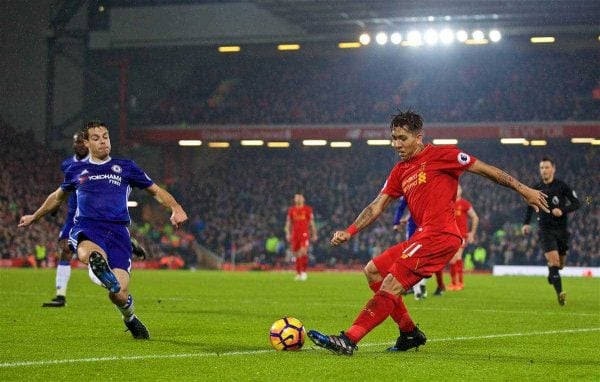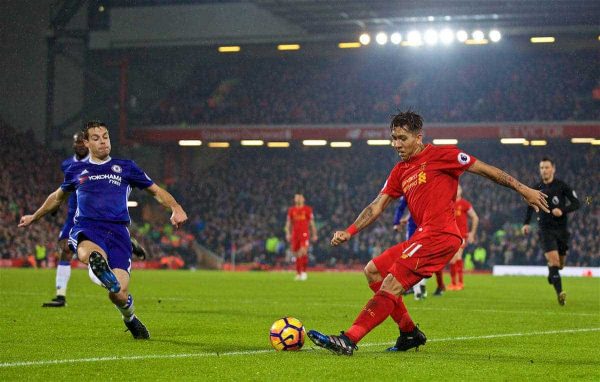 Reporters were much more positive following an improved performance from Liverpool, and saw various plus points with the display—most notably with the work-rate and desire on show.
Firstly, the Mirror's Andy Dunn felt Liverpool simply restored their pride:
"At least they can hold their heads high again, at least Jurgen Klopp can say he put the pride back into Anfield."
For ESPN, Richard Jolly noted improvement in the Reds' work off the ball:
"They sought to gegenpress another top team to distraction; in the process, they looked to turn the clock back a few weeks by dint of effort alone as though they could sprint their way back into form

"There were no surprises in their gameplan, but there were welcome signs of life after the Reds' sterile displays of late."
Daniel Taylor for the Guardian was impressed by the confidence of Liverpool's performance given recent struggles:
"Another team's confidence might have been damaged by their recent results but there was no evidence of that here and that, perhaps, was the most impressive aspect of their performance."
Sam Wallace for the Telegraph credited the defiance of the Reds' display:
"To give Klopp's side the credit due, after three straight defeats others may simply have lost the heart for breaking through an opponent programmed to spring back into shape at every turn, but the home side kept going."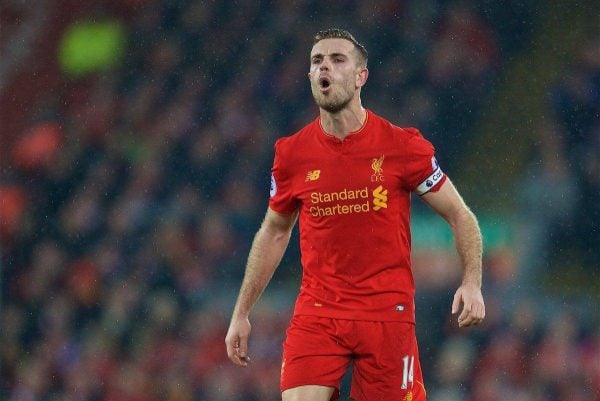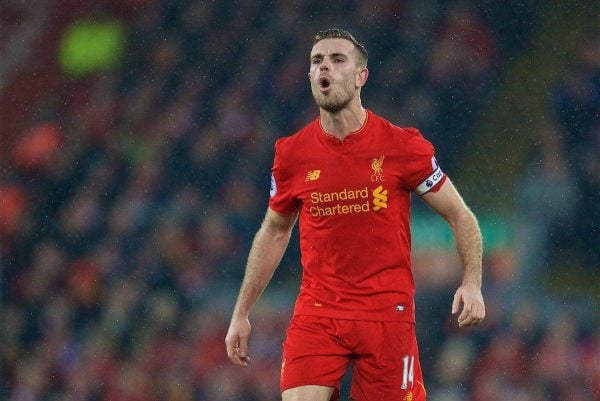 However, certain reporters felt that while Liverpool showed commendable endeavour and effort, they ultimately lacked the necessary quality to properly challenge the current league leaders.
The BBC's Phil McNulty saw signs of the 'old' Liverpool, but thought the Reds lack "subtlety":
"This was more like the high-intensity Liverpool of the early months of the season, although their play lacks subtlety at times as they seem to get carried away by the emotion of the crowd, as well as their animated manager in his technical area."
The Mirror's David Maddock praised Liverpool's attacking efforts, but felt they lacked "incision" and "focus":
"There was an urgency and style to the Reds' play, but no incision at that point. They lacked focus in their attack."
Interestingly, ESPN's Mark Ogden believes Klopp's touchline manner had a negative impact on his team in this regard:
"Liverpool appeared a shadow of their more rounded opponents, with Jurgen Klopp's histrionics on the touchline infecting his players with anxiety and emotion, albeit the negative kind that leads to rash decisions and rushed passes."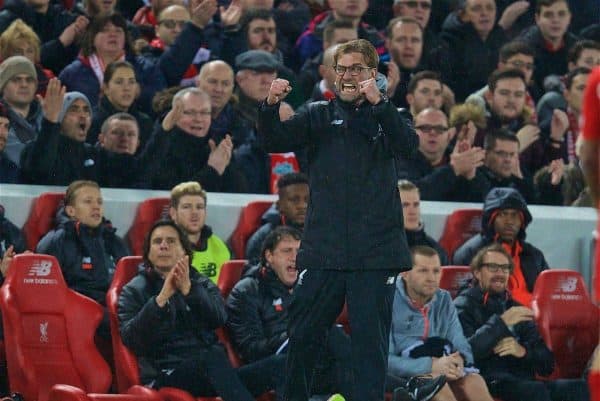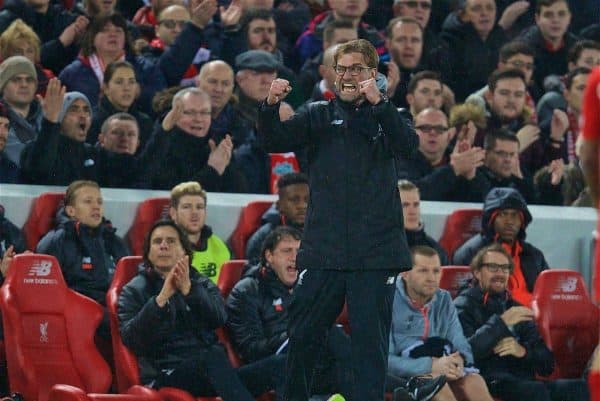 Reporters discussed the Premier League title race after the draw, with most feeling that the point condemns Liverpool to the hunt for Champions League qualification rather than the big prize.
The Telegraph's Paul Hayward thinks a top-four place is Liverpool's most realistic hope:
"For now, Champions League qualification is the only realistic target—a hope made more feasible by their fightback in this game."
Ogden feels the best the Reds can hope for is second place.
"With Tottenham and Arsenal the next two visitors in the league, Liverpool clearly still have a difficult route to get back on track but if their morale is boosted by this result, then Klopp's team may yet emerge as the favourites to finish second."
The Mail's Martin Samuel thinks Klopp's men need to be looking over their shoulders rather than being concerned about catching Chelsea:
"It is not just the distance separating them from Chelsea that should be of concern, but the commotion below.

"So while Georginio Wijnaldum's header meant Liverpool got what they deserved, what they took from this game amounts to little but pride in terms of the title race."
Meanwhile, the Liverpool Echo's James Pearce thought the display provided hope that something still can be achieved this season:
"It was a morale-boosting end to a punishing month as Liverpool played with an energy and a purpose that's been so sadly lacking throughout their January blues.

"This was a gutsy display to give Kopites genuine hope that something can still be salvaged from a campaign which had gone alarmingly off the rails."
For ESPN, David Usher believes the Reds now have a chance to reignite their campaign:
"Avoiding defeat was a huge positive, as was the return of Sadio Mane. With just six games to come in the next two months, there's an opportunity for Jurgen Klopp to get his best 11 players on the field regularly and try to recapture their early season form."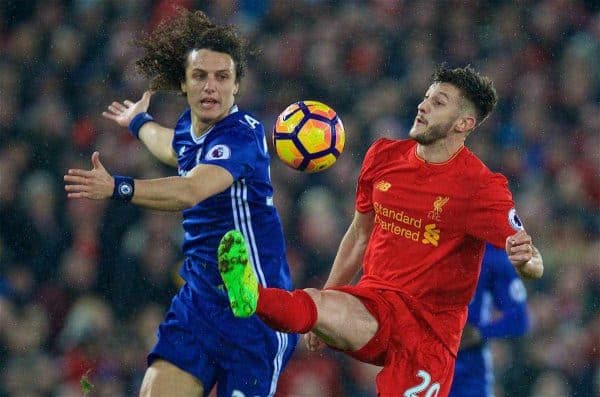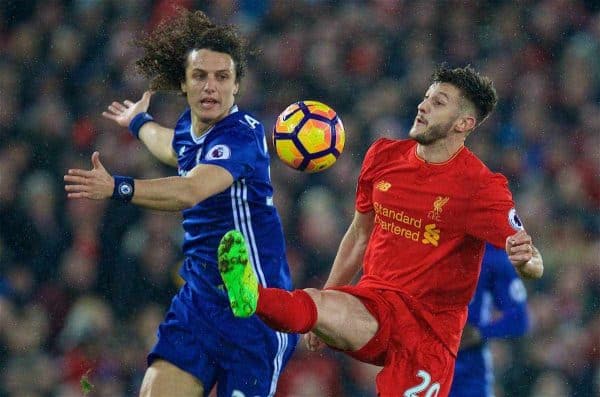 Certain reporters offered some interesting alternative views from the heavyweight clash, including how the game provided further evidence that Liverpool perform better when viewed as underdogs.
On this Jolly, for Eurosport, wrote:
"They showed something of the psychology of this peculiar, beguiling team, who remain unbeaten against the top six but have illustrated their fallibility in supposedly more winnable games.

[…]

"They have an underdog mentality, a willingness to scrap and chase, that helps explain their excellent record in summit clashes."
McNulty supported this, noting Liverpool's excellent record against main rivals:
"The German, however, has proved his mettle against his closest Premier League rivals—and once again he emerged unbeaten to maintain his excellent record against Arsenal, Chelsea, Manchester City, Manchester United and Tottenham since his appointment.

"This draw means that he has played 15 league games against that group, winning six, drawing eight and losing only one, a home defeat by United last season."
Meanwhile, Tony Barrett, for JOE.co.uk, felt the game showed Chelsea have a mentality of winners, in contrast to the Reds:
"Call it what you will, match hardness, a winning mentality, ultra-professionalism, killer instinct; however you choose to describe it, Chelsea have it to an extent that Liverpool don't.

"Of all the qualities that champions have, this is the one that most of them have in common."
Barrett also thought the game showed why Chelsea are ahead of the Reds, with Klopp's side lacking the "street-wise" nous of top teams:
"Liverpool have qualities and plenty of them but this is an area where they do fall short and that is nothing new. An absence of cynicism may endear them to neutrals, particularly when their football is as impressive as it was before Christmas, but it will not aid their attempts to end their long wait for a league title."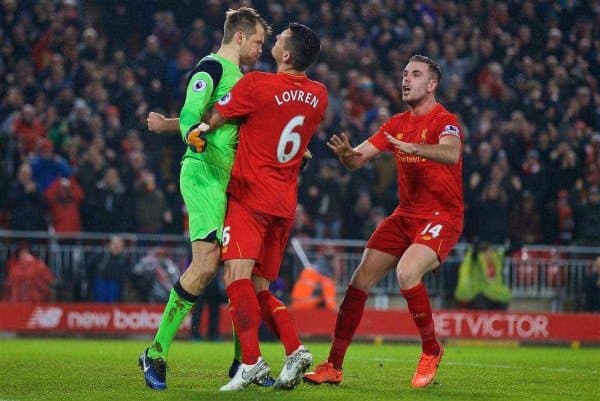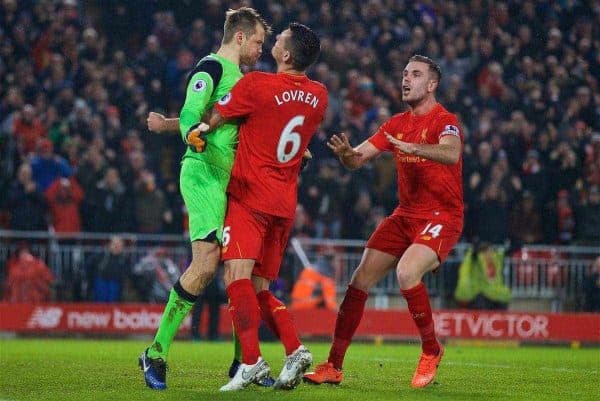 On a night of mixed individual performances, reporters offered their views on who impressed and who failed to inspire at Anfield.
Maddock feels Mignolet is now sweating to keep his place again:
"He may have saved a penalty, but Mignolet's place is under threat.

"Jurgen Klopp is a patient man, but for his keeper to turn away from the free-kick after the referee has blown the whistle is unforgivable."
The Liverpool Echo's Neil Jones praised Nathaniel Clyne's performance as the right-back played through pain:
"It looked a gamble, but his performance here was a credit to his durability, tenacity and professionalism. He did his manager proud.

"He saw plenty of the ball in Chelsea's half as Liverpool worked it wide regularly, and his sense of adventure never dwindled even as the tension rose.

"Defensively, he was good against Eden Hazard—who was withdrawn well before the end—showing why Klopp is so keen to have him out there."
This Is Anfield's James Nalton was impressed by Wijnaldum's display:
"Wijnaldum is Liverpool's best midfielder by some distance at the moment. Despite improved performances from both Henderson and Emre Can in this game, the Dutchman has been the most consistent of the three during this difficult period, and stood out again here.

"His speed of passing matches his speed of thought as he moves the ball quickly in midfield, making up for the more sluggish, predictable play which sometimes seeps into the games of some of those around him."
Finally, Usher praised a captain's performance from Jordan Henderson:
"Terrific display from the captain, who rarely put a foot wrong throughout. Passed the ball well, whipped in several good crosses (including the one that produced the equaliser), made numerous tackles and interceptions and prevented what looked to be a certain goal late on with a terrific last ditch challenge."