Jurgen Klopp is confident Emre Can will sign a new contract with Liverpool, with the club still in "good talks" with the German midfielder.
Can will enter the final year of his current deal this summer, leaving the Reds in a vulnerable position regarding his future.
Previous reports had suggested the 23-year-old was seeking a wage increase to around £100,000 a week, though Can has since dismissed this, saying "it is never about the money, it is about the future."
However, the fact remains than Can is yet to agree new terms with the club, but asked whether this could see his compatriot moved on in the summer, Klopp cut a calm figure.
"It makes no sense to talk about it, but obviously I heard there was a story out there," he said on Friday afternoon.
"We are in talks, what can I say? They are good. Emre likes to be here, we really like him as a person and as a player.
"So there are talks, nothing else to say about it, and until the final year starts, there are a few months still.
"There are absolutely no problems in this moment, completely good talks, like with a lot of other players.
"If there's something to say about it, you will be the first to know again!"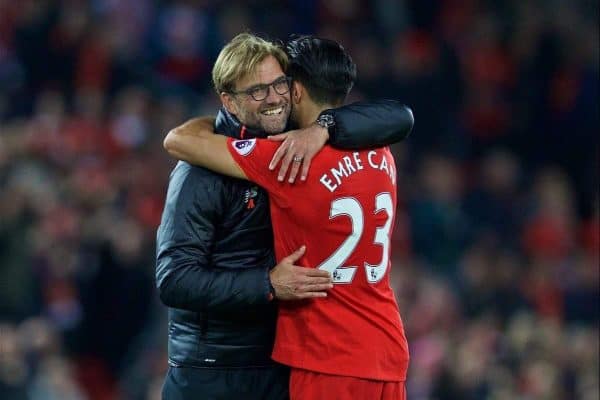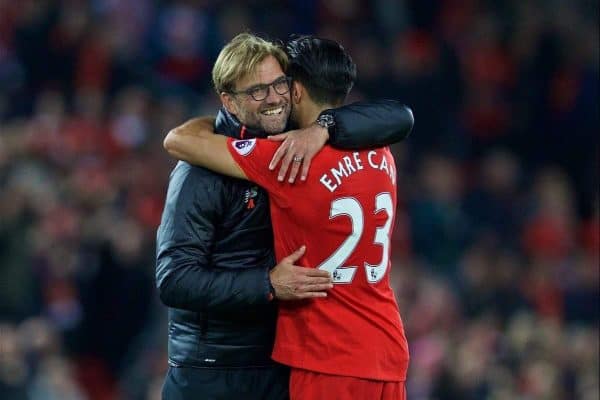 Can has been in improved form in recent weeks, benefiting from injury to Jordan Henderson to take up duties as Liverpool's No. 6, which is arguably his best role.
The midfielder scored the winner in last weekend's 2-1 victory at home to Burnley, and he will be hoping to produce another influential display away to Man City on Sunday afternoon.
Speaking earlier in March, Can attributed his struggle for form this season to his own fitness issues—something he is able navigate in his new position.
"Maybe it was not good that I played and did not have a break. I didn't play well when it was my opportunity to play and it was my mistake," he said.
"I play in a different position now and I don't sprint too much.
"When I play at No. 8 I have to go forward and sprint more; when I play at No. 6 I don't have to sprint too much.
"I feel good at the moment. I have to come back to the old Emre because when I am fit I know what I am able to do and I am confident enough to know I can play much better than in the past."
Meanwhile, Can has been called up to the Germany squad for the international break, and could feature against Gareth Southgate's England on March 22.