Robbie Fowler has spoken fondly of the "brilliant" Ronnie Moran's "old-school tough love" coaching style—the kind of approach he feels is sadly lacking in the game nowadays.
Moran, who died on Wednesday at the age of 83, served the Reds for a total of 49 years in various capacities and was on the coaching staff when Fowler made his first-team breakthrough at the club in the 1990s.
Moran had a reputation as a tough disciplinarian on the training ground, a kind of 'sergeant major' figure.
And, paying tribute to him at a media event ahead of Saturday's Liverpool FC Foundation Legends Charity Match at Anfield, Fowler said: "First and foremost he was a good coach.
"His knowledge and expertise of the game was probably second to none.
"And you knew when he was in and around the training ground, because you could hear him—he was shouting all the time.
"How I like to describe him is that he was tough on most players because he knew he could get a little bit more out of them.
"It was the old-school tough love—he'd shout at you and want you to do that little bit better, and maybe force a player to say, 'I'll show him'. I thought he was brilliant.
"And I think that has gone from the game now, where everyone's putting the arm around the shoulder and coaches are maybe scared to say things to certain players in case something happens."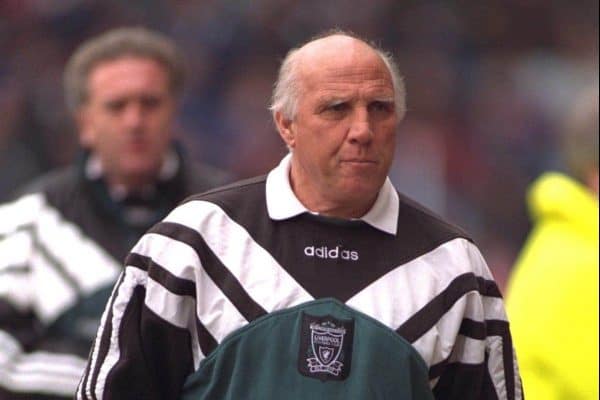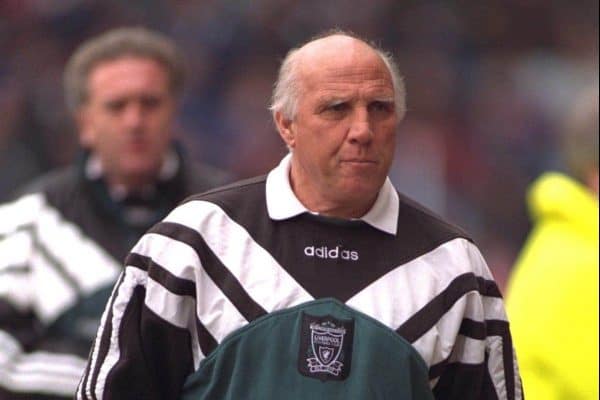 Moran, an integral part of Liverpool's famed Boot Room, twice managed the club on a caretaker basis during his time on the backroom staff, which followed 16 years as a Reds player from 1952, including a spell as captain.
During his near-half-century of service, the club won 13 league championships, four European Cups, two UEFA Cups, five FA Cups and five League Cups.
Fowler, scorer of 183 goals in 369 appearances for Liverpool, added: "He was there for 49 years as a player and coach, and I think anyone who goes that amount of time at a football club is worth their weight in gold.
"You go back as far as the Boot Room under Bill Shankly—everything that was instilled in the early days was carried on by Ronnie, and certainly Ronnie was instilling that into the coaches after him.
"He was a man who loved being in and around the place—even when he retired he was still in every day, walking around the perimeter at Melwood.
"I think he just loved the game and he loved being part of Liverpool."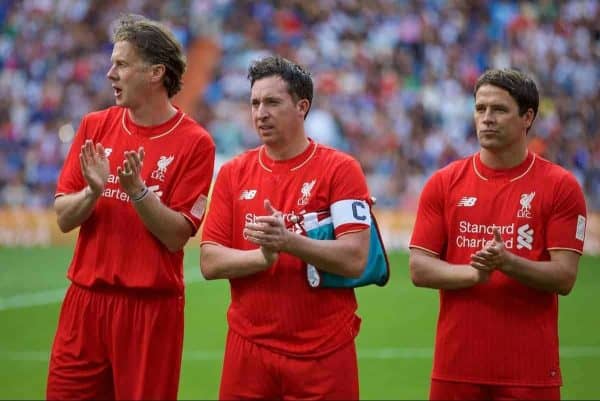 Saturday's charity match at Anfield will see respects paid to Moran, with a minute's applause being held just prior to kick-off and the players involved in the game wearing black armbands.
The contest pits a Liverpool Legends side against a Real Madrid team, and as well as Fowler, the hosts' 23-man squad features Steven Gerrard, the former Reds captain now in a youth coach role at the club's academy, who is set to play at the ground for the first time since May 2015.
Also in the Liverpool Legends squad are the likes of Jamie Carragher, Michael Owen, Steve McManaman, Ian Rush and John Aldridge.
The event is set to raise funds for the Liverpool FC Foundation, the club's official charity, and thereby support its range of programmes and partnerships which aim to improve the lives of children and young people.