Philippe Coutinho has delivered an emphatic statement ahead of Liverpool's Merseyside derby clash with Everton, backing the Reds to triumph.
Coutinho is currently away with the Brazil squad for their World Cup qualifiers against Uruguay and Paraguay, but will return late in the week to rejoin Jurgen Klopp's squad.
The German will be hoping he can call upon both Coutinho and Roberto Firmino as part of his starting lineup at Anfield, as he looks to propel the Reds' top-four push.
Everton have emerged as rivals for a Champions League place this season, though they head into the weekend six points and three positions behind Liverpool in the Premier League table.
According to Coutinho, the Reds' favourable position should give his side confidence, with the 24-year-old adamant their rivals' improvement should not be a concern.
"I don't think about [Everton's form] or worry about that," he told reporters while on duty with Brazil.
"Right now, Liverpool are higher in the league, that's the reality and that's all we have to think about.
"We will be ready. The derby is a very special match for everyone, the fans and the players. We know what it means.
The people of Liverpool live this match with so much emotion and this time it is even more because Everton have improved so much in recent weeks.
"We know it won't be easy, but we know we have to to win, for our fans, for our morale and for everybody."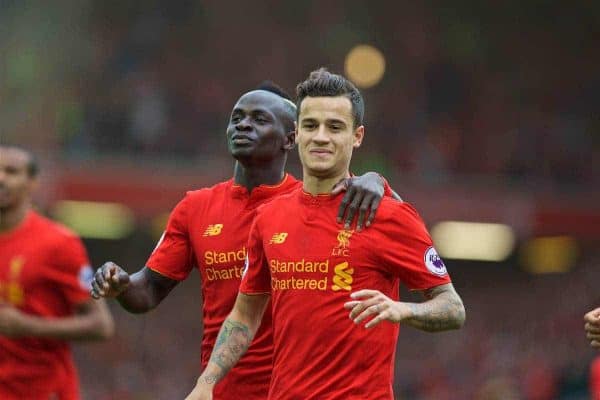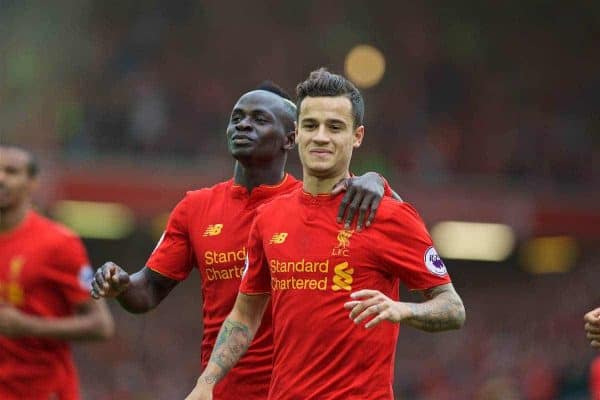 Coutinho has clearly acknowledged the atmosphere of the derby, and the importance of sealing victory over Everton regardless of each side's place in the table.
And an upturn in form from the playmaker, who shone as Brazil beat Uruguay 4-1 on Thursday night, will be central to Liverpool doing so.
The former Inter Milan midfielder's struggle for consistency has been a major talking point during the international break, particularly following renewed links with Barcelona.
But encouragingly for Reds supporters, Coutinho seemed to move to underline his commitment to Liverpool and their Champions League push.
"I just concentrate on my own club. Liverpool is my only focus and my only interest," he added.
"I don't even think about any of our rivals—including Everton. All I want to do is to help this club get into the Champions League and finish as high in the table as we can."
Coutinho is yet to taste defeat in seven appearances against Everton so far, scoring two goals and assisting one more.