Jurgen Klopp's decision to switch to a five-man defensive line during Liverpool's Wednesday clash with Bournemouth proved his side's undoing.
Having beaten Arsenal, Burnley and Everton, and drawn away to Man City, in their previous four games, the Reds welcomed Eddie Howe's side to Anfield looking to add another victory.
With a top-four finish in sight, and the likes of City, Arsenal and Man United enduring inconsistent form of their own of late, a win against the Cherries would have put Liverpool in the driving seat.
For the majority of this midweek matchup, this seemed set to be the case, but a late, late Josh King strike put paid to the home side's hopes of taking 13 points from a possible 15.
And with the former United forward putting the Reds to the sword, Klopp's tactical oversight was laid bare.
Liverpool's Growing Dominance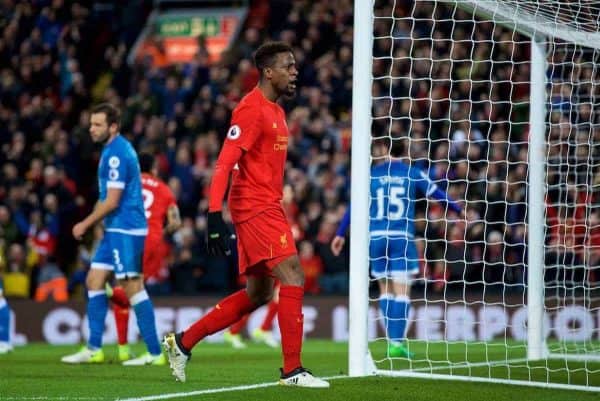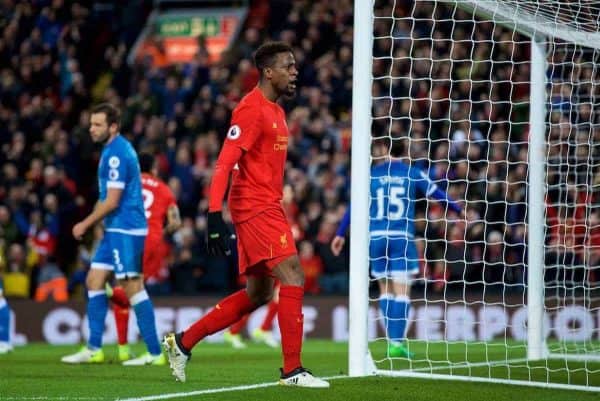 Given the landscape of Liverpool's campaign, and the Premier League losses to Burnley, Swansea City, Hull City, Leicester City and Bournemouth away before it, this clash was never expected to be straightforward.
And with Benik Afobe latching onto Georginio Wijnaldum's misjudged backpass to fire past Simon Mignolet after just seven minutes, it looked set to head in the same direction.
But Wijnaldum's response to this bizarre lapse encapsulated the Reds' fightback, with Klopp's side determined to avoid another loss against a smaller side.
Following Afobe's opener, Liverpool grew in dominance, with Philippe Coutinho's clever strike on the stroke of half-time serving as a timely jolt.
After the break, Nathaniel Clyne struck the bar with a powerful effort, before both the right-back and Wijnaldum launched hopeful left-footed drives towards Artur Boruc's goal, signifying an increased control in the final third.
By the time Wijnaldum had danced through the Bournemouth defence to tee up Divock Origi's header and make it 2-1, Liverpool had tallied 18 shots on goal to the visitors' three.
They had seen 75.6 percent of the possession, completed 447 passes to the Cherries' 148, and had created 13 clear chances to the away side's two; it was another story of Anfield ascendancy.
This made Klopp's first, and ultimately only, substitution of the night on 65 minutes a bemusing one on face value.
A Deflating Substitution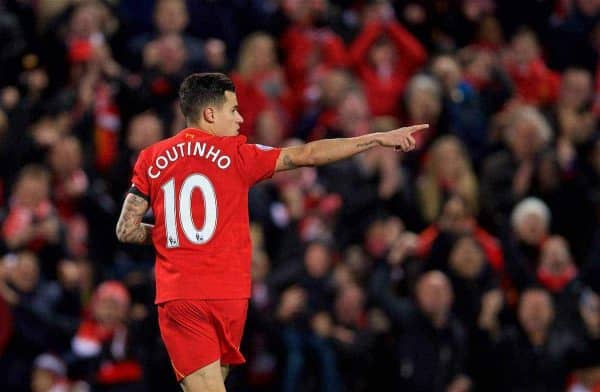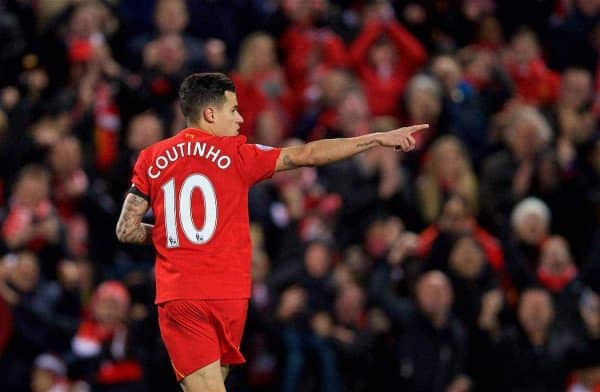 "I'm physically better and I'm feeling more confident," Coutinho said before the game. "The team is playing well again and we have to keep working to try and get better."
With the Brazilian in increasingly improving form, and having scored the Reds' opening goal at Anfield, Klopp's decision to withdraw Coutinho and replace him with Joel Matip seemed an odd one.
Coutinho was far from the most drained, with Emre Can and Roberto Firmino both flagging by that stage, but as Klopp revealed after the game, his departure was enforced.
"We had to change Phil because he felt sick at half-time," the manager told reporters at Anfield. "He says he feels better now but it is clear when he makes the sign he has to change."
Further to his credit, Klopp elaborated that "[there is] no joy when you have to take off your best player," acknowledging that "he played really well."
Introducing Matip gave Liverpool another body in defence, minutes after Howe had sent on Ryan Fraser, the Reds' scourge at Dean Court back in December.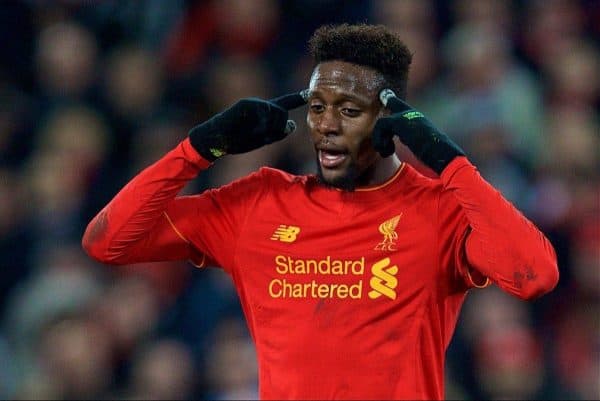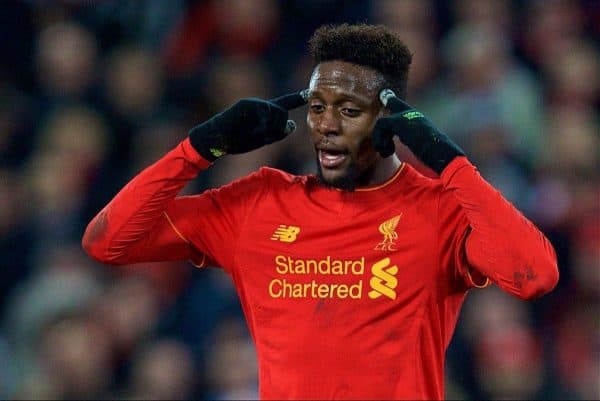 But with Coutinho leaving the field, the home side lost any fluency in the final third, with Origi shifting into a more traditional role as target man, operating deeper, with his back to goal.
After Origi's goal, Liverpool created two clear chances to Bournemouth's one, had two shots to Bournemouth's four, strung together just two more passes than the Cherries and, most worryingly, had just 48 percent of the possession.
Switching to a back five certainly didn't aid the cause, instead inviting further pressure, rather than looking to capitalise by making a more like-for-like change in attack.
And that King was able to turn the hapless Ragnar Klavan to level the scores with just three minutes left to play was a byproduct of this unsettled approach.
Klopp's Rationale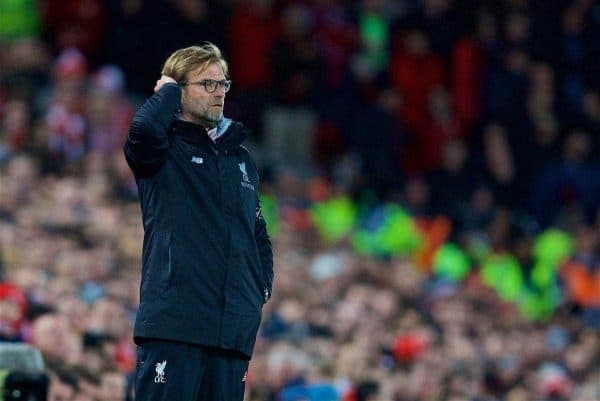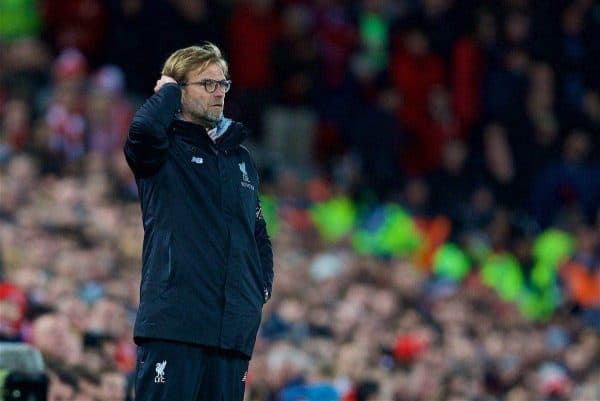 Explaining his decision to replace Coutinho with Matip after the game, Klopp offered a glimpse into his tactical psyche, and his methods in breaking down a rigid 4-4-2 formation.
"We are usually really brave in situations like this when we really try to win and that's what we did—we only tried to win," he said.
"We only thought it made sense to give one more defensive protection in the centre, but we still had a little bit more freedom for the wings—for Clyney and Milly.
"Because against this system we played against today, that's how you bring them in and force them to move—and when they move you can play through the half-space."
With Howe sending on a more incisive attacking presence in Fraser—taking the place of Jordon Ibe, who undermines his £15 million price-tag more every game—it did make a measure of sense to add another defensive presence.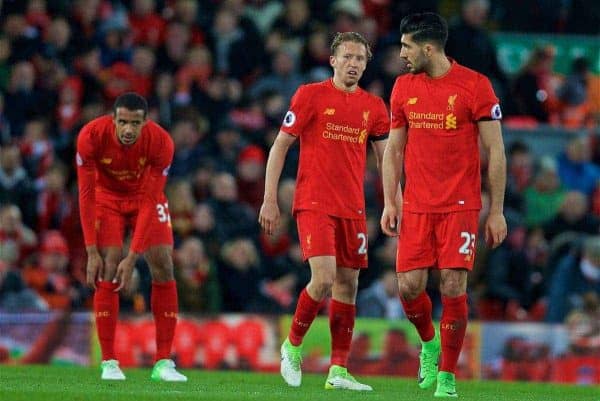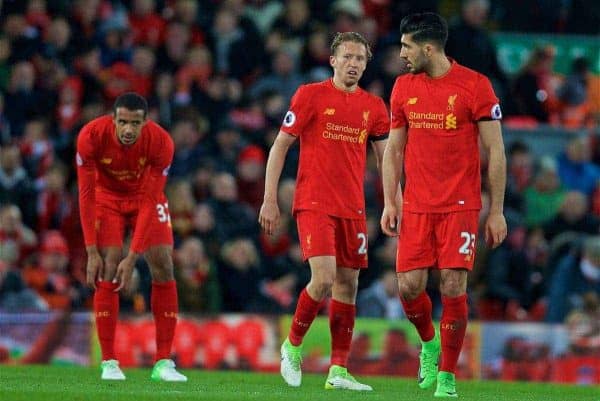 But to set up shop with 25 minutes still left to play and hope to hold onto a one-goal lead, against a side that had already stung Liverpool late four months previous, was a bad call.
While Klopp attested that Daniel Sturridge was not fit enough to come on at that stage, the likes of Alberto Moreno, Trent Alexander-Arnold and Ben Woodburn were all available.
As Jamie Carragher, providing co-commentary on the night, highlighted, leaving a struggling Klavan on the field only exacerbated the situation.
Ultimately, Liverpool's defence were as disorganised with Matip on the field as they were without him.
And falling to another set-piece goal, with King's effort stemming from a long throw, only served to highlight how Klopp's defensive ranks cannot be trusted to win ugly.