Since Luis Suarez's departure in 2014, taking his goalscoring presence with him, how has Liverpool's attack evolved? Will Snyder assesses.
Only a few years ago, Liverpool was blessed with one of the most prolific strikers in world football.
In the 2013/2014 season, Luis Suarez scored 31 Premier League goals for the Reds; 10 more than the next-highest scorer in the league, team-mate Daniel Sturridge.
That total saw Suarez match Cristiano Ronaldo as joint-top scorer in European domestic football.
As we all know, Suarez took his talents to Camp Nou the following season, where he has continued to shine—netting 93 league goals (and counting) in three seasons. 
Three seasons on, it is fair to wonder: have the Reds replaced the goals we lost in selling Suarez?
2014/2015: Lost in the Woods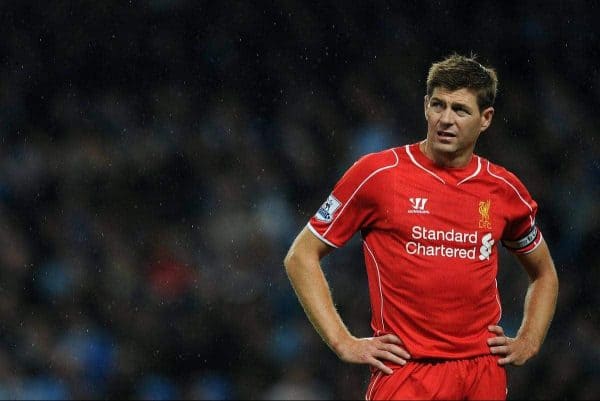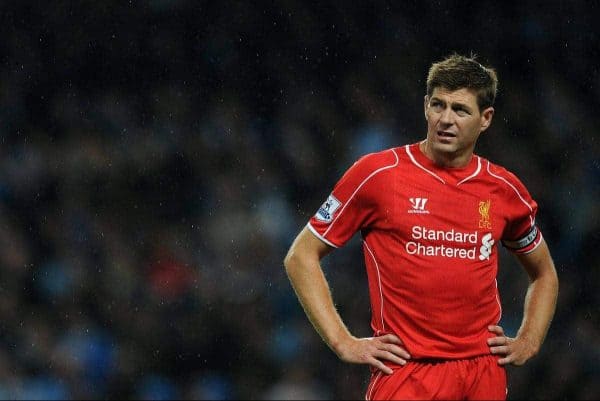 Where Liverpool had racked up a total of 101 goals with Suarez at the fore, it was always going to be a big ask to match that feat, with or without the Uruguayan. But few would have predicted the drop-off would be so severe. 
Liverpool registered only 52 goals in the 2014/15 season, enough for seventh-highest in the league. Clubs scoring more goals included Man City (83), Chelsea (73), Arsenal (71), Man United (62), Tottenham (58) and even Southampton (54). 
Liverpool's highest scorer that season? Steven Gerrard, with nine goals (of which four came from the penalty spot).
Few others provided much assistance: Raheem Sterling (seven), Jordan Henderson (six), and Philippe Coutinho (five), and Adam Lallana (five) were the only ones contributing more than five goals.
Sturridge, trapped in an injury-blighted campaign that saw him feature only 12 times, chipped in just four goals.
The Reds as an attacking force were dead. Where once we had been a dynamic, Suarez-centric dervish, we now looked slow and out of ideas. It was clear that no single player could replace the goals Suarez had provided.
Net result: a predictable attack and a disappointing season.
2015/2016: A Map Through The Wilderness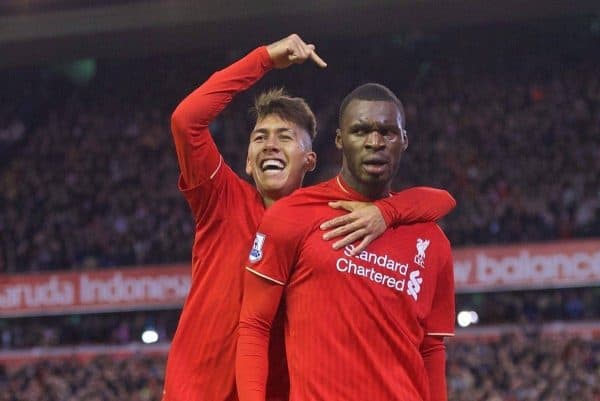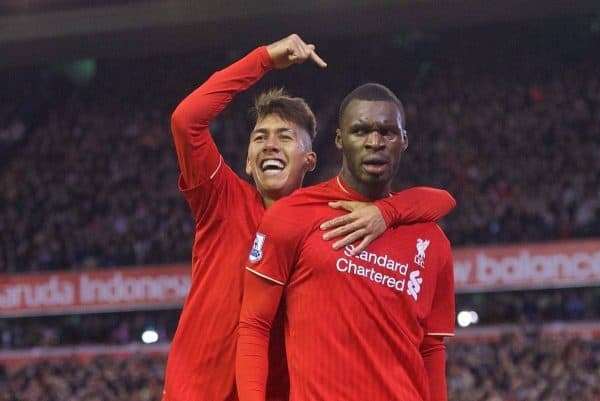 Recognizing his squad's limitations, Brendan Rodgers sought to bring in other goalscorers.
He sanctioned the signing of Roberto Firmino and Christian Benteke, with both arriving in the summer of 2015. It was hoped that their addition would go some way to making the Reds a fearsome attacking threat once again.
There were promising signs, but Rodgers was not around to see them, as Liverpool's early season form brought his termination.
Before he was let go, in the eight league games Rodgers managed, Liverpool averaged a paltry one goal per game. 
Things got brighter under Jurgen Klopp, who Liverpool hired four days after Rodgers' departure. In the remaining 30 games of that season, Liverpool averaged nearly one goal more per game than they had under Rodgers.
In total, the Reds scored 63 league goals that season, a 20 percent improvement over their prior season. The difference? Goals were coming from more places.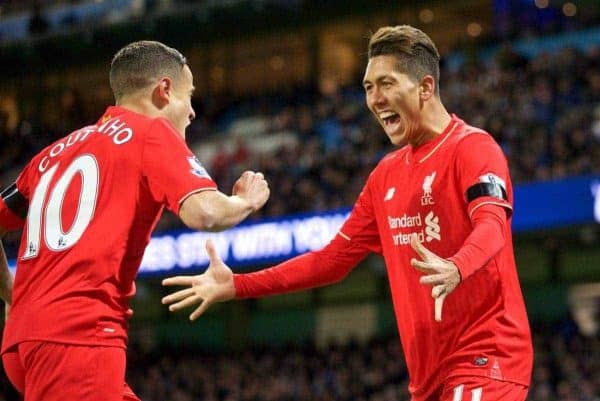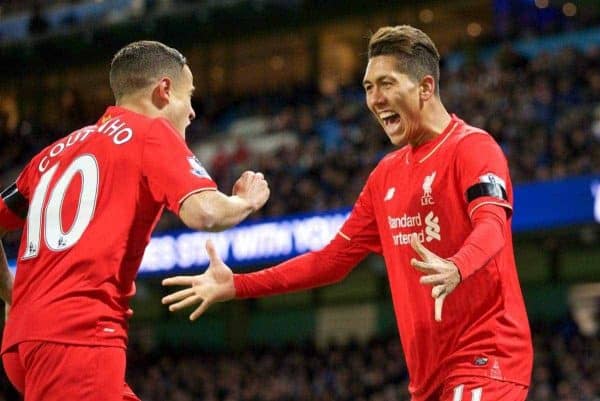 Still far from the fearsome attack it had been with Suarez, Liverpool was beginning to find space to operate between defensive lines.
Firmino was one example of this, as he often played as an out-and-out striker or false No. 9 while showing willingness to drop deep or interchange with others. He netted 10 goals.
Others like Benteke (nine), Coutinho (eight), Sturridge (eight), and James Milner (five) also aided the cause, with players like Divock Origi showing a similar ability in the Europa League.
Klopp was designing a blueprint for a way to create chances, and from more chances would flow more goals.
He required players capable of playing multiple positions; ones willing to run between defensive lines, and create havoc with movement, pace and creativity. He demanded absolute commitment, both offensively and defensively.
Although our final season standing was far from impressive, with eighth place being unpalatable for any true fan, Liverpool was beginning to assemble an attacking force capable of once again making itself heard.
2016/2017: A New Dawn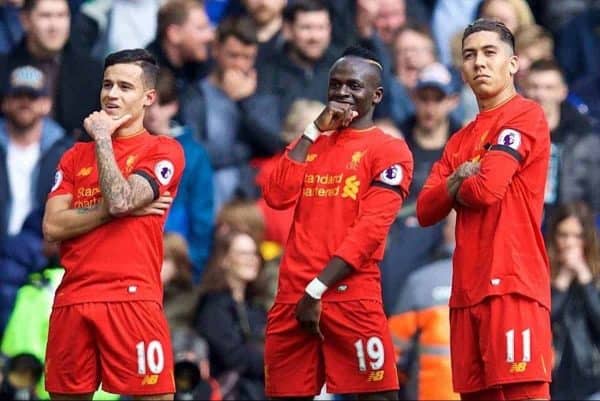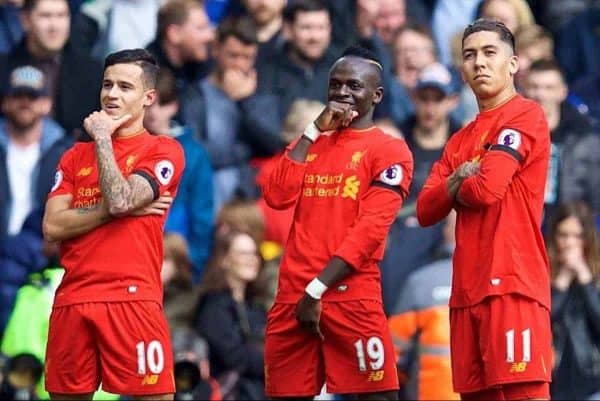 Having had another transfer window to work with, Klopp targeted dynamic players capable of playing multiple positions.
Players like Sadio Mane and Georginio Wijinaldum offered tantalising options to challenge defences in new ways, particularly when paired with creative options like Coutinho and Lallana.
Klopp created a system of players rampaging from the midfield, filling the box and overwhelming opposing defences with numbers, creativity and speed.
And so far it has worked like a charm. Now, Liverpool's attack is once again among the most feared in the league.
As in 2013/2014, Liverpool (70) again top the league for goals scored. However, unlike 2013/2014, we are no longer reliant on the genius of one player. Instead, Klopp's plan of more goals from more places on the pitch has started to reach fruition. 
Mane (13), before being lost for the season, was leading the charge with his blistering pace and the ability to puncture the stoutest defence. But, he was not alone.
Firmino (11), Coutinho (10), Lallana (seven), Milner (seven), Origi (six), and Wijinaldum (five) have all scored five or more goals.
And, with four games yet to play, others like Emre Can (four) and Daniel Sturridge (two)—fitness pending—may be added to that list.
Evolution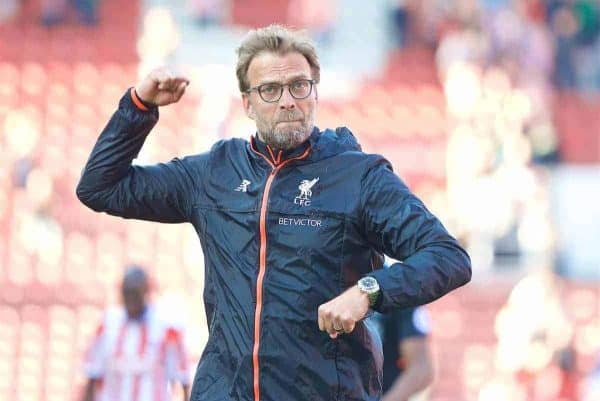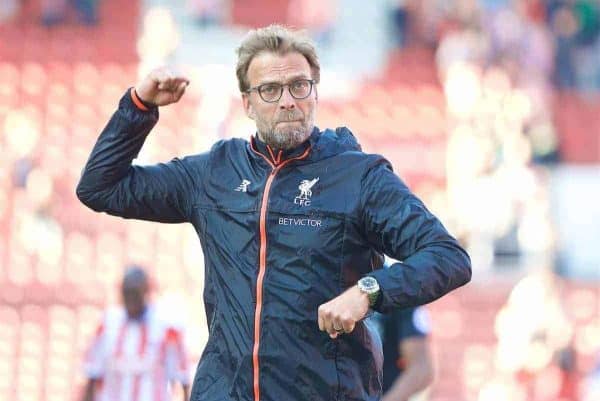 This, of course, is different from the Suarez-reliant days of 2013/2014.
No longer can we Liverpool fans count on one player to create a goal from nothing; although certainly players like Coutinho are capable of doing so in a pinch.
No, what we were witnessing is an evolution in our football. The days of target men like Benteke, Emile Heskey or Peter Crouch are gone. 
Instead, Liverpool is evolving into a hydra—one that can hurt an opposing team from anywhere, at any time. When a defender thinks he has one player sorted, up sprouts another with a different skill-set.
The future is bright indeed. If Liverpool seals its return to the Champions League as looks increasingly likely and once again recruits from the highest echelon of players, what a treat it will be to see Klopp unleash controlled chaos, both at home and abroad.
Now, if we could only talk about that defence…
* This is a guest article for This Is Anfield. If you'd like to contribute a piece for consideration please see this page.