Sadio Mane insists the red card he received for kicking Man City goalkeeper Ederson in the head has only made him more determined to be even quicker.
The pacy Senegal international was sent off in last weekend's 5-0 defeat at the Etihad Stadium but it was generally accepted by all sides his challenge was accidental as he raced through but was beaten to the ball by Ederson charging out of his area to head clear.
Manager Jurgen Klopp has told the 25-year-old to continue playing the way he has been—at full speed and with a high intensity—but Mane has already learned a valuable lesson.
"Honestly, I think in the next time I will get the ball before him," he said.
"My intention was not to hurt the goalkeeper. It was bad and I wish him the recovery to come back healthy.
"I think it was a challenge for the ball. Honestly, I was going for the ball, I didn't have intention to hurt him because I am not that kind of player so I wish him a quick recovery.
"I made contact and it was not what I wanted to do so I apologised to him. It is part of football so I cannot change anything.
"I don't have his number so I just posted messages for him. I think he saw them."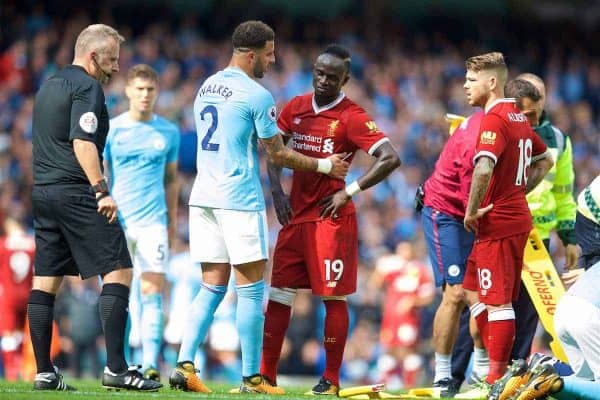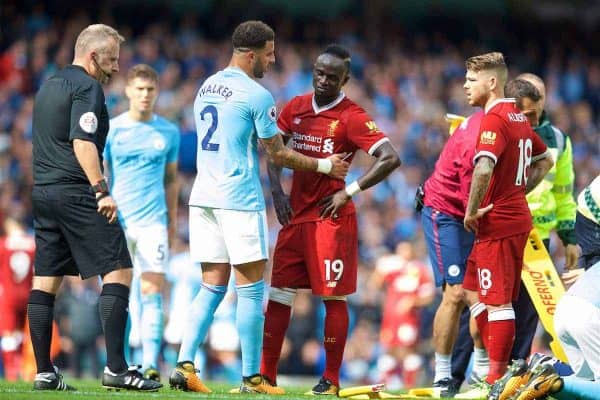 Mane admits he was shocked when referee Jon Moss immediately brandished the red card, which means he will sit out Burnley's visit to Anfield on Saturday and the Carabao Cup and Premier League double-header against Leicester.
"Honestly, I was focusing more on the goalkeeper than the card," he added.
"So when I saw the red card I was surprised because I was expecting maybe a yellow card. I will accept it and try to forget."
On his impending suspension he said: "I would love to be on the pitch all the time and help my team but I will also accept and try to be ready for my comeback.
"It is not easy for me because I always love to play football and to enjoy, especially to help my team to win games.
"But we also have a great team and great qualities and I think the boys can do it [without me]."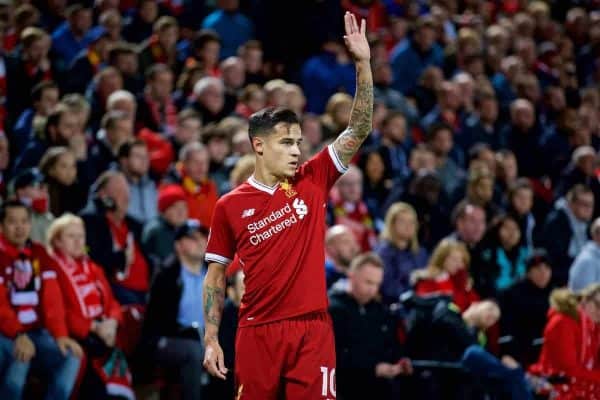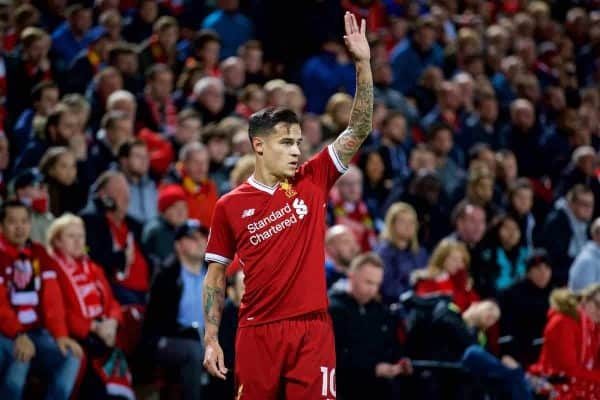 Helping the cause will be Philippe Coutinho, who made his first appearance of the season as a late substitute in Wednesday's Champions League draw with Sevilla—a month after handing in a transfer request in an attempt to force a move to Barcelona.
Judging by the reaction of Anfield to his introduction the Brazil international has been forgiven by fans, as they and the playmaker's team-mates are looking forward to his full-time return.
"It is always nice because he is one of the best players so we welcome him back," said Mane.
"And he is an important player for us to get better and better—not only my game but I think he is a very important player for Liverpool.
"We always need him so we are happy that so we wish him a welcome back and he will help us to get better and better."