A defiant Jurgen Klopp is confident Liverpool will rediscover their killer touch after passing up a series of chances to see off Newcastle.
The Reds have now won only one of their last seven games in all competition after their 1-1 draw on Tyneside and are currently seven points adrift of Premier League pacesetters Man City and Man United.
However, Klopp, whose team are struggling to score as well as to keep clean sheets, said: "There are different ways to get one win in seven."
"You can play really badly and lose a lot of games, or you play in more than a few games really, really well," he explained.
"In most of the games, actually, we have been the better side, but a few chances have been enough for the opponent to score and we need a lot more and have at the end the same number of goals.
"That has happened too often, of course, in the last few weeks, but the only alternative for us is to carry on. We have to do it like this.
"If we would stop doing this, then I would be concerned. As long as we do it like this, I am not concerned."
Liverpool took a 27th-minute lead at St James' Park courtesy of Philippe Coutinho's piledriver, only to see it cancelled out just nine minutes later by Joselu's fortuitous strike.
However, they also wasted several good opportunities to win the game, and might have lost it at the end had Magpies substitute Mohamed Diame been more clinical.
Asked if the result was a fair one, a spiky Klopp replied: "Yes, fair result. Because we scored once and Newcastle scored once. What do you think?"
When the questioner answered that he thought it was a fair result, Klopp said: "This was the first football game you saw? Interesting. Obviously we have different opinions."
The Reds will return to action after the international break with a home game against high-flying United and while Klopp is confident there is more to come, he knows they will have to be more clinical to get anything out of it.
"I have played a lot of times with different teams in my life really badly and got a point and after that, actually it feels like you have won a point," he added.
"But you know, we have a real problem. We have to play better in the next game because otherwise we will not get a point."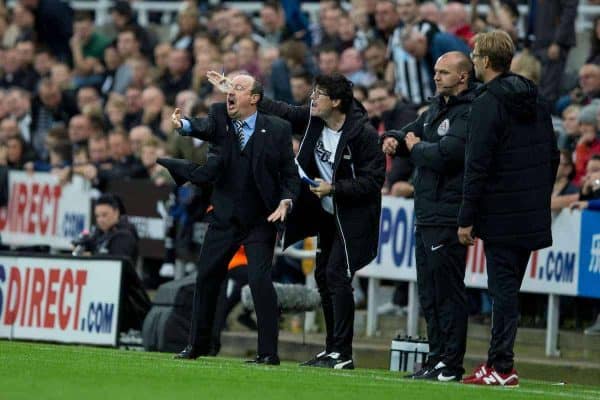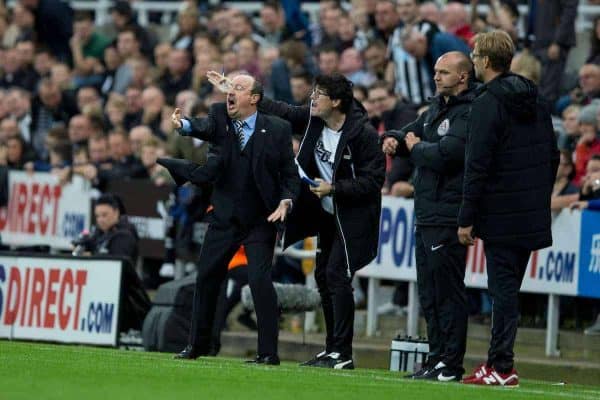 Newcastle boss Rafael Benitez, who had six years in charge at Anfield, was understandably more satisfied after a game which was watched by millionaire businesswoman Amanda Staveley at the end of a week which has been rife with talk of a takeover on Tyneside.
He said: "It's not a question of if I agree with Jurgen or not, it's a question of some games, you have what you deserve, some games not too much.
"In this case, we got one point at home and I don't like that, but still against a top side, I think it's positive."
The promoted Magpies have now taken 10 points from their first seven games and are ninth in the table—and that too is a source of comfort for the Spaniard.
He said: "If you had asked me before, maybe I would have said yes, but after the two games—Tottenham was different because we were playing with 10 players—that we lost, I think we deserved something more and maybe it could be even better.
"But I will not be greedy and I will just be happy with that."