Jurgen Klopp has praised Alex Oxlade-Chamberlain's willingness to learn at Liverpool, following his £35 million move from Arsenal in August.
The midfielder joined the Reds at the end of the summer transfer window, with Klopp clearly eager to add him to his ranks early despite his dwindling contract.
Liverpool paid a considerable premium for Oxlade-Chamberlain, who would have left the Gunners on a free transfer next summer, and he is proving a useful signing already.
He scored his first Premier League goal in Saturday's 4-1 win over West Ham, capping arguably his most complete performance for Klopp's side so far.
And speaking after the victory, Klopp praised Oxlade-Chamberlain for adapting to the intensity he demands, scoring 57 seconds after Manuel Lanzini had reduced the deficit.
"I'm happy, really happy, that he could make this decisive moment," the German told reporters.
"They were all decisive by the end but I would like to have this answer always when we concede a goal. It would make life easier.
"He needs to get used to the intensity that we ask—it's not that Arsenal didn't, they play fantastic football.
"But we are really on it with these counter-pressing things and the switch immediately to make the break.
"The problem is that we are all used to it and if you are not used to it, and you defend differently and you drop when they get the ball, that is a different thing.
"He knew when he came and we signed him that this will happen and we would ask for this and it is nice.
"But a lot of players are like 'yeah, yeah, yeah, I want' and he is like 'what do you want from me?' and he reacts. He will be a really important player for us."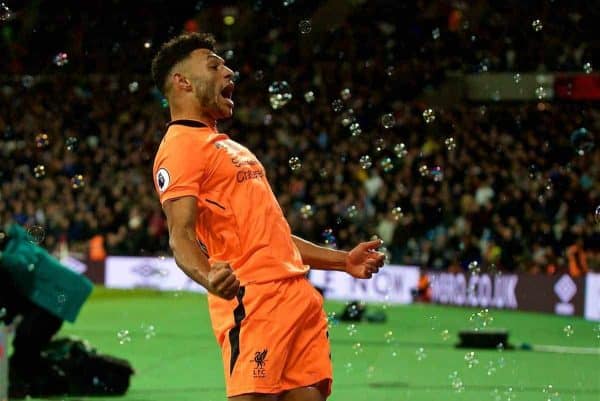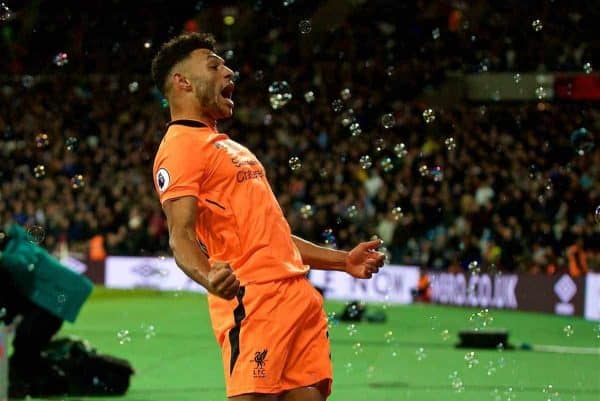 Beyond his commitment to making swift transitions and supporting team-mates with driving runs, one of the most impressive features of Oxlade-Chamberlain's game has been his off-ball work.
This is something that Klopp has suggested the 24-year-old wasn't attuned to from his time working under Arsene Wenger at Arsenal.
But the manager hailed Oxlade-Chamberlain for being open to adjusting his style of play, after six years and 198 appearances for the Gunners.
"It was very intense for him, completely different to the things that he is used to," he added.
"He did really well. I know for these offensive skilled players, how difficult it is for them, to have me all the time shouting.
"In the first half when he was on the other side, it wasn't good for my voice!
"I just like this player because he is already experienced but he is so open to get used to what we do and that is really nice."
Oxlade-Chamberlain is certainly changing the narrative following doubts over his lofty transfer fee, and should only continue to improve under Klopp.