Pep Guardiola was gracious in defeat following Liverpool's 4-3 victory over Man City, but admitted his side had to show greater defensive resilience.
The Reds handed Guardiola's side their first Premier League loss of the season with a thrilling win at Anfield.
Alex Oxlade-Chamberlain set the hosts on their way early on, with Leroy Sane equalising before the break.
A blistering start to the second half saw Liverpool roar into a 4-1 lead thanks to goals from Roberto Firmino, Sadio Mane and Mohamed Salah.
But though City threatened an unlikely comeback thanks to late efforts from Bernardo Silva and Ilkay Gundogan, the loss was the runaway leaders' first in 23 league games this term.
"Congratulations Liverpool for the victory," Guardiola said.
"In the second half we started much better [than in the first], the game was in our hands, we had one or two chances on the counter-attack and the finishing was not good.
"And after 10, 15 minutes the 1-1 to 4-1—in football you can concede one goal, but you have to be stable and in that moment we were not solid enough.
"After the second goal they scored the third and fourth and after that it's always a complicated recovery."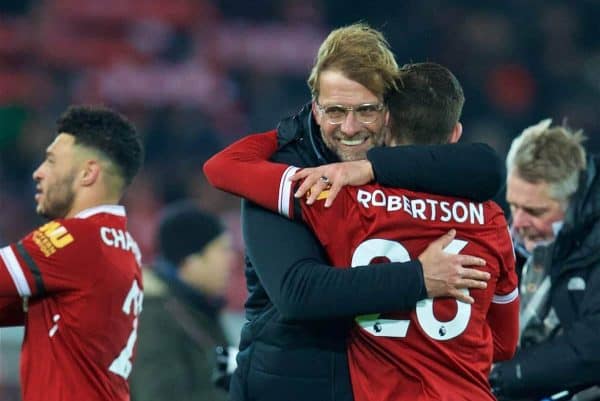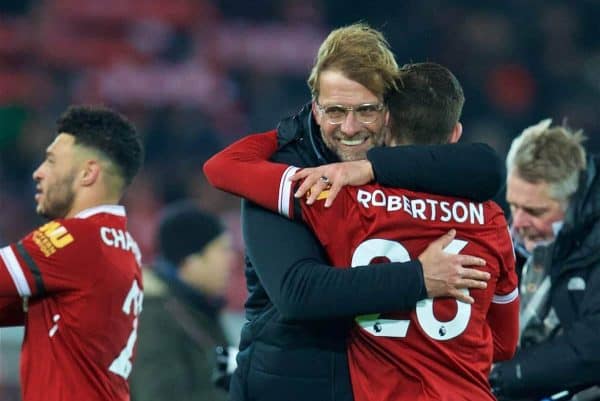 Liverpool boss Jurgen Klopp was full of praise for his side's display, claiming they made City look "insecure."
"That is how football can look if two teams combine quality, skills with attitude," he said.
"I think we deserved the three points, but they deserved that it was not as clear as it was five minutes before the end. I never thought the result would be 4-1, even when we were 4-1 up.
"I'm really proud of my boys that we could perform like we performed tonight."
Klopp insisted he "was not worried" about City's fightback, as his focus was on the positives in his own side's display.
"I'm really interested in the performance and we showed a few signs tonight, very important signs," he said.
"Not only second half, but especially second half, we played pressing from another planet.
"It looked like they were insecure, but it was all forced by us. It was really brilliant.
"It is so difficult. If it was not that difficult a lot more teams would do it, so I was really happy about that."