Andrew Robertson has given an interesting insight in Jurgen Klopp's tactics at Liverpool, and discussed the moment he turned into a crowd favourite recently.
Robertson was a relatively low-key signing in the summer, joining from Hull City for a £10 million fee that feels like peanuts in the modern game.
The 23-year-old has flourished at Anfield, producing consistently strong performances at left-back since getting his chance following Alberto Moreno's injury in December.
Speaking to football journalist Graham Hunter on his 'Big Interview' podcast, Robertson cut a highly impressive figure who fully understands what it means to represent Liverpool.
When asked about Klopp's attention to details tactics-wise, the Scotland international used the 4-3 win over Man City as a fascinating example.
"The manager and his staff have got great attention to detail and leave no stone unturned. We do get a lot of information," he exlained.
"We knew that we were going to get tested defensively, and we did, but we tested them going forward and we capitalised on their mistakes.
"A lot of teams play Manchester City now and just try to sit back and defend for 90 minutes. At Hull, we would sit back. Sometimes you would get a 0-0 draw but other times they would pick you off anyway because they have world-class players.
"But here at Liverpool we've got world-class players too and we knew that if we won the ball in dangerous areas we could cause them problems. And in the nine minutes where we scored three goals, that's what happened.
"For the second goal, we forced John Stones into a mistake which then forced the keeper into a mistake and Roberto Firmino capitalised; for the third, Mo Salah won the ball high up the pitch [and played in Sadio Mané to score].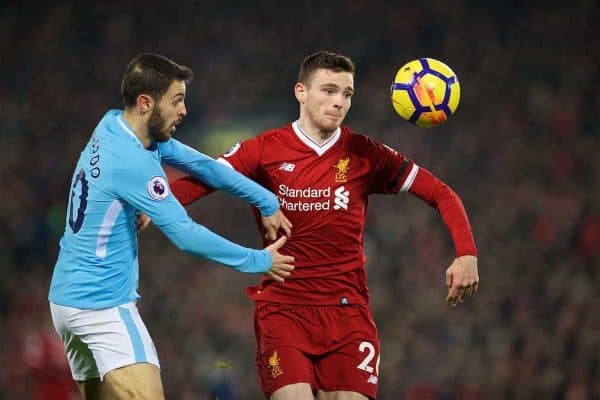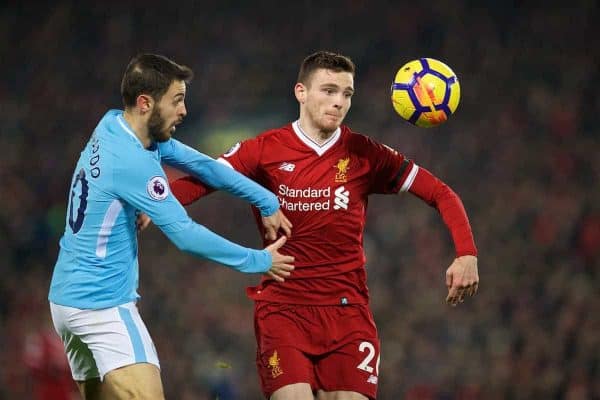 "All these mistakes added up but it was because we put pressure on them high up the park and they didn't know how to cope with it.
"We were set up a little bit differently so that all the half-spaces were covered when we pressed, and we didn't leave any space in behind."
One of the standout moments of that incredible match at Anfield was Robertson's one-man press, when he hunted down several different City players before eventually committing a soft free-kick high in the right-wing position.
It led to the Kop appreciating his efforts by chanting his name in the seconds afterwards, and he talked about his thought process behind the decision.
"I didn't really want to be that far out of position but, with every pass back, they gave me a sniff of the ball. I kept thinking 'I'm going to get there, I'm going to get there, I'm going to get there'," he enthused.
"If the first pass back had been a little bit firmer I maybe would have left it because I've done my job in forcing my winger back. But we had just scored three goals, we were 4-1 up, the fans were magnificent; after the first press I heard all the fans stand up and I thought 'I need to keep going'.
"I don't think it was a foul at the end and usually I would run up to the referee and argue but the truth is I was completely out of breath! I just had to get back in position and focus.
"As soon as we lose the ball the manager likes us to press to get it back. If we have the ball, we can control the game. He'll never tell you not to press though I think he would prefer us to be hunting in twos and threes rather than just one man!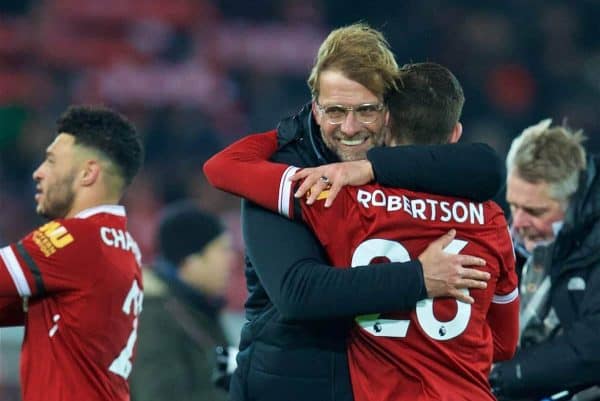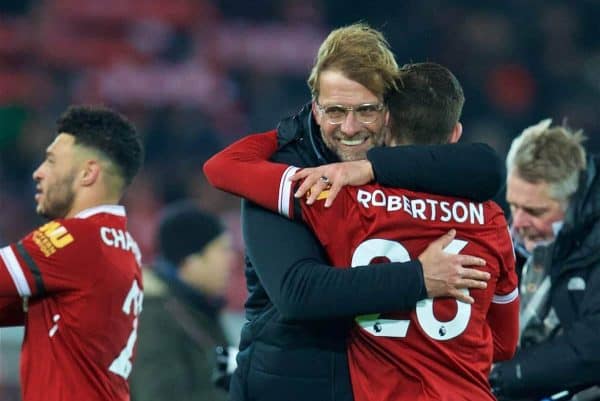 "But I knew if I went on the run, [Georginio] Wijnaldum would drop into left back and someone else would drop into midfield. It's about learning other people's positions as well. As a squad, we've become good at that."
Finally, Robertson spoke a little about his move to the Reds last year and where he needs to improve his game moving forward.
"I know from my first meeting with the manager that I wanted to come. I've had to adapt," he said.
"When I played with Hull in the Premier League it was more about defending whereas, on my Liverpool debut at Crystal Palace, I had more touches than anyone on the pitch.
"I need to concentrate more on what I do in the final third. At Hull I would maybe have two attacks in the whole match whereas now I'll have ten.
"That's something I'm still working on. If I had three crosses at Hull two would be good and that was fine, but now at Liverpool I'll maybe have ten crosses and six are good, but that [percentage] is not good enough in my eyes."
Just by listening to Robertson speak makes it clear that Klopp has signed not only a very talented player but a great character.
He talks with a maturity well beyond his years, and there is a feisty, winning edge to him that immediately catches the eye. He also seems to understand the club and what it means to play for Liverpool FC.
Liverpool have spent a long time searching for a top class left-back, but in Robertson, they have potentially nailed the issue for years to come.
* You can listen to the interview in full here.