Liverpool's failure to beat West Brom on Saturday was frustrating, especially the manner of it, but it's not one to be overly annoyed about.
Draws, I hate them. They cost us the title under Rafa in 2008/09, and simple maths dictates that a win and a defeat is better than two draws.
It's draws, 11 of them so far, that have cost Liverpool this season too. Jurgen Klopp's side have 'shared the spoils' on eight occasions more than Man City, and six more than United.
Of the teams in the top half, only Leicester have drawn as many as Liverpool.
Two points have been dropped against Watford (a), Burnley (h), Newcastle (a), Man United (h), Chelsea (h), Everton (h and a), West Brom (h and a), Arsenal (a), Spurs (h).
Speaking in his pre-West Brom press conference, Klopp was asked what is required to compete with Man City for the title next season. His response was simple: "consistency."
"The gap between us and City was not in the games against City, it was in other games and a few points we missed were kind of unlucky and a few were our own responsibility and we have to work on that."
Saturday's draw at the Hawthorns, conceding two goals off set pieces in the final 12 minutes, was due to a number of factors; many eyes were already on Roma, it was a much-changed defence, and there was an absolutely shocking referee in charge.
So how do Liverpool prevent such draws next season and find that consistency Klopp, and all supporters, desire?
Let's start with the defence. Joe Gomez was making his first start for over a month after injury, and he was poor when tired late on. But he has plenty about him and will remain as a good squad option next season.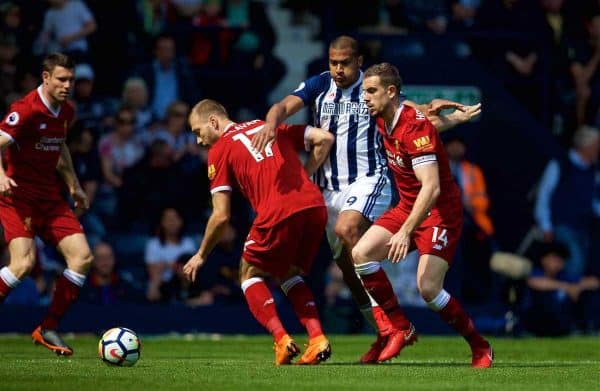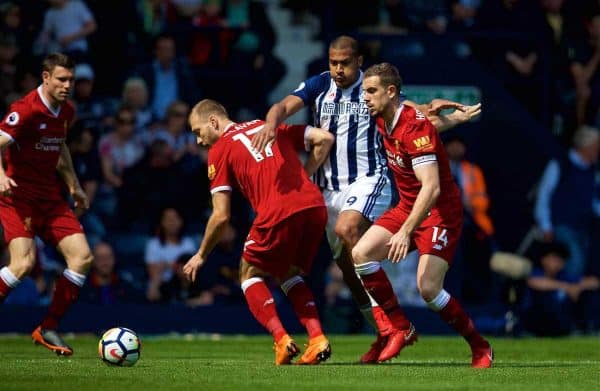 On the other side, Alberto Moreno was poor throughout and the Spaniard's performance showed why he won't be Anfield next season. Upgrades are required on these types of players if Liverpool are to become a ruthless, consistent machine.
In midfield, we've had four players rotating for three positions during the most important stage of the season, which is really not enough.
Meanwhile, Naby Keita was scoring another for Leipzig and showing the quality and attacking output he'll bring to Merseyside in the summer. He's very, very unlikely to be the only addition in the middle.
Ruben Neves, Jorginho and Wilfried Ndidi appear to be on the shortlist for adding midfield options. All of them would improve the depth centrally.
Adam Lallana has shown he cannot be relied upon and players whose fitness isn't up to it need to be shifted on or at the least, their importance to the squad reduced.
Up front, more is required so that Mo Salah and Sadio Mane can be rested and rotated. Adding a top-quality wide player, such as Christian Pulisic or Fulham's Ryan Sessegnon, would add a wealth of options.
Maybe then we can keep the pressure on rather than reverting to a back five in the closing stages, which the team rarely looks comfortable when doing. It's a cliche, but it's not in this side's DNA to play a defensive game.
Imagine if Mane was on the bench vs. West Brom and he was introduced as Salah was removed. That's the type of options we want and need in order to provide the consistency required.
There have been a couple of suggestions from national journalists even this week – the week before Liverpool's Champions League semi-final, their first in 10 years – that Klopp hasn't improved this Liverpool side (seriously, it was some journalist called James Nursey in the Mirror). Laughable claims.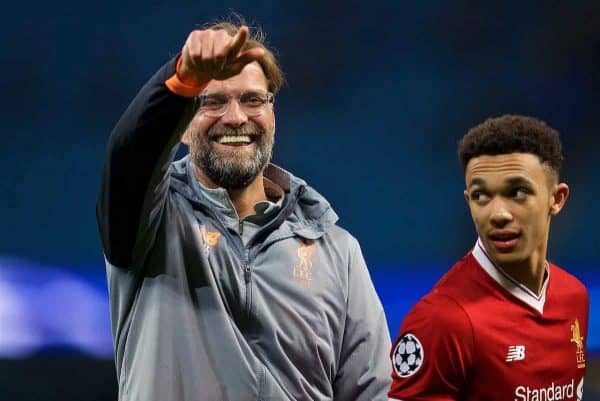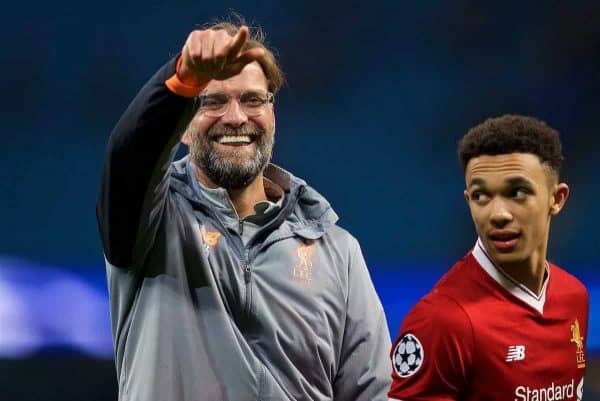 Then there was former Daily Mail journalist Ian Ladyman writing snidely after the West Brom draw that "still we have to listen to those who tell us how much Liverpool's defending has improved…."
Honestly, what planet are these on? Before this, Liverpool had kept eight clean sheets in the last 12 games and conceded just five goals. Those games included quarter-final ties against free-scoring champions Man City.
Ignore 'opinions' of this type. Look forward to Tuesday's semi-final in Europe.
Be frustrated, Klopp clearly was post-match, but he'll sort the reasons for that in the summer.