Liverpool manager Jurgen Klopp hailed the perfect end to the season as they secured a top-four spot with a 4-0 victory over Brighton which sets them up for the Champions League final in a fortnight.
Mohamed Salah broke the record for a 38-game Premier League season with his 32nd in the top flight – and 44th overall – and after Dejan Lovren doubled the lead just before half-time, Dominic Solanke and Andy Robertson scored their first goals for the club.
After three matches without a win it was the best way to sign off a domestic campaign with a confidence-booster ahead of their date with destiny and holders Real Madrid in Kiev at the end of the month.
"Perfect final day of the season. A very exciting season, very intense," said Klopp.
"We showed the kind of football we couldn't show the last few games. The boys are humans, not machines, and we had a lot of injury problems.
"The group of players involved today have to do the job all the time, flying in Europe, playing Everton, West Brom, Stoke, Chelsea – it is really hard.
"I am so happy for the boys because they showed up. Having a game like this is really nice.
"We could have scored more but I am really happy we didn't because Brighton would not have deserved that."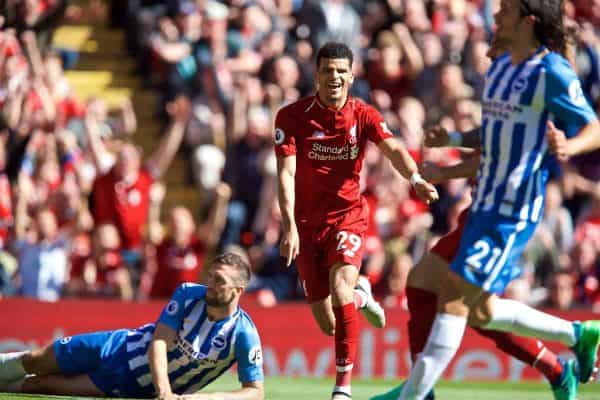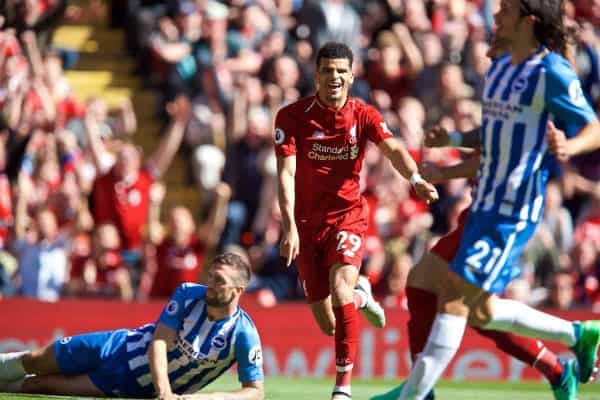 Liverpool needed only a draw to secure back-to-back Champions League seasons but Chelsea's defeat at Newcastle meant it was academic any way.
"After it was 3-0 (in the 53rd minute) it was the first minutes in the season I could enjoy," Klopp added.
"Somebody told me it is 3-0 at Newcastle and it is done. Even I knew we were in the Champions League.
"It's a fantastic achievement of the boys. A few outstanding performances. Last year everyone said we went to the Champions League because we didn't have European football.
"It is for us the next step. I am really happy and proud for the boys."
Brighton boss Chris Hughton, whose side have finished 15th, said: "It's been a tough week for us and I think probably that showed.
"We flew up to Manchester City (where they lost 3-1) during the week and had a very difficult game, and to come and do it again a few days later I think maybe took its toll a little bit.
"We would have taken it (their final position). It's difficult emotions because it's not been a good week for us.
"We have a group of players who will be thinking that hopefully we can come here next season and be in a position to give a better account of ourselves."