Andy Robertson says Liverpool's new signings will aid the Reds' bid for the Premier League title this season.
The general consensus this summer seems to be that Liverpool will be Man City's biggest threat in the league this season, following one of the Reds' most productive summers in recent memory.
Jurgen Klopp has brought in Alisson, Fabinho and Xherdan Shaqiri, as well as Naby Keita who agreed a deal last summer, vastly improving the spine of the side and the depth of the squad.
The Reds now have what looks like a title-challenging squad and Robertson is excited about what his team are capable of in 2018/19.
Speaking to Sky Sports, the Scot believes staying in touch with City early on is essential, with the depth the new faces have added hopefully proving key in terms of quality and competition:
"Last season, City just blew everyone away really.

"The first part of the season was crucial, and they were too far away from us from quite early on really. The gaffer's identified players who he thinks can come in and make a difference.

It's always good to get to know the new guys. There's a bit of a language barrier with Naby and Fab, but they've settled in really well. Shaqiri and Alisson, I'm sure it'll be the exact same with them.

"Last season we were doing well with injuries then it all sort of hit us at once. We struggled near the back end of last season with that. This year, we've got a stronger squad and the competition is there.

"If there's competition in training then the training is intense, and then you have the pressure of a weekend that if you don't put in good performances then your place is maybe up for grabs.

"Coming back for pre-season, it's a fresh start for everyone, players and staff. We can use the experience of what we did last season this time around, not just in the Champions League but in the FA Cup and the League Cup, too.

"Hopefully we can use that, hit the ground running and keep the confidence from the back end of last season."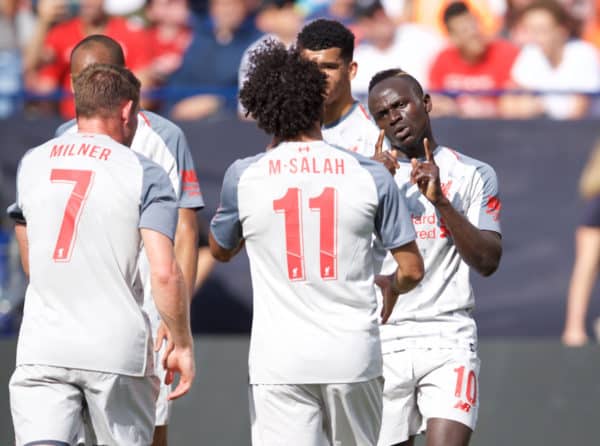 Liverpool fans are often mocked for their confidence ahead of every Premier Leaugue season, with it coming back to haunt us many times.
There is genuine reason to feel full of confidence at the moment, however, and the Reds have a fair chance of ending that long league title drought.
City are clear favourites still, but this is arguably the best Liverpool squad since the glory days of the late 1980s.
Their class was again on show on Saturday evening, as rivals Man United were swatted aside 4-1 at Ann Arbor's Michigan Stadium.