The media were impressed with Liverpool's efficiency and Xherdan Shaqiri's performance in the comfortable 3-0 win over Southampton.
The Reds cruised past the Saints to make it six Premier League wins from six and maintain the 100 percent winning start to the campaign.
A first-half blitz featuring an own goal from Wesley Hoedt, a Joel Matip header and a Mohamed Salah tap-in and wrapped up victory inside 45 minutes as Jurgen Klopp's attacking lineup paid off.
It was a thoroughly deserved three points, and the result sees a piece of history written as Liverpool have now won the first seven games of a season for the first time.
Everything is rosy around Anfield right now, and here's how the media reflected on Saturday's routine win.
Reporters were all impressed by the efficiency, composure and clinical nature of Liverpool's performance…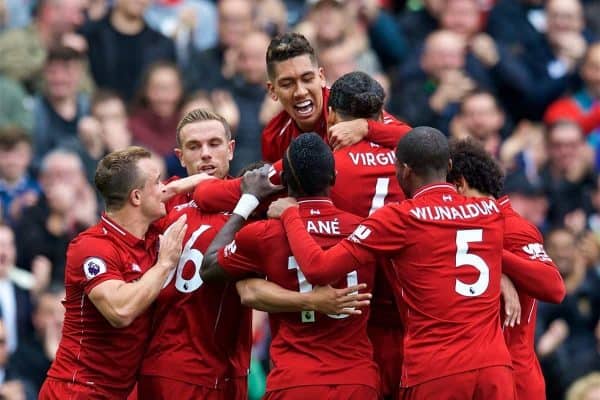 The Telegraph's Chris Bascombe praised the Reds for showing "a different mastery" in winning in such a controlled and composed manner:
"There was a different mastery at work here. As teams like Chelsea have shown over the last two decades, it requires supreme quality to win any Premier League game with such poise and control without feeling the need to sprinkle stardust every five minutes.

"It just needs a little adjustment to appreciate a new flavour to some of these Liverpool victories, as if Klopp is having more success orchestrating changes in tempo from the touchline."
Goal's Neil Jones simply assessed that the new, "functional" Liverpool are doing exactly what is required:
"Seven wins from seven without playing the kind of sparkling, unstoppable football we saw for so much of last season.

"The functional Reds are doing their job, and doing it very well."
Our own Joanna Durkhan felt Klopp's decision to freshen up the starting XI was a good call and big reason as to why complacency was avoided:
"Klopp injected fresh legs into the lineup and altered his formation for the opening term, and it paid off having seen his side net three unanswered goals to set up a comfortable afternoon."
Shaqiri earned plenty of plaudits for his eye-catching full debut display…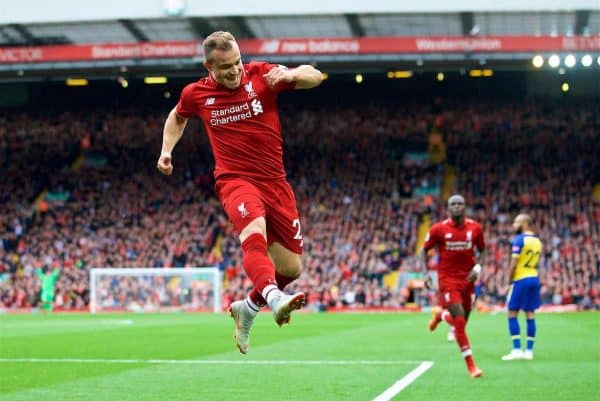 The Evening Standard's David Lynch thought the summer arrival's full debut was worth the wait, with only a goal missing from an excellent 45 minutes:
"The Swiss' appearance was worth waiting for, even if – quite undeservedly – he didn't have a goal to show for it, and his outing lasted just 45 minutes."
Jones was impressed with numerous aspects of Shaqiri's performance, but particularly his contribution to Liverpool's pressing and defensive work:
"On a gloomy Merseyside day, Shaqiri's brightness was there for all to see.

"Given license to move across the pitch in search of space, the 26-year-old saw plenty of the ball and showed a willingness to work which will have delighted his manager."
Our man James Nalton thinks the summer signing could provide Liverpool's best natural attacking-midfield option in the absence of Alex Oxlade-Chamberlain:
"It's a role which Alex Oxlade-Chmberlain had begun to make his own before picking up an injury towards the end of last season, and Liverpool have had no one to fill it in quite the same way since.

"Shaqiri could be that man. He has the pace and dribbling skill of a winger, but also the technique and vision of a midfielder."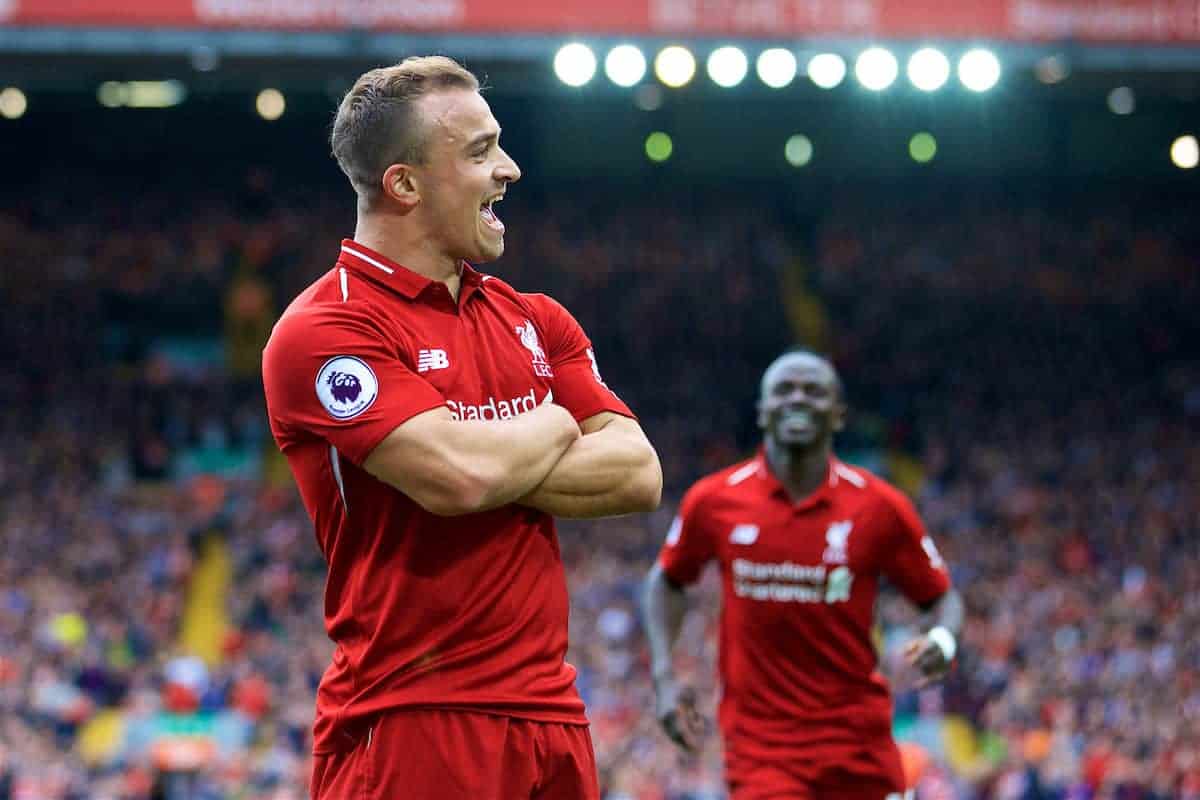 The Mirror's Mark Jones thought Shaqiri showed that he can be part of Liverpool's main attack and not just cover for Klopp's main trio:
"Shaqiri isn't Coutinho, but the point is that Liverpool are at their best when there is a player at the head of their midfield three who thinks like he's in the front three.

"Things tend to flow better that way, and although Shaqiri is more of a battering ram than a delicate flower, his energy and industry in that position could end up having a big impact across the course of the season, starting here with his integral roles in both the first and third goals."
Melissa Reddy, writing for JOE.co.uk, assessed the No. 23 as the main spark and feels that being able to call on such talent in the squad will be vital to ensuring the Reds compete on all fronts:
"When Shaqiri went off, it seemed like the life of the game followed him.

"Liverpool, who have won their opening seven fixtures of a season for the first time ever, will require that kind of vivacity to compete on multiple fronts."
The watching journalists provided some interesting alternative thoughts from the win…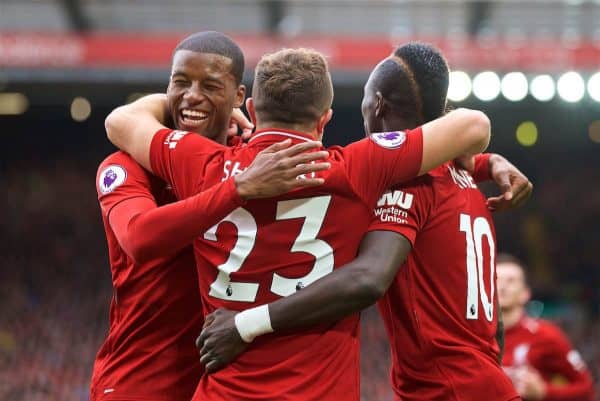 First off, the Independent's Simon Hughes noted how Liverpool's threat and dominance is forcing opponents to adopt unnatural and unsuccessful game plans which the Reds can pick off:
"They have arrived at a point where opponents – certainly this one, at least – turn up at Anfield with game plans which mean players are asked to run tasks that do not come naturally."
Nalton felt the game illustrated how Liverpool carry a threat in all situations and explained how it makes the Reds so difficult to defend against for opponents:
"This game was an example of how much a threat Liverpool are from different types of attacking play.

[…]

"Corners, set-pieces, counter-attacks and the little bit of luck, which has been a rarity for Premier League Liverpool, were all on show here. That the side have more than one trick up their sleeve is a nightmare for oppositions."
Lynch was impressed by how the Reds showed no European hangover and explained why Liverpool should be better in games immediately after Euro activity this season:
"Liverpool picked up just seven points from a possible 18 in the aftermath of their six Champions League group games last season, and so Klopp will have been pleased to see his side make a perfect start in that regard here.

[…]

"That the Reds' next five post-Champions League games are also scheduled for Anfield should help them improve on last year's penchant for European hangovers."
ESPN's Glenn Price was among several reporters to focus on the improved depth at Klopp's disposal, praising how performance levels remained high despite changes being made:
"These were brave calls to make to an unbeaten side but fortunately for Klopp this term, the drop-off in quality from his starting XI to the bench isn't so drastic these days.

"The improvement of Liverpool's depth in all areas of the pitch was clear and working against Southampton."

The Liverpool Echo's James Pearce was impressed with how well the Reds dealt with Virgil van Dijk's early departure:
"Defensively, it's a different story with the Reds growing in stature and proving beyond doubt that they are no longer a soft touch.

"Despite the talismanic Virgil van Dijk going off with bruised ribs early in the second half, Liverpool never wobbled against Saints."
A negative point came from Lynch, who saw defensive concerns with the new 4-2-3-1 formation noting how the Reds were easier to play through than usual:
"While the first 45 minutes were straightforward for the hosts, they might have been punished for the spaces in their shape by better opposition.

"Southampton seemed to find picking pockets much easier in the absence of an extra orthodox central midfielder, and it spoke volumes that this problem was largely alleviated when Milner's introduction led to the return of 4-3-3 at half-time."
And Lynch also bemoaned a missed opportunity for Liverpool to significantly boost goal difference, which could prove crucial come the end of the season:
"It'll take a better defensive outfit than Southampton to shut the Reds out, but they should have significantly boosted their goal difference in this one."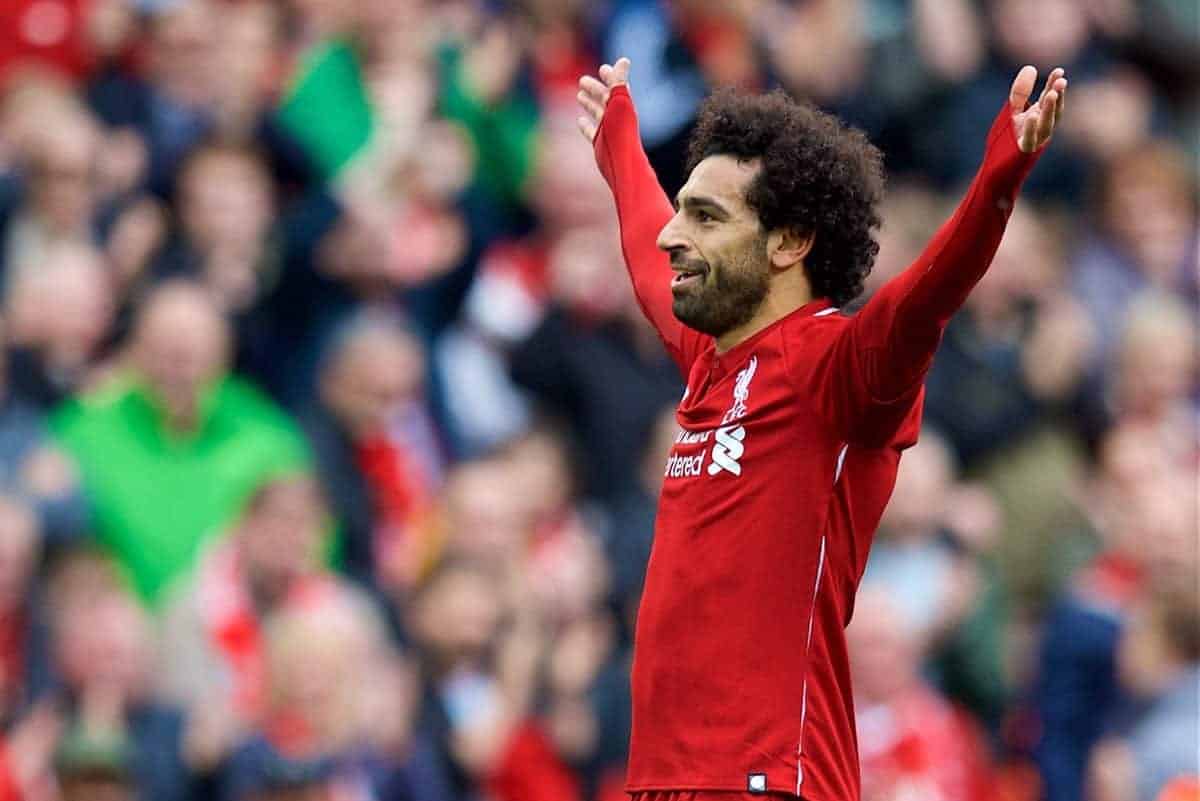 The Guardian's Andy Hunter felt not only was the gulf in class between the two sides displayed, but that between the league's leading sides and lesser clubs in general:
"The game provided a further demonstration of the widening gulf between the Premier League's leading lights and their supposed competitors.

"Southampton did not play particularly badly and Liverpool were a long way short of their intensive, dominant best; yet they still strolled off at half-time three goals to the good."
However, the BBC's Jack Skelton thought Southampton were no test and that we will see Liverpool's full credentials over the next run of games:
"In a tough run of fixtures, Liverpool next face Chelsea back to back in the Carabao Cup and Premier League, before travelling to Napoli in the Champions League and then hosting champions Manchester City in the league on 7 October.

"Those opponents, not an insipid Southampton, will give a better indication of how strong this Reds side are."