"One-eyed wonder," "eye and mighty," "absolutely blinding"—Wednesday's back pages are full of Bobby Firmino inspired puns after Liverpool's late win over PSG.
The Reds kicked off the Champions League campaign in typically explosive fashion with a thrilling late victory over the French powerhouses at Anfield.
Firmino hit a superb stoppage-time winner after Jurgen Klopp's side let a two-goal lead slip, with Daniel Sturridge and James Milner goals cancelled out by Thomas Meunier and Kylian Mbappe.
It was a thoroughly deserved win for the Reds, who dominated one of the tournament favourites from the off with a brilliant collective performance, and the squad will take a huge confidence going forward.
Here's how the media assessed another great European night at Anfield, with praise for the performance and some suggesting the Reds are now back to being a European giant in their own right.
The media were in awe of the result…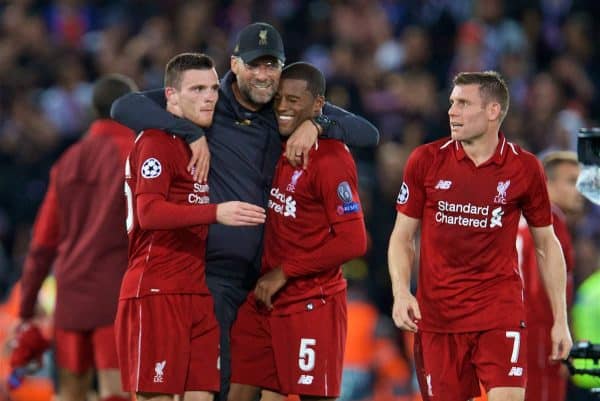 The BBC's Phil McNulty labelled it "the perfect opening," and thinks the win will have sent an early warning out to the rest of the competition:
"And this opening victory against the side likely to be their main challengers for top spot in Group C, is the perfect opening.

[…]

"This result against another team with designs on the trophy is an early warning sign for the current campaign."
Our own Chris Williams focussed on the importance of the win, explaining how it will provide real confidence and momentum to take forward during this tough run:
"With a hectic fixture list this performance and result was exactly what was needed.

"Two wins from two at the start of this magnificent seven run of games should propel the Reds as they face City, Chelsea and Napoli in quick succession."
The Liverpool Echo's James Pearce thought the result was equal to the very best produced in last season's run to the final:
"Considering the calibre of the opposition, this was as good as anything Jurgen Klopp's side served up en route to the Champions League final in Kiev in May."
And McNulty feels Liverpool showed they will "pose a huge threat" again due to the goalscoring capabilities throughout the team:
"Liverpool proved once more that they will pose a huge threat in this competition because they are capable of scoring goals at any time from any angle from a variety of players – it is a weapon that will make them serious contenders if they can make their way into the knockout phase, as they proved last season."
Reporters saw countless positives from a dominant display, with lots of praise for Liverpool's courage…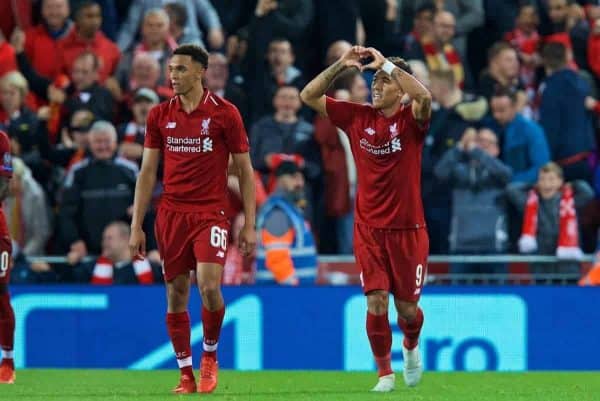 First off, the Mirror's Steve Bates was among numerous reporters impressed by Liverpool's reaction to heartbreak in Kyiv, praising how the Reds simply got straight back to business:
"Losing to Real Madrid in the Champions League Final in Kiev in May will always be a huge regret for Jurgen Klopp and his stars.

"But on the evidence of this display against PSG the Reds have all the hunger, desire and intent to make sure they have another go at winning their sixth European Cup crown at Atletico Madrid's new Wanda Metropolitano Stadium next June."
The Independent's Liam Twomey was particularly impressed by the control of the performance, praising how accomplished the Reds were in possession:
"Liverpool have become as accomplished at controlling games with the ball as they always were at sewing chaos without it, and they patiently picked PSG's lethargic defensive lines apart. In the end, the scoreline flattered the visitors."
The Mail's Martin Samuel put the difference down to the increased intensity Liverpool produce on special European nights:
"It is the intensity that sets Liverpool apart on European nights like this. PSG are not the first opponents, and will certainly not be the last, to endure passages of play when they simply cannot contain them."
The Mirror's Andy Dunn noted Liverpool's fearlessness on the big stage and how the Reds always rise to such occasions:
"Indeed, this is a nerveless Liverpool team, these marquee occasions never seeming to faze them."
The Guardian's Daniel Taylor praised Liverpool's relentless endurance in chasing victory right to the end:
"We knew they played their home games with fearlessness. We knew they attacked in numbers, that they went for the jugular and that nobody, but nobody, would persuade them to change that policy. But now we can safely say the modern Liverpool have powers of endurance to go with all their other gifts."
And the Mirror's David Maddock felt Trent Alexander-Arnold's performance embodied the brave approach:
"[Klopp] needs his players to have to the confidence to buy into it, the belief they can go toe to toe with the best opponents and defeat them.

"Here at Anfield on Tuesday, we saw they do, and Alexander-Arnold typified that. He never once glanced nervously back, never once paused, just charged down that flank and tore the Parisians to shreds."
Reporters felt the Reds showed they are a superior collective to their star-studded opponents…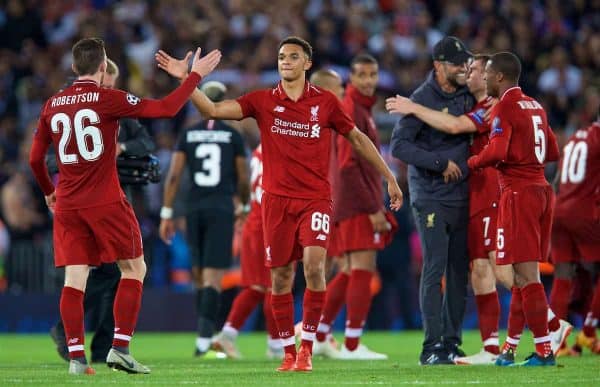 Pearce thought Liverpool showed they are a real team "with a special unity" and thought this was the big difference:
"This is a proper team, functioning in all departments, with a special unity and spirit driving it on."
The Independent's Miguel Delaney assessed the main difference was that the Reds operated like a cohesive unit—in contrast to PSG:
"It was not just that Jurgen Klopp's side possessed a collective focus that the French champions did not. It was the spirit and resolve that led to that late Firmino goal. That was very much the theme of the night: resilience, and resolve.

[…]

"Liverpool looked a proper team, one that the manager has made into so much more than the sum of their parts. They had a collective concentration and focus."
McNulty thought the difference in work ethic was epitomised in the Reds' character to dig deep for a winner after Mbappe's momentum-sapping equaliser:
"It was to their credit, and an illustration of the talent and spirit at Klopp's disposal, that Liverpool gathered their strength for one last push that delivered Firmino's winner."
Certain journalists thought the statement win elevated Liverpool to European giant status…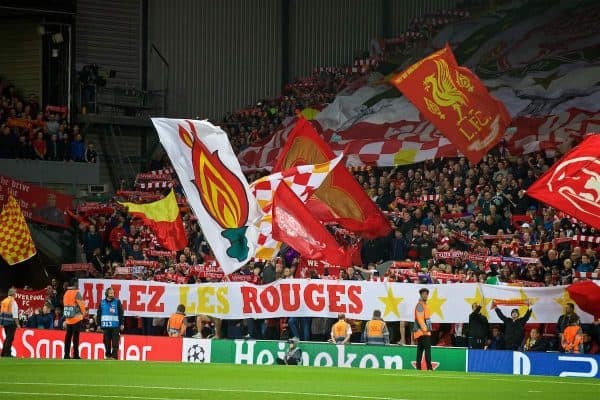 The Telegraph's Sam Wallace thought the performance was one that showed Liverpool believe they are one of Europe's elite sides:
"There was no mistaking the conviction in the way they played that Liverpool believe they belong among the elite of the Champions League whatever the opposition."
And Twomey followed this by noting how PSG's "cautious" display showed that the Reds are now are a European powerhouse to be feared:
"The same summer of investment that has brought them to the level of Premier League title contenders has established them as genuine European giants.

[…]

"PSG's cautious approach to their trip to Anfield underlined their belief that they were faced with equals, sitting deep, surrendering the midfield and hoping to counter."
On a similar train of thought, Pearce was impressed by how the Reds dealt with the increased expectations following last season's success:
"Some wondered how Klopp's men would handle the increased expectation levels having been the surprise package among Europe's elite last season. The answer here was emphatic.

"They played with a swagger and a burning desire which a star-studded side – bankrolled by the petrodollars of Qatar – simply couldn't live with."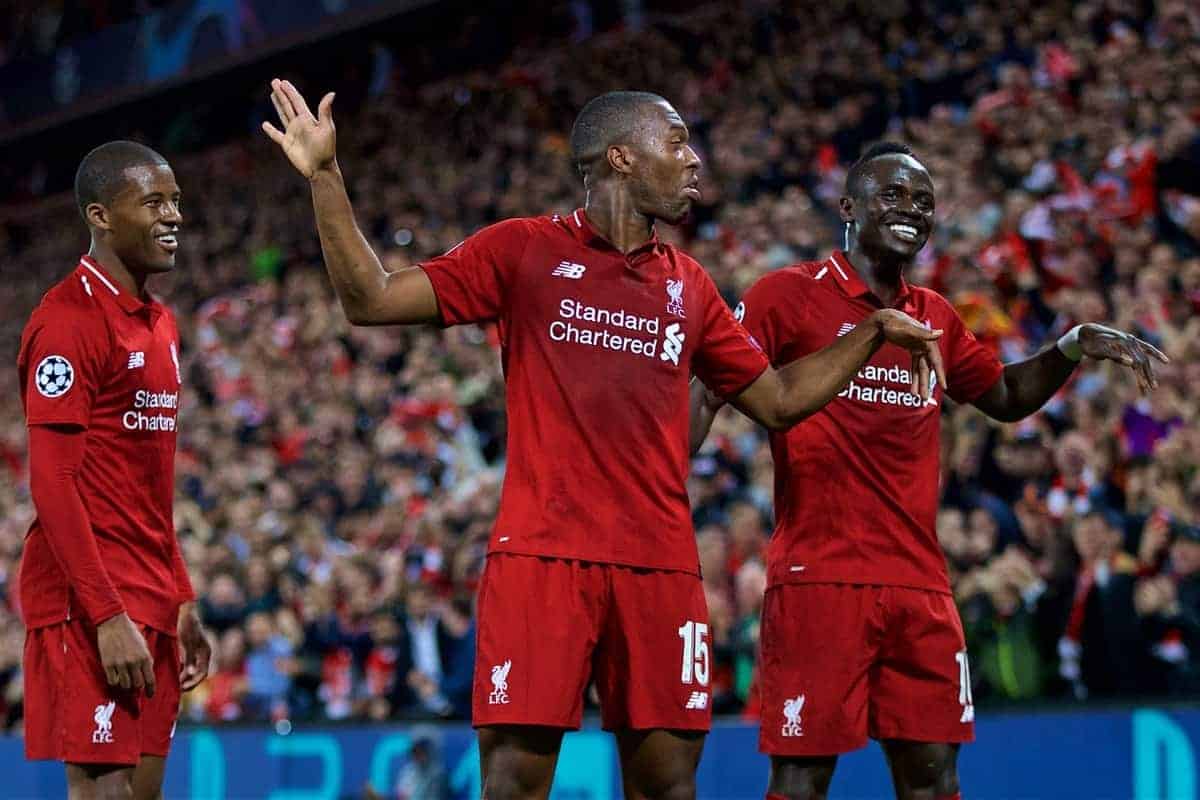 Writing for Goal, Neil Jones assessed it was a night that saw PSG become the latest side to come undone by the power of Anfield:
"They've all felt it. Real Madrid and Barcelona. Chelsea and Manchester City. Dortmund, Roma, Arsenal, United, Mourinho, Guardiola, Ferguson, Wenger. They all know what it can do, how it can blur the senses, affect even the best and the brightest and the toughest.

"Paris Saint-Germain know now too."
Also commenting on the Anfield factor, Taylor thinks the famous stadium is the toughest venue for any away side to play at in the competition:
"Until that point, it had seemed as though they might not fully appreciate why Anfield, without exaggeration, might currently be the most challenging stadium for any away side in the Champions League.

"That was after half an hour and it is amazing how often Liverpool's opponents in this competition concede a goal in front of the Kop, take too long shaking their heads clear and quickly let another one in."
A number of reporters picked out their star performers on the night…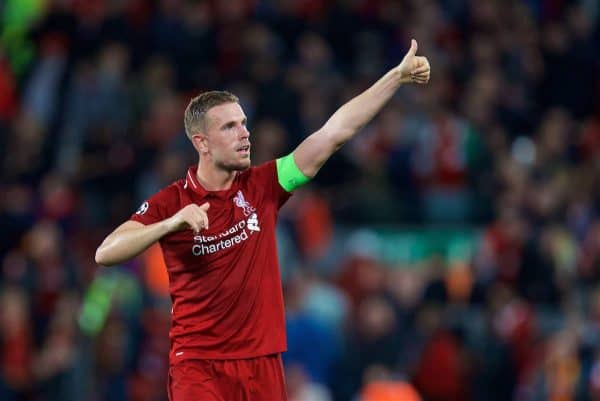 David Lynch, writing for the Evening Standard, thought Jordan Henderson showed why he is still a key part of the team:
"The former Sunderland man was absolutely everywhere – cutting out passes, firing the ball forward accurately and crunching into tackles.

"The Reds have midfielders who are more comfortable in possession, cleaner in the tackle, and better at positioning themselves to block off passing lanes, but Henderson has the right mix of all these qualities allied to incredible application."
Our own Karl Matchett lauded Gini Wijnaldum for producing "one of his most influential" displays:
"After being pushed further forward it was important that Wijnaldum had one of his more influential matches—and he certainly did, taking every opportunity to break into the final third in possession."
Finally, ESPN's Dave Usher lauded another sensational performance from James Milner:
"It's difficult to find the words to do justice to how well Milner is playing at the moment. He set the tone for the performance with a thumping early challenge on Neymar and he was typically outstanding in everything he did all night. Even got on the scoresheet with a well-taken penalty."