Liverpool played well and picked up a draw at Chelsea on Saturday; we look at the good, bad and Mohamed Salah's form.
The Reds faced their latest tough away game in the Premier League, having already hurdled visits to Crystal Palace, Leicester City and Tottenham this season.
Although Jurgen Klopp's men couldn't make it four away wins on the bounce, a point ended up being a more than respectable result.
Daniel Sturridge's 89th-minute stunner cancelled out Eden Hazard's opener, in what was a thrilling game between two genuine title contenders.
After the match, Henry Jackson (@HenryJackson87), Matt Ladson (@mattladson) and Tom Holmes (@TomHolmes19) discussed the good and bad of Liverpool's draw in west London, as well as Mohamed Salah's current shortcomings.
The good…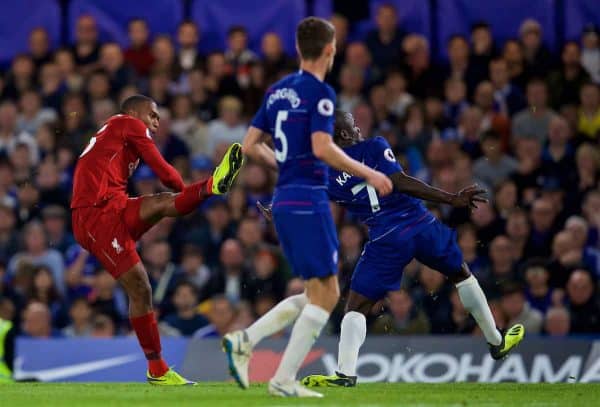 HENRY: Liverpool's ability to never give up is something that really stood out for me – we would have wilted and lost in the past.
Jurgen Klopp has instilled a winning mentality in his players and they look like they genuinely believe a title challenge is on.
Daniel Sturridge's goal is obviously the standout moment, with the striker again highlighting what a key figure he can be this season.
Not many players have the ability to score a goal like that, at such a key time in a big game. It's easy to forget how gifted he is.
Virgil van Dijk and Joe Gomez were exceptional at centre-back, even though Gomez almost got caught late on. They could eventually forge a world-class partnership.
Alisson made two big saves, justifying why Liverpool spent so much on him, and you can't help but feel the Reds would have lost 2-0 with Simon Mignolet or Loris Karus in goal.
A word of praise for Klopp's use of substitutes and Gini Wijnaldum's influence, too, with the Dutchman comfortably Liverpool's best midfielder.
MATT: I agree with Henry that the belief and mentality are major positives – scoring in such a manner like that is 'what title-winning sides do'.
I'm really pleased for Sturridge, he seems to have realised that the grass is certainly not greener elsewhere and returned from his West Brom loan knowing what an opportunity he has here, despite not being first choice.
Alisson showed his quality and Van Dijk continued as the collosus alongside Gomez. That trident in defence is a mainstay for years hopefully.
TOM: The best place to start in terms of positives is the result. Liverpool remain unbeaten having secured a point at one of the toughest away grounds in the country.
Other than travelling to the Etihad, Liverpool won't likely face a tougher match all season, so to come out with a point is a huge result, especially having fallen 1-0 down.
The other thing is that the Reds were good value for that point.
They created three big chances and were desperately unlucky as Chelsea made two brilliant last-ditch blocks, with Kepa Arrizabalaga also denying a wonderful effort from Sadio Mane.
Defensively, it was a mixed game for the Reds, but overall they stood up reasonably well against a Chelsea team that played like one of the best teams in the country.
Oh, and of course, the form of Sturridge. What a man!
The bad…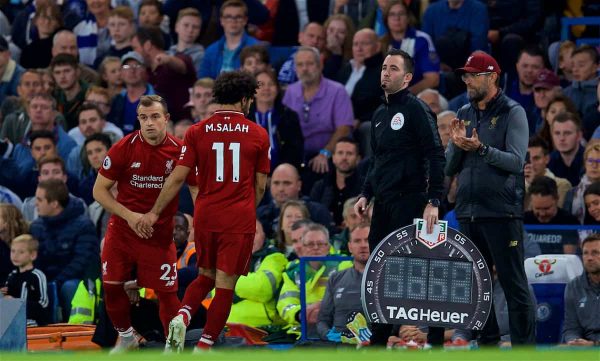 HENRY: Mohamed Salah was poor again, admittedly by the incredibly high standards he has set, but we'll focus more on him a little later.
The Reds' lack of end product was again an issue, as it has been all season.
It was looking like one of those weekend-ruining losses until Sturridge saved the day, and Liverpool have to sharpen up in the final third ahead of the visit of Man City next Sunday.
Several players were culpable when it came to bad finishing, with Xherdan Shaqiri's miss the worst of the lot, and some of the final balls were just not good enough.
Sadio Mane looked messy at times, often not doing enough in dangerous areas, while Roberto Firmino wasn't as slick and reliable as we all know he can be.
The end product will click again soon, but to be on 19 points after seven games, despite this profligacy, speaks volumes.
I thought Jordan Henderson struggled at the base of the midfield, looking off the pace and not using the ball effectively enough, while Trent Alexander-Arnold and Andy Robertson were also short of their best.
TOM: We will come to Salah in a moment, but he was far from the only issue.
The front-three as a whole aren't quite clicking, and none of them had a particularly explosive game, even though Firmino was decent overall.
The other main issue was in midfield, where Chelsea were able to get a lot of joy. The press wasn't quite working – whether Liverpool pressed poorly or Chelsea were simply excellent is hard to say.
Liverpool missed chances, gave up golden chances and should have done a lot better for Chelsea's goal. They didn't deserve to lose the game, but didn't deserve to win either.
If you want to slam your authority on a title race, a draw isn't a bad result, but it's not a perfect one either.
MATT: I can't add much more than what Henry and Tom have said; the front three aren't quite right, but they are still creating opportunities so it's hard to be overly critical.
The midfield three lacked drive and intensity, which showed when Naby Keita came on and provided dribbling in central areas – it might be time to bring him in more regularly.
And Salah's form? Is it a worry?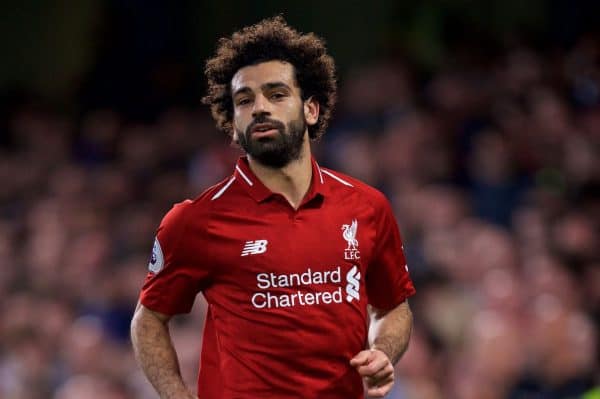 HENRY: What I would say for starters is that we are probably all being overly harsh on Salah, because we almost expect him to be world-class every week.
He did look a threat at times and there were moments of good thrown in.
Let's not ignore the fact that he is off his best, though, and there were numerous occasions on Saturday when he genuinely felt like a weak-link.
His touch is poor, he is getting muscled off the ball too easily and his finishing seems to have deserted him, barring tap-ins.
He doesn't look a happy individual at the moment, playing as if he has the weight of the world on his shoulders, and it is impossible not to be frustrated.
Back in May, the thought of him actually holding the team back would be unthinkable, but he has arguably been the Reds' most disappointing player so far this season, relatively speaking.
Salah is far too special a player not to come good, however, and it won't be long before he is spearheading Liverpool's assault on the title.
MATT: I'm not overly concerned, because he is still doing the running, being a threat and getting into good positions. The old adage is that when you're not getting those opportunities, that's when to worry.
For me, he doesn't look physically right. He seems to be outmuscled more often than last season and perhaps that's a hangover from the shoulder injury which cannot have been repaired as well as it would without a World Cup.
Whether it's actually physical, or psychological, is hard to tell. He needs to feel less pressure and go back to proving people wrong.
TOM: I have frequently argued that we shouldn't be worried about Salah.
He is still getting in all of the right positions, he is still contributing positively to the team and he is still doing everything but scoring. He has also still netted three goals, which is hardly awful.
That said, Salah needs to start finishing chances and producing more end product.
It is all well and good saying that he will turn things around, but when you are having to hook your best player in big games because he is costing you, then that is starting to become an issue.
Liverpool need to rely on him in the next seven days, with two big games on the horizon.