Fabinho made a major impact on his first Champions League start for Liverpool against Red Star, and Jurgen Klopp can now plan around the Brazilian in midfield.
The Reds' 4-0 victory on Wednesday night saw them return to the top of Group C, with Napoli slipping up with a 2-2 draw at Paris Saint-Germain.
Goals from Roberto Firmino, Sadio Mane and a Mohamed Salah brace gave Klopp's side a relatively easy night against a side lacking support at Anfield.
But, rightly so, after the game much of the focus has been on a player who didn't get his name on the scoresheet, with Fabinho excelling on his full European debut for his new side.
After biding his time following a surprise £39 million move from Monaco in May, it could be that he is now ready to take up a key role in Liverpool's midfield.
Worth the Wait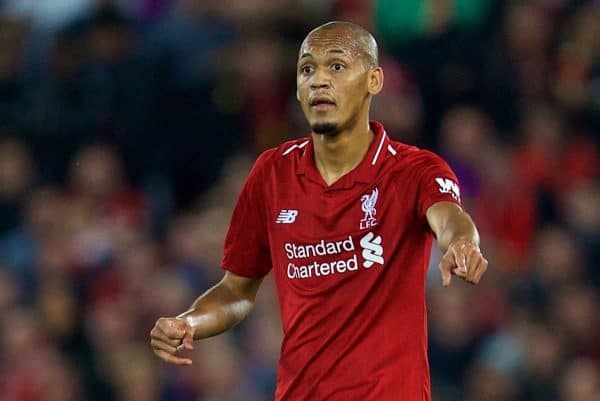 Klopp was transparent in why he had kept Fabinho out of his regular starting lineup before Wednesday night, though one of his examples was not wholly apt.
Andy Robertson (three) and Alex Oxlade-Chamberlain (one) both made a similar number of starts by this stage last season, but Ilkay Gundogan (12) appeared more frequently for Borussia Dortmund.
But Klopp didn't have the wealth of options he does now when he was in his fourth season at the Westfalenstadion, and he also hadn't presided over the "toughest schedule" of his career.
The focus, during that 23-day, seven-game run, was on defensive structure, and though this jars with the notion of leaving out a natural No. 6, fielding Fabinho was seen as a risk.
A home clash with Red Star served as the perfect opportunity to do so, however, after a difficult night against Chelsea in the League Cup a month previous.
And it was worth the wait, as Fabinho overcame a shaky start to produce a standout display at Anfield.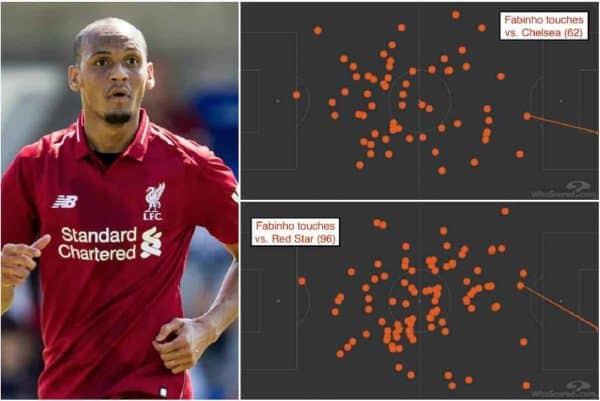 His off-ball work has been widely lauded, and rightly so, as he made nine successful tackles—at least four more than any other player—and won six aerial duels—second only to Joe Gomez (seven).
But his confidence to demand possession was equally as impressive, making the third most touches of any player (96) behind Georginio Wijnaldum (97) and Gomez (103).
He completed the most fourth-most passes on the night (80) and crucially found his man with 90 percent of his attempts, more than any player to start at Anfield.
Of those passes, 55 (68.8%) were forward, and 17 (21.3%) were into the final third, including a lofted pass that led to a chance for Trent Alexander-Arnold—one of two key passes.
Though the gulf in quality of opposition is profound, comparing Fabinho's involvement on Wednesday to his only other start against Chelsea highlights an improvement.
He made 34 more touches and 28 more passes, with 14.9 percent more sent forwards—though a higher percentage were into the final third (23.1%).
As seen in the graphic above, his involvement was more pronounced, more central and more advanced, and this helped propel Liverpool.
Klopp spoke after the game of how "everything was there" from his No. 3, though he added that "that was the start, so let's carry on."
"He was very aggressive and everything was there. For his first game for a while, his second [start] from the beginning, it was good, really good," he said.
"It is quite impressive what people saw tonight. It always helps a player if you play a good game—it helped us tonight and helped him."
This notion of the mutual benefits of fielding Fabinho in this particular game is more pertinent than perception that this was to ease him in, as it seems the wait is over.
Klopp's Birthday Present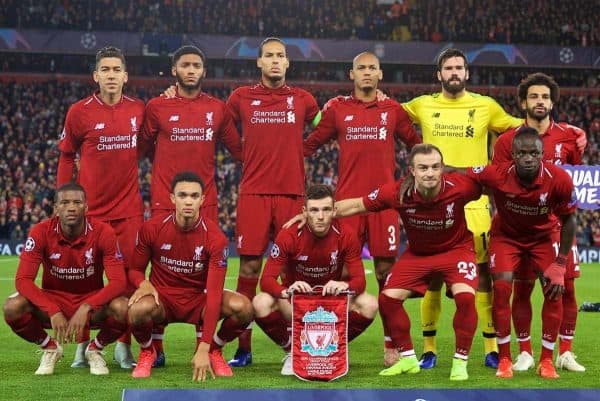 Klopp made a host of alterations for Wednesday's tie, with five changes in personnel and a slight switch in formation well received by supporters.
During his post-match press conference, he described the decision to field Fabinho alongside Gini Wijnaldum in a 4-2-3-1 as a "present for his birthday," having turned 25 the day before.
The manager joked that this was "his favourite system with a double-six," but while the suggestion is this was designed for Fabinho's comfort, it was more ambitious than that.
Instead, allowing Fabinho and Wijnaldum the freedom of the engine room, and the rest of the pitch in front of them, to support Xherdan Shaqiri, Firmino, Mane and Salah, restored Liverpool's vibrancy.
The caveat remains that this came against Red Star, who are back in Europe's top-tier tournament for the first time since 1992, but the Reds' performance transcends that.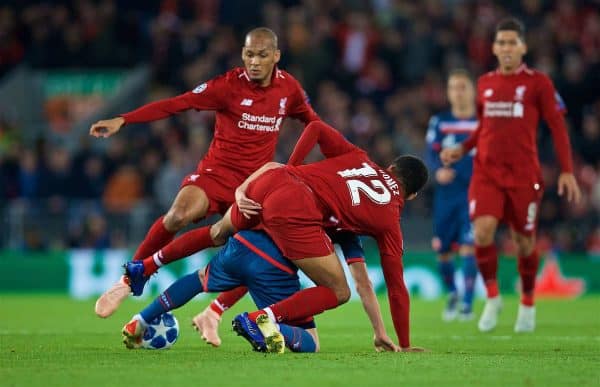 Klopp's two sixes were able to interchange at will, overlapping Firmino, who was at his high-pressing, creative best in a deeper role, while retaining solidity in the middle of the park.
Another clean sheet, and no shots on target conceded, is testament to the efforts of Alisson, Gomez and Virgil van Dijk, but also to Fabinho and Wijnaldum.
Before the game, Klopp highlighted the slow transition of Gundogan at Dortmund, concluding that "after that he played pretty much each game," and the wonder is whether that will be the case with Fabinho now.
Does This Spell the End for Henderson?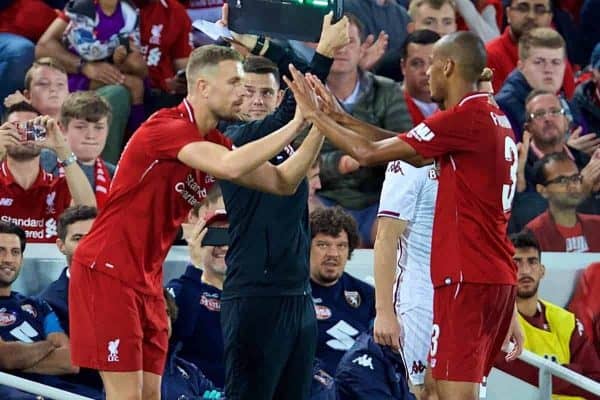 Of course, Fabinho's opportunity came due to injuries to Jordan Henderson and Naby Keita, while James Milner is still working his way back to full fitness after a hamstring problem.
With Curtis Jones instead turning out for the U19s and Adam Lallana seemingly not considered a midfielder anymore, there was little option but for Klopp to turn to his £39 million man.
But just as with Robertson last season, misfortune for one player—in his case Alberto Moreno, whose ankle injury in December saw the Scot take over duties at left-back—can be a lift for another.
Henderson will miss Saturday's clash with Cardiff City, and it is likely that Keita won't be passed fit to start either.
Therefore, Fabinho could be trusted to make his first Premier League start, a week after making his debut in the English top flight as a second-half substitute at Huddersfield.
A similar display to that on show on Wednesday night would only strengthen his claim for a regular starting role—but it is less clear-cut whether this would spell the end for Henderson.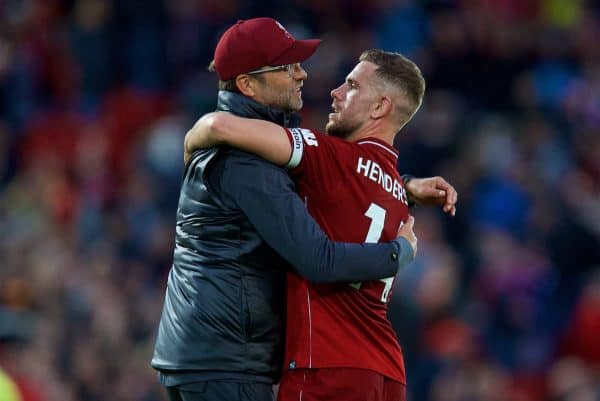 Back in August, Klopp detailed the possibilities when both his captain and his No. 3 are available—which are only magnified by Wijnaldum's stellar form.
"He can still play as the eight or we could play some games with a double six, Fabinho could play the eight or whatever, that's all possible," he said.
"If things were fixed with just one lineup and all the others were only needed when the rest are ill that would be the wrong way and we'd have no chance."
The onus is on Fabinho, however, to ensure that he isn't rotated in and out of the side—and on the basis of this Champions League win, he has the ability to do so.