The media were critical of Jurgen Klopp's tactics and selection and of Liverpool's midfield performance in the 2-1 loss to PSG.
The Reds' hopes of reaching the Champions League knockout stage hang in the balance after a disappointing defeat in Paris.
Goals from Juan Bernat and Neymar did the damage, with James Milner's penalty only a consolation strike, and it means Liverpool have lost all three group stage away games for the first time ever.
It leaves Klopp's side needing to beat Napoli—potentially by two goals—in order to qualify for the last 16 when the two sides meet for the final group stage clash in two weeks' time.
Before focus turns to that huge night at Anfield on Matchday Six, here's how the media assessed events at Parc des Princes.
The media were critical of Klopp, assessing that the boss got his selection and tactics wrong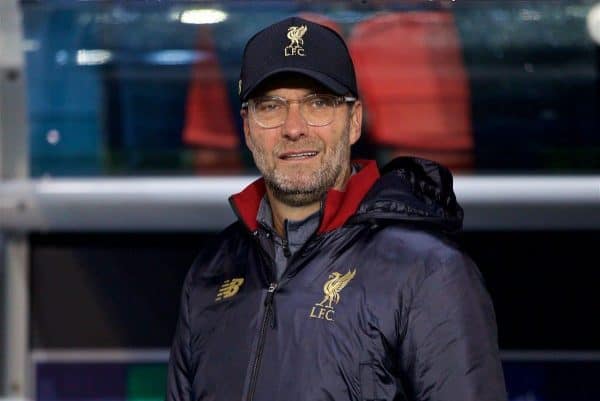 The Guardian's Andy Hunter felt Thomas Tuchel won the tactical battle, noting how the PSG boss' 4-4-2 worked a treat in exploiting Liverpool's "pedestrian" centre:
It materialised in a surprising 4-4-2 formation with Ángel Di María on the right and Neymar left.

Not only did it afford the Brazilian space to wreak havoc against Liverpool's pedestrian three-man midfield, it enabled Kylian Mbappé to preoccupy the visiting defence with his pace.
On a similar train of thought, the Independent's Simon Hughes made an interesting point on how this isn't the first time the Reds have come unstuck against a 4-4-2 in Europe this season:
There is clearly a growing feeling among managers that the best way of neutralising Liverpool is by playing 4-4-2.

It had been the base for Napoli's last minute victory in Italy at the start of October and Red Star Belgrade took the same approach in Serbia more recently.
On Klopp's selection, our own Karl Matchett thought the midfield lineup was wrong and that Fabinho should have started:
Why no Fabinho? This was a game tailor-made for the Brazilian: a team he knows well, a role the Reds needed filling and the most natural protector for the back line.

Why this midfield triumvirate, which frequently hasn't helped or worked in the big games? There isn't enough speed, certainly no creativity and none of them are a goal threat.
The Telegraph's Chris Bascombe assessed the tried-and-trusted midfield trio were too one dimensional and that the imbalance will always be exposed at the top level:
Jordan Henderson, James Milner and Gini Wijnaldum bring the same exceptional dimensions to their game, albeit in varied roles.

Against highest calibre opposition the midfield imbalance is more obvious and undermining.
However, ESPN's Mark Ogden understood Klopp's decision to alter his defence, citing Liverpool's struggles in the right-back area away from home in Europe:
In different circumstances, Klopp would probably have preferred to go with Gomez alongside Virgil van Dijk in the centre of defence and Alexander-Arnold at right-back.

But with Liverpool needing to tighten up at the back after those two away defeats, Dejan Lovren alongside Van Dijk must have been a better option for the Liverpool coach because it ensured that he wasn't exposing two youngsters the devastating firepower of Neymar, Mbappe and Edinson Cavani.
Furthermore, Ogden feels solidity at right-back has been an on-going problem and thinks that playing James Milner there could be the solution:
Liverpool possess two rising stars in Joe Gomez and Trent Alexander-Arnold, but they have both struggled while playing at right-back in the Champions League this season.

[…]

If Liverpool are to make it through to the round of 16, Klopp will need to find a more reliable option at full-back and he could even be forced to put James Milner in that role once again.
Reporters discussed where the game was lost—with most assessing how Liverpool losing the midfield battle was key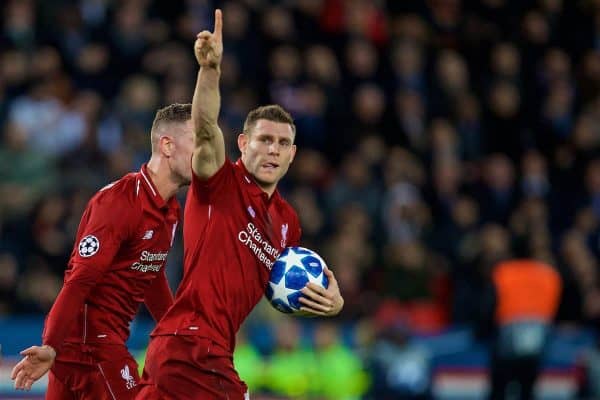 Writing for Goal.com, Neil Jones was among countless reporters to judge Liverpool's "malfunctioned" midfield as the main problem:
Just as against Napoli and Red Star, Klopp's midfield malfunctioned. A return to the tried-and-trusted, the 4-3-3, was designed to give his side greater solidity and control, but his trio of Jordan Henderson, James Milner and Gini Wijnaldum failed in both of their major tasks.

They were unable to protect their defence against the threat of Neymar, Kylian Mbappe and Co. and struggled to feed the ball to Liverpool's own attacking stars.
The Liverpool Echo's James Pearce highlighted how the Reds lost the key battle in the middle of the park, noting that the trio were "out-ran and out-classed":
The reality is that Liverpool were out-run and out-classed in midfield as Jordan Henderson, Gini Wijnaldum and Milner failed to stamp their authority on proceeding.

That was the key battle and the Reds lost it miserably.
Ogden felt Marco Verratti's "totally dominant" performance in dictating PSG's play showed exactly what Liverpool are missing in midfield:
That happened against Liverpool, though, with the former Pescara midfielder giving a masterclass to highlight the big deficiency in Klopp's team. Where Verratti was able to pick passes and dictate the tempo for PSG, Liverpool had three almost identical players doing pretty much the same job in James Milner, Jordan Henderson and Georginio Wijnaldum.

[…]

It is about unlocking the door and controlling the game in the Champions League, but Liverpool don't possess a player capable of doing that.
Elsewhere, Hughes thought PSG concentrated on overloading the wide areas to expose Klopp's side:
Tuchel's side had decided to overload in the wide areas, ceding numbers to Liverpool in the centre of the pitch where Verratti often found himself surrounded by three opponents, though he was capable of dealing with the pressure.
The Mail's Ian Ladyman attributed a worrying return of past bad defensive traits as the key issue on the night:
At the root of the problem is a flaw that we rather hoped had gone away.

In three away games in the competition, Liverpool have shipped five goals and nobody ever won anything at this level defending like they did at times against an exuberant and occasionally exhilarating PSG side here.
Meanwhile, Pearce was also critical of Liverpool for showing a lack of bravery and character to play their own game:
The manager had demanded "big balls football" but there was a distinct lack of cojones on show as the insipid Reds were a distant second best.
Reporters criticised Liverpool's big players for not delivering and singled out the main underperformers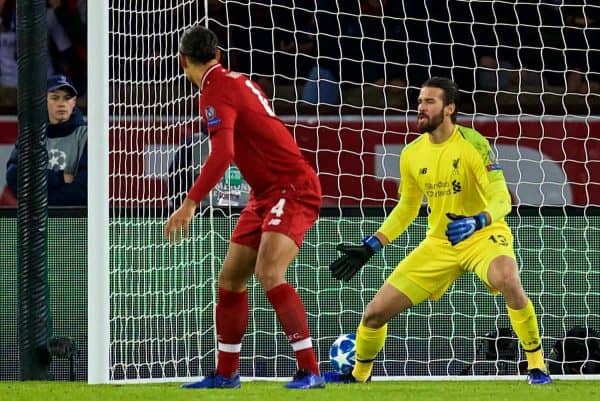 Our own Joanna Durkhan felt Roberto Firmino endured another poor night, and pondered whether the Brazilian's changed role has impacted his form:
Firmino failed to influence the game and was anonymous for the most part, and arguably his worst performance in a long time. The Brazilian failed to curb Marco Verratti's influence and was left out to dry as the midfield offered very little in the way of forward impetus.

A rare off night in the Champions League but could this in part be due to his changed role recently? It can't help.
The Mirror's Darren Wells was unimpressed by Virgil van Dijk's display – particularly the Dutchman's role in PSG's first goal:
But Van Dijk showed an uncharacteristically sloppy moment to gift PSG the lead, and was all at sea in the first half.

[…]

There's no doubting his quality – but to be the best, he'll need to cut mistakes like that out, for his own sake as well as his teams.
In his player ratings for ESPN, Glenn Price awarded both Gini Wijnaldum and Jordan Henderson 4/10 for poor performances:
Wijnaldum – Booked early as he struggled to withstand PSG's onslaught. The fact he was the first player in red to be substituted was not at all surprising.

Henderson – The captain did not deliver the performance that was required, particularly after his sending off vs. Watford at the weekend.
Finally, Wells did single one player out for praise—that being Alisson for keeping the score-line respectable:
Liverpool may have lost, but it could have been by a far greater margin were it not for the man between the sticks Alisson.

[…]

He may have cost £67 million, but on this evidence he's worth every penny.