Jurgen Klopp has an interesting selection and a crucial call to make in how to shape Liverpool's midfield for Sunday's derby clash with Everton.
Champions League hopes may be hanging by a thread but the Reds have no time to wallow with the small matter of the Merseyside derby up next.
Klopp's side need a vastly improved performance to that produced in Paris to ensure the Premier League push stays on track, and the Toffees endure yet another miserable trip to Anfield.
It is the perfect fixture for the Reds to bounce back in and Klopp is set to make changes – with the possibility of doing so in all departments – in attempt to ensure that happens.
So how could Liverpool line up for the first derby-day clash of the season at Anfield?
Squad Update & Potential Starting XI Changes
Speaking in his pre-match press conference, Klopp revealed the Reds picked up "a lot of knocks" against PSG, all of which will be assessed ahead of kick-off.
Who specifically is suffering was not revealed, but the boss seemed confident there is enough time to recover to therefore enjoy a near-full squad again.
One man who will definitely miss out though is Jordan Henderson, who is suspended after his red card at Watford.
However, Klopp could welcome back Adam Lallana, who reportedly returned to training this week.
Providing the rest of the squad is available as hoped, Klopp has options to switch things up in all areas.
Trent Alexander-Arnold should return at right-back after being rested against PSG.
At least one change in midfield will be enforced with Henderson out, while Gini Wijnaldum and James Milner's places could come under threat too.
Naby Keita is a contender to come in after a bright cameo in Paris, while Fabinho will be eyeing a starting role after successive games on the bench.
Xherdan Shaqiri is in contention for a return to the attack, with Daniel Sturridge another option to consider.
A key decision faces Klopp in whether to go with 4-3-3 or 4-2-3-1 – and the big selection call comes in who to play in midfield in the chosen system.
The Potential Lineups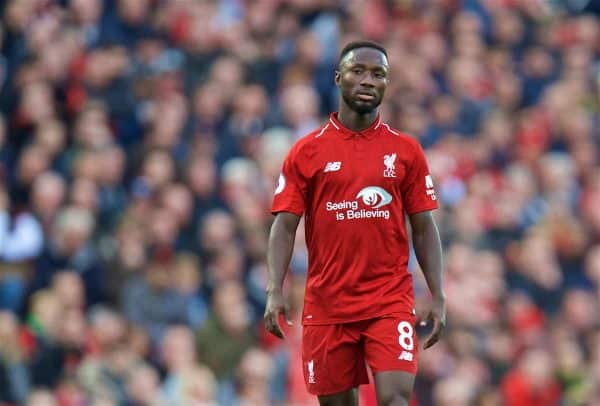 Klopp has plenty of decisions to make over both system and personnel as he looks for a much-improved display and immediate return to winning ways.
Having seen his side struggle again with 4-3-3 in Paris, Klopp could revert to the 4-2-3-1 system that the Reds have looked more settled and certainly more dangerous in recently.
The formation switch would bring a number of changes which would come in all areas to give the lineup a fresh and more threatening look.
The main beneficiary would be Shaqiri, who would slot back into the right side role, with this seeing Mohamed Salah operate as the main striker and Roberto Firmino in support as No.10.
Liverpool's midfield imbalance has been the key point of debate in pre-derby discussions.
And Klopp could rectify it by restoring Fabinho and Wijnaldum as the double pivot given their previous impressive displays as a pairing.
In defence, Alexander-Arnold should return at right-back with Joe Gomez tucking in alongside Virgil van Dijk, thus restoring the Reds' strongest rear-guard.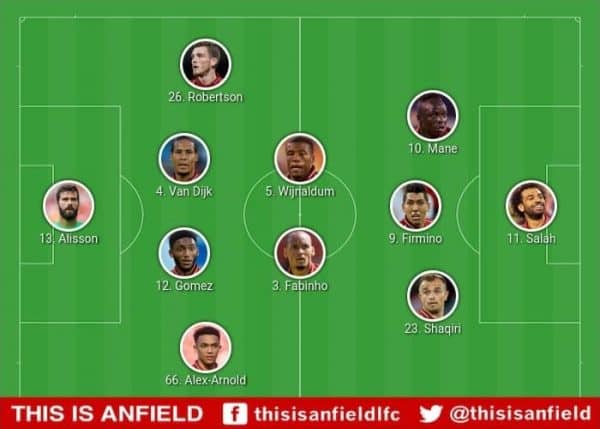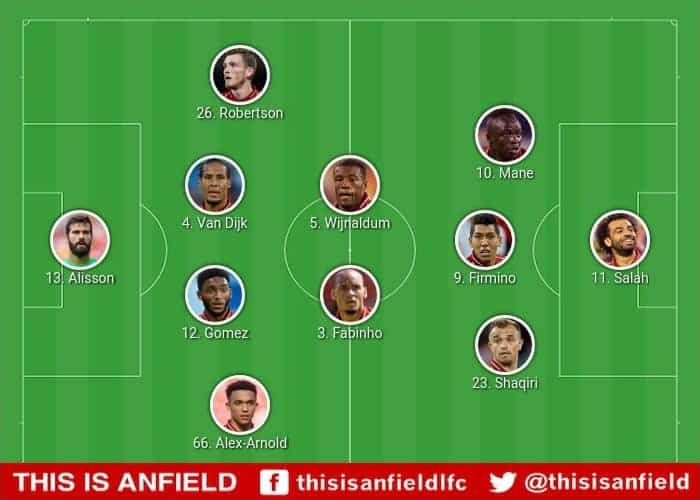 It could be argued that the personnel deployed in the 4-3-3 set-up – especially in midfield – were a bigger contributing factor to the poor performance in Paris than the actual system.
Therefore Klopp could retain what he has long used during his time at Anfield and instead renovate the central unit to strike a better balance.
Fabinho should step into the No.6 position and Keita should also enter into a box-to-box role after a positive cameo showing in the French capital.
Sticking with a three-man centre allows for an experienced derby-day head to slot in alongside the debutants, and Milner could provide that with Wijnaldum dropping out.
With Alexander-Arnold coming in and Lovren dropping out again, a new-look 4-3-3 could see Liverpool start with this XI: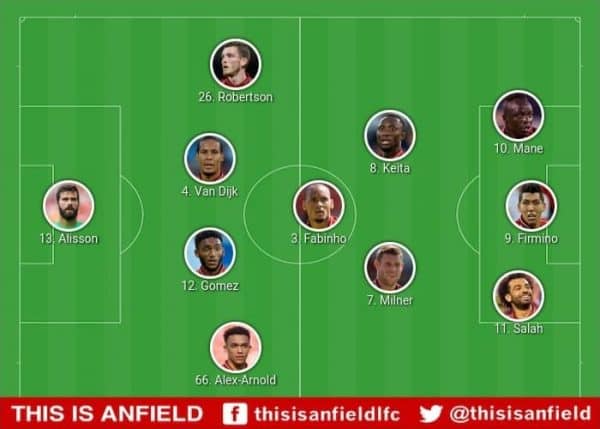 Champions League form may be suffering currently, but the Reds must put it to one side to ensure an instant return to winning ways is made to keep the Premier League push firmly on track.