Liverpool CEO Peter Moore has confirmed the club are "entertaining offers" for a new kit deal, with their current agreement with New Balance to expire in 2020.
The Reds have worked with New Balance and their affiliate company Warrior since the start of the 2012/13 season, having exclusively worn the former since the 2015/16 campaign.
The current deal with the American manufacturers is worth £45 million, but having an exponential rise in the years since both on and off the field there is a desire to secure a new and improved deal.
Reports late last year claimed that talks were already underway between Liverpool and New Balance to agree on a suitable extension to the deal which would reflect the club's growth, and match the income obtained through kit deals by their domestic rivals.
Man United's deal with Adidas is worth £75 million each season, the current league record, whereas the likes of Chelsea (£60m) and Arsenal (soon to be £60m) also receive more from their deals than Liverpool.
It, therefore, came as no surprise that it was suggested that New Balance's offer would need to rise by at least £30 million a year for the Reds to consider putting pen to paper on fresh terms.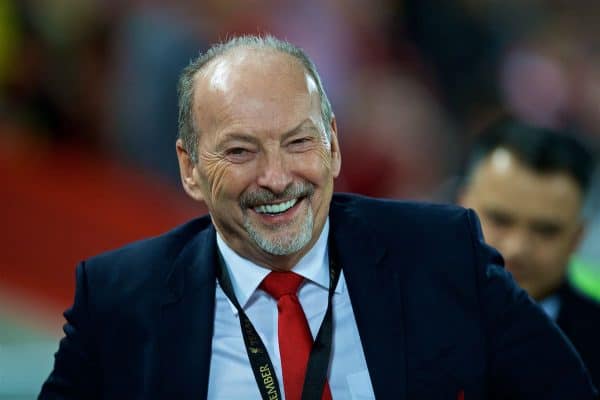 More recently, however, Moore has revealed to Arabian Business that the club are "entertaining offers" from kit suppliers as they prepare for the end of the deal in 2020.
"It's an important part of our overall commercial makeup, not only for the revenue it brings, but live-and-die soccer fans [care] about their kit manufacturer and designs as part of how they show themselves as fans," he explained.
"We think we are uniquely placed right now to build upon what we already have with New Balance…we think it's a great opportunity to build on our global distribution."
It suggests that Liverpool are putting pressure on New Balance to come to the table with a better offer as it will remain a mutually beneficial relationship with the club's profile only continuing to grow stronger.
But should it fail to pan out, the Reds would not be short of suitors as they continue their impressive form atop of the Premier League table.