Brendan Rodgers should return to the Premier League with his head held high, writes Danny Gallagher. English football has missed him – at Leicester he has the perfect platform to show why
Brendan Rodgers was polarising. Brendan Rodgers may always be polarising.
Ask a widespread selection of football fans and you'll get varying negative answers; A fraud, David Brent, an egotist, a mid-table manager.
You will, however, also get a range of considered, appreciative responses. Particularly from match-goers at Anfield between 2012 and 2014, who saw a young coach growing and developing – implementing a style and most importantly believing in it.
In April of 2014, Rodgers strolled out at Melwood to take a Liverpool training session. As he had done countless times before.
It was a stunning day, with a premature-summer sun casting a glare over the immaculate pitches. It was a normal day of training like any other, but this wasn't a season like any other.
As the Northern Irishman spoke with captain Steven Gerrard ahead of the session, something untoward began to happen.
Large mounds of red fabric appeared on the tops of the fenced perimeter of the Melwood facilities – bunched at first, before sprawling downwards to drape the pitch side walls.
Big, bold, red banners. Liverpool red. Spelling out a singular request. Or, rather, a command. 'Make us dream.'

Fans continued to mill around the edges, making noise, looking to rally the players and quell their nerves – while battling a severe case of their own.
Everyone knows about 'that' 2013/14 season under Rodgers and, of course, many sceptics will point to the way it ended as the main evidence of why the Northern Irishman is not cut for the highest level.
He was scoffed at when being linked with the Arsenal job in summer. Now, it appears in many quarters, he is being sniped at for finding a mid-table club and in doing so bedding comfortably into 'his level.'
'Banter' brigade
Rodgers cannot win in this regard and is perhaps the one character in English football who was hit hardest by the 'banter era' which reared its head on social media.
As Twitter and platforms of a similar ilk really began to boom six years ago – so too did the hysteria which now surrounds football on match day and beyond.
A negative run is the end of the world, and a mishap is reverberated on the online echo-chamber pretty much forever.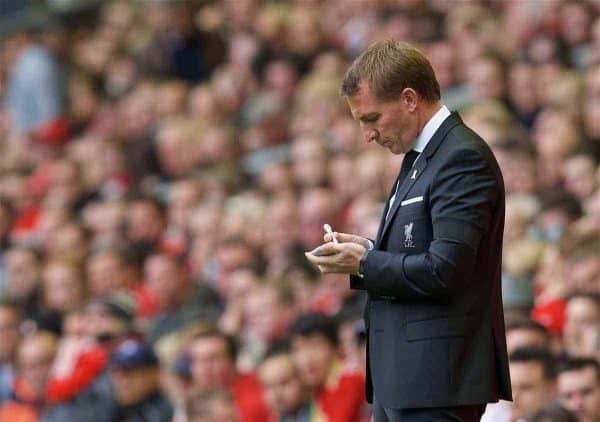 It didn't take Rodgers long to gain his own social media parody account which caught like wildfire. At times, granted, he didn't help himself. But his passion and zest for football was never in doubt.
It feels strange to be writing about Rodgers of Liverpool and peering back into the archives at a time when the Reds are top of the league and vastly enhanced under Jurgen Klopp.
But Rodgers' career, despite being crafted at Chelsea and forged in Swansea, cannot be examined without huge Merseyside influence.
Pessimism to optimism…
His arrival was greeted with huge pessimism. On a personal level, I did little more than sigh upon the appointment. Still – following the mire that was the days of Roy Hodgson, how much worse could things really get? I think we all held that opinion.
And so it helped. The benchmark was set low, and Rodgers went about his work quietly yet effectively.
Ultimately he was undone by his signing of players.
There can be no excuse for the replacing of the mercurial Luis Suarez with Rickie Lambert and Mario Balotelli. Yet at that stage – as he neared the cliff's edge – Rodgers was battling as much with internal power struggles as he was a collective diminishing confidence in his ability.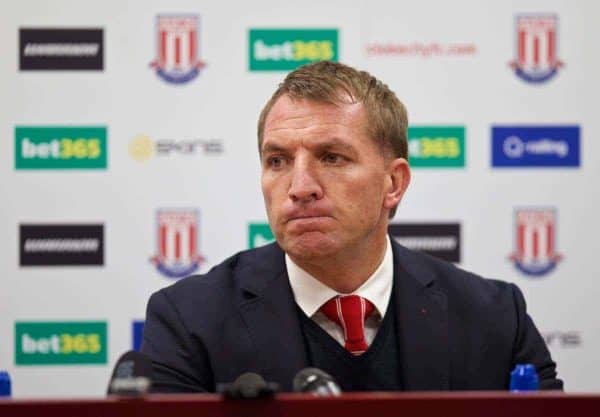 Losing to 6-1 at Stoke City in May 2015, in what was Steven Gerrard's final showing in a Red shirt, was the point of no return. Yet return he did, somehow.
In that same season many look to the miserable Champions League performance in Madrid, where Gerrard and the sparkling Raheem Sterling warmed the Bernabeu bench.
It's good ammunition with which to fire at the now-Leicester City boss. The same people pulling that trigger will happily tell you he fractionally missed out on winning the most desired prize of all by two points in 2014 because he had Luis Suarez.
It's an easy, lazy and boring argument. They won't mention how he almost did so with a regular substitutes bench of Aly Cissokho, Iago Aspas Victor Moses.
They also won't discuss much how he cultivated Jordan Henderson into the player he is now – clicking with the midfielder after being buoyed by his determination not to be sold to Fulham.
Or how he coxed out some of the finest performances of Jon Flanagan's career, gave Sterling the foundations to express himself and flourish, or allowed Philippe Coutinho to find his feet in the English game and not be deemed a write-off, as he was in Milan.
Suarez's calibre is always admired. Never Rodgers' man-management of the irrepressible Uruguayan.
Fickle
Football is fickle. Its disciples have short memories, particularly when it comes to agendas or joining the waves of 'banter.'
Rodgers had to leave Liverpool, in the end. But it could have been so much different.

As we welcome the 46-year-old back to English football the Reds are in a much rosier position than when he left. But Liverpool are a family who remember their history – and are often criticised for doing so. Rodgers is very much a part of that history.
In those heady days of 13/14 many Kopites felt like they had their Liverpool back. A team which was not as impressive all-round on paper as the one of today, but one that was tearing flesh off opponents on a weekly basis.
After the doomed days of the Hodgson reign, Rodgers helped show Liverpool a climb back to the top could be possible. It led to reinvigoration, to a team and a playing style to believe in, to a new level of decibel on the Kop not seen since the Benitez era.
Ultimately it led to the raising of expectations, a rediscovery of self. It led to Liverpool learning how close it could come with the right coach. In the end Rodgers wasn't enough, but If you don't believe the 13/14 season didn't help sell the club to Jurgen Klopp, you're kidding yourself.
Rodgers meant a lot to the Kop. His name was mentioned in a chant along with Shankly, telling of the kids having 'a story' to tell.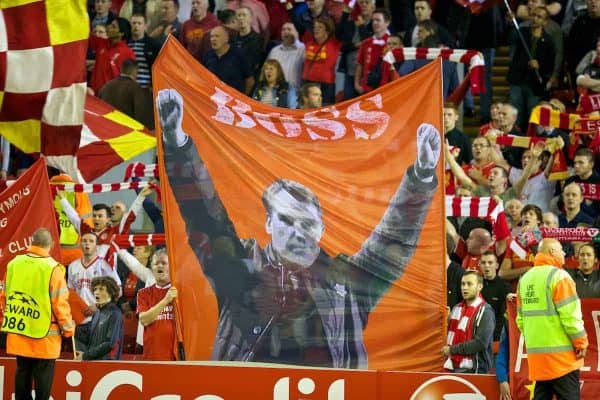 The story we all wanted was never told. Instead it fell and burned in those final weeks, before receiving a burial at Selhurst Park – sealed with the tears of Suarez and many a Reds fan.
Rodgers returns now to a club desperate for bigger things. An ambitious and dedicated ownership, fine youth talent and a £100 million state-of-the-art training complex in the process of being built.
His philosophy will return, and eyes will be on him like never before. His first mention of the word 'character' will go off like fireworks on the countdown to New Year's eve.
Should his football provide similar levels of explosion, the Premier League will rediscover just why he has been missed.