Liverpool players hailed another "important win" but were quick to refocus on the challenges that lie in wait after overcoming Burnley 4-2 on Sunday.
The Reds welcomed Sean Dyche's strugglers to Anfield in the knowledge that only a win would keep them within touching distance of Man City at the top of the Premier League.
While the Clarets got off to a quick start with a dubious goal, Jurgen Klopp's men refused to wilt as goals to Roberto Firmino and Sadio Mane completed the turnaround merely 23 minutes after the visitors' opener.
The pair again found the back of the net in the second half to ensure Burnley's second of the afternoon was rendered meaningless, with Liverpool securing another three vital points.
The game also offered Adam Lallana his fourth league start of the season, and his first since early February, after a prolonged period plagued by injuries.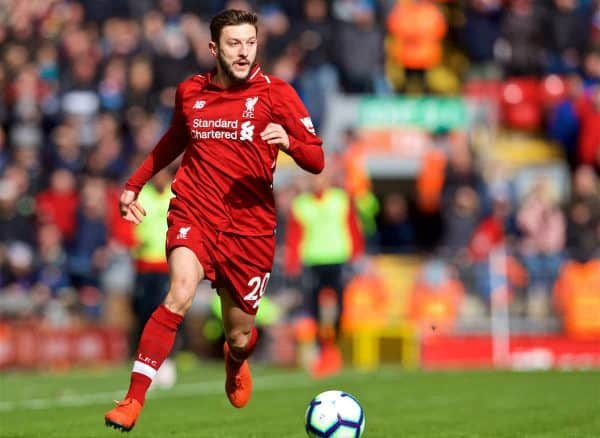 The England international was a standout performer for the Reds, most notably in the first half, and after the game Lallana voiced his joy at being able to "contribute" to the team.
"It's been a difficult 18 months, two years, for me with injuries, but hopefully that's behind me now.

"I just want to keep working hard and hopefully contribute to what will be an exciting end to the season.

[…]

"All we've got to do is concentrate on ourselves and win games.

"Obviously City won yesterday, so it was our job today to put in a professional performance.

"Burnley didn't make it easy, and we might not have made it easy for ourselves in the end, but Sadio just finished it off."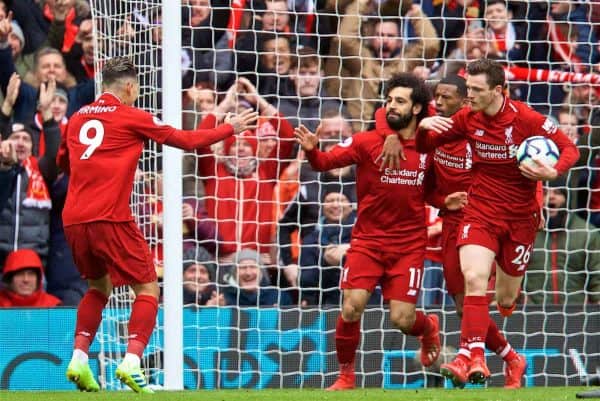 Andy Robertson, meanwhile, preferred to focus on the tests ahead as he lauded the "attitude" of his team-mates after coming from a goal behind to clinch all three points:
"It's another game down, eight to go. It's going to be exciting one way or another.

"I've said in all the interviews I've done, we need to give 100 percent in every single game and whether it gets us a trophy or it doesn't, we need to deal with that.

"The position we're in now, one point behind with eight games to go, if we perform like that—especially with our attitude—then it'll stand us in good stead.

"We've got some tough games coming up but we look forward to the chase and hopefully we can push them all the way.

"The work rate from all of us was brilliant, our counter-press to get the ball quickly and our reactions to poor passes or chances missed.

"We reacted well and we looked positive, that's what we needed to get better at. We did that. We kept going and we were ruthless when the chances came."
The left-back then took to Instagram following the game to commend another "job done," but he also jokingly took aim at Mane for denying him a clear goalscoring opportunity:
https://www.instagram.com/p/Bu1bmTRhjVA
The man in question, on the other hand, lauded another "important three points" as he joined fellow goalscorer Firmino in celebrating the Reds' 22nd league win of the season:
https://www.instagram.com/p/Bu1umqIBBWg
https://www.instagram.com/p/Bu1cakhlbNz
Jordan Henderson and Mohamed Salah did not have much to say but they both took to social media to celebrate the win:
https://www.instagram.com/p/Bu1V3FfAMkh
https://www.instagram.com/p/Bu12GJijysf
For Fabinho, Gini Wijnaldum, Lallana and Trent Alexander-Arnold their message was clear, another "important win" but there is now another job to do in midweek:
https://www.instagram.com/p/Bu1bEBjnAFF
https://www.instagram.com/p/Bu1ahPph_kQ
https://www.instagram.com/p/Bu1XJFbA4Gi
https://www.instagram.com/p/Bu1Tc9sADqg
After safely navigating through another test in the Premier League the Reds will now switch their attention to their Champions League tie with Bayern Munich on Wednesday.
Liverpool head to Germany in the knowledge that a win or a score draw will secure their passage to the quarter-finals.