Two goals in 25 minutes and then a bit of an evening stroll. A sign of confidence, or an ambivalence that might bite us next week in Porto? Probably the former rather than the latter, muses Steven Scragg in the aftermath of the first leg.
All very calm and business like.
This was a Champions League quarter-final that was generated by solar power, or a wind turbine, rather than one of those which is plugged into a three-phase socket and cranked up to 11 on the guitar amp.
If this one was a music album, it would be a more commercially friendly third offering, rather than the raw energy of what came before.
It was good, it was effective, it hit the right notes, yet it did all of this without being the heavy metal football Jurgen Klopp famously proclaimed was his preferred style.
Growing up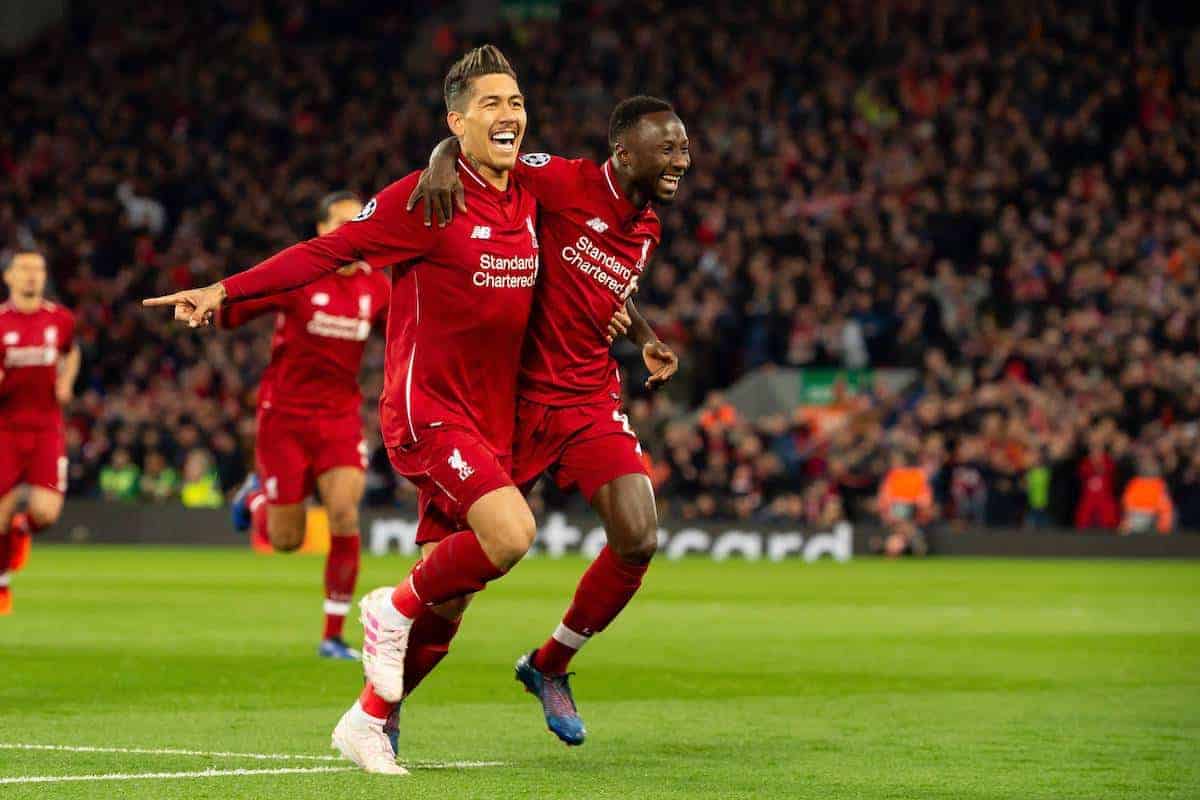 This Liverpool is growing up; this Liverpool knows when to put the foot down and when to hit cruise control.
Walking away from the ground after the game, amongst the supporters there was no jubilation in the air, nor was there despondency. Hard to pinpoint, but it was perhaps a job done kind of aura.
Not job done as in, the tie is over; more that what we had achieved was enough to tide this game over, for now.
Enough to allow us to focus on Sunday's task, before resuming our unfinished business in Europe next Wednesday.
Nobody was making noises of a place in the semi-final being ours; nobody was making concerned sounds that a 2-0 lead was not enough.
Of course, in European football, a 2-0 lead has often not been enough.
Yet, as much as it's possible to see Porto getting the first goal at the Estadio do Dragao to make our trip to Portugal a difficult one, it's also difficult to see a scenario where this Liverpool team doesn't score.
One Liverpool goal will leave Porto needing to score four.
Chances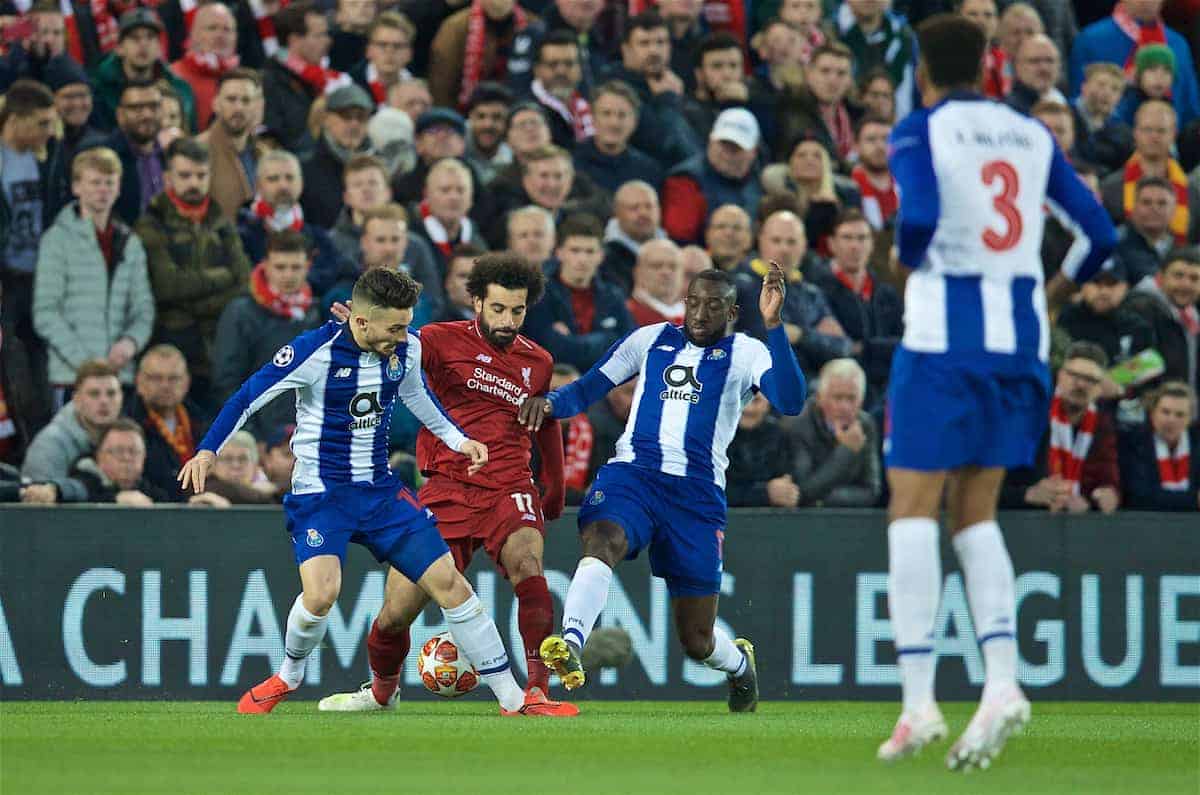 Yes, Porto had their own chances, and Alisson Becker was forced to make a few saves, but spoilt as we may now be in the goalkeeping department, they were all saves he'd be expected to make.
I don't remember there being a serious intake of breath moment throughout the entire 90 minutes.
Back at the car, on Radio 5 Live, Danny Mills was busy opining that Porto could have scored six and that Moussa Marega should have had a hat-trick.
There is a defined gap between 'could' and 'should', however.
You need to be massive in everything you do to translate could into should and, then, onwards to will.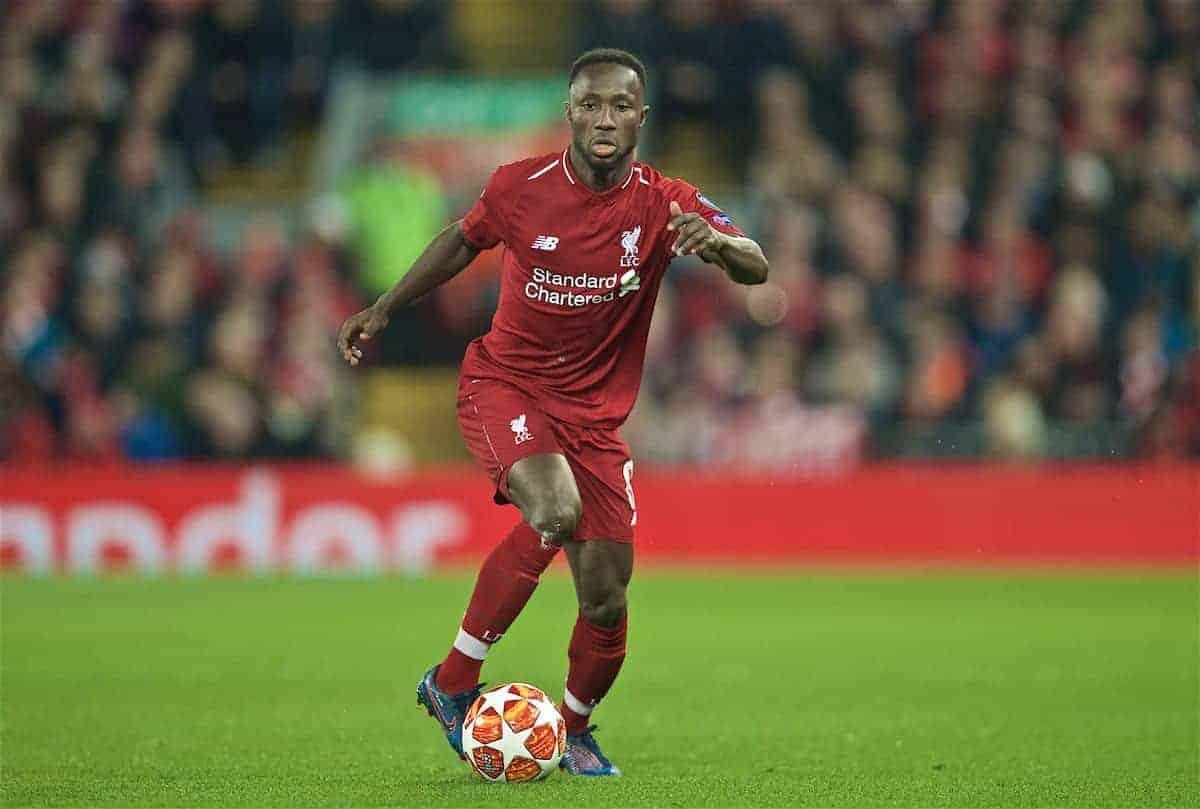 This very concept is something Liverpool are going to need to achieve over the course of the next six or seven weeks if they are to lift either—or even both—the Champions League and the Premier League trophies.
It could be suggested we played the percentages on Tuesday evening. Yet, if Danny Mills were to take a second look at the game, he might contend that we 'could' have scored six of our own.
Mo Salah's chance that rolled wide of the post; another opportunity of his later that flicked off the heels of Jordan Henderson and could have gone anywhere; a rising shot from Roberto Firmino and Sadio Mane's disallowed effort that could just as easily have been given by VAR as it was denied.
Confidence banked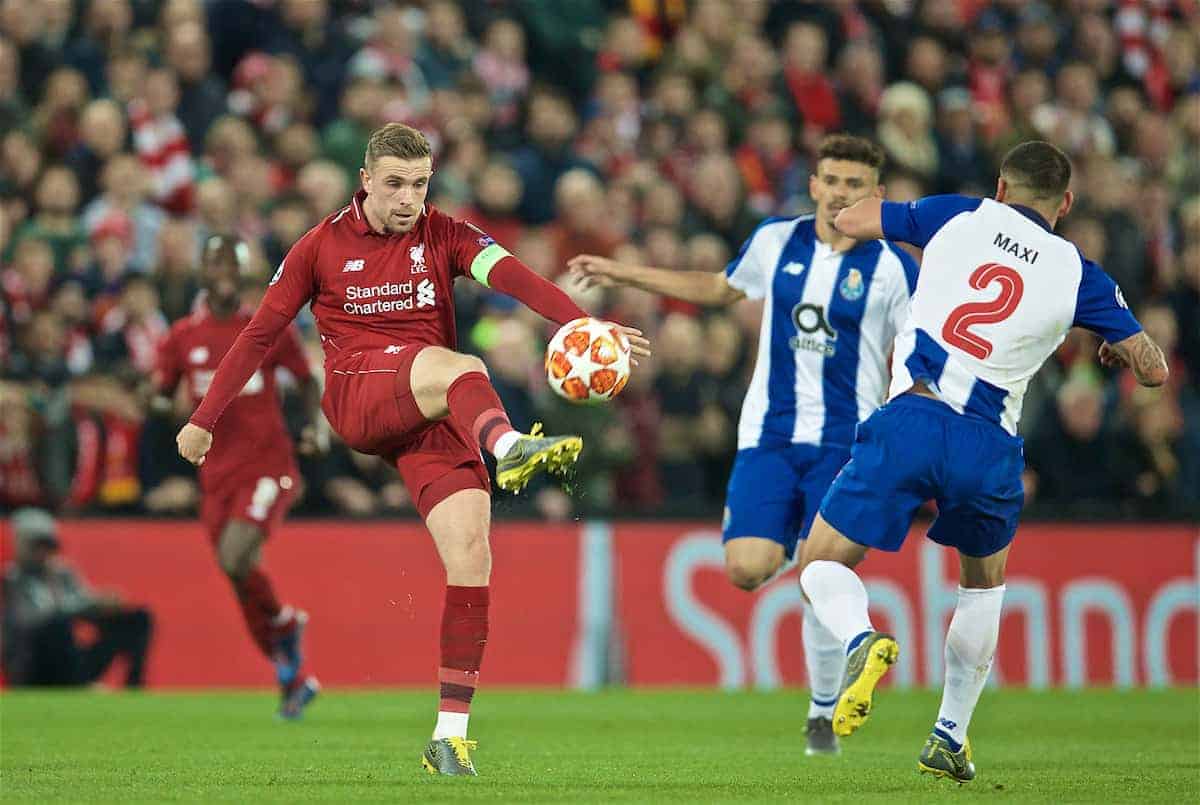 Naby Keita will have banked a lot of confidence during the last two games. Another goal against Porto, to go with the one he got at Southampton.
Yes, there was a heavy deflection, but that doesn't matter. Keita can run with the feelgood factor this will have generated. He might just time his rise to prominence perfectly.
There was a lot of love around for Henderson's performance, and quite rightly so. Stung by recent criticism, wounded by being sat on the bench for crucial games, this was him back to his very best.
You have to ask: has this been part of some sort of grand masterplan by Klopp, rather than an organic development?
Remember that time when Henderson squared up to Diego Costa a few years back? There was a reassuringly calm, yet mad look in his eyes that made Costa back off.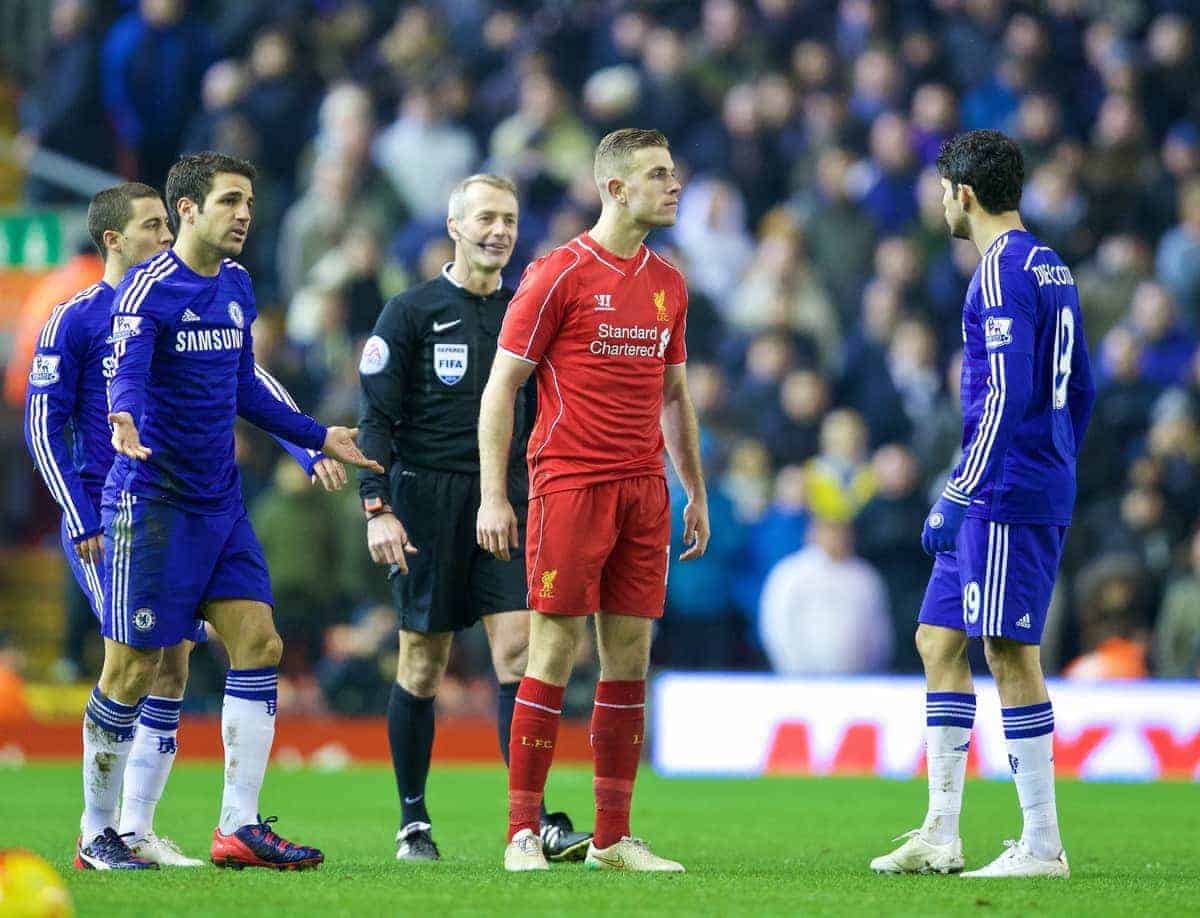 This was the same version of Henderson that screamed into the night's sky at St Mary's last Friday, in that primeval manner. An outburst of raw emotion that you could have struck a match on.
When Henderson received the ball, in space, around 30 yards or so from goal, he ignored the plea of the congregation to "shoooot" and, instead, picked out Trent Alexander-Arnold with a perfectly paced and weighted pass, that in turn set the wheels in motion on a world-class goal.
I don't think it's a coincidence that Klopp has 'provoked' this version of Henderson at this very point in time; I don't think it's a coincidence that Klopp has procured this late stirring in Keita.
When it comes to Klopp, there are no coincidences. I doubt he has ever lost a game of chess.
While Henderson and Keita won nods of collective approval, Fabinho played one his best games in a Liverpool shirt yet. Calm and collected, he set Henderson and Keita free. This was a Liverpool midfield performance of substance.
A ghost from the past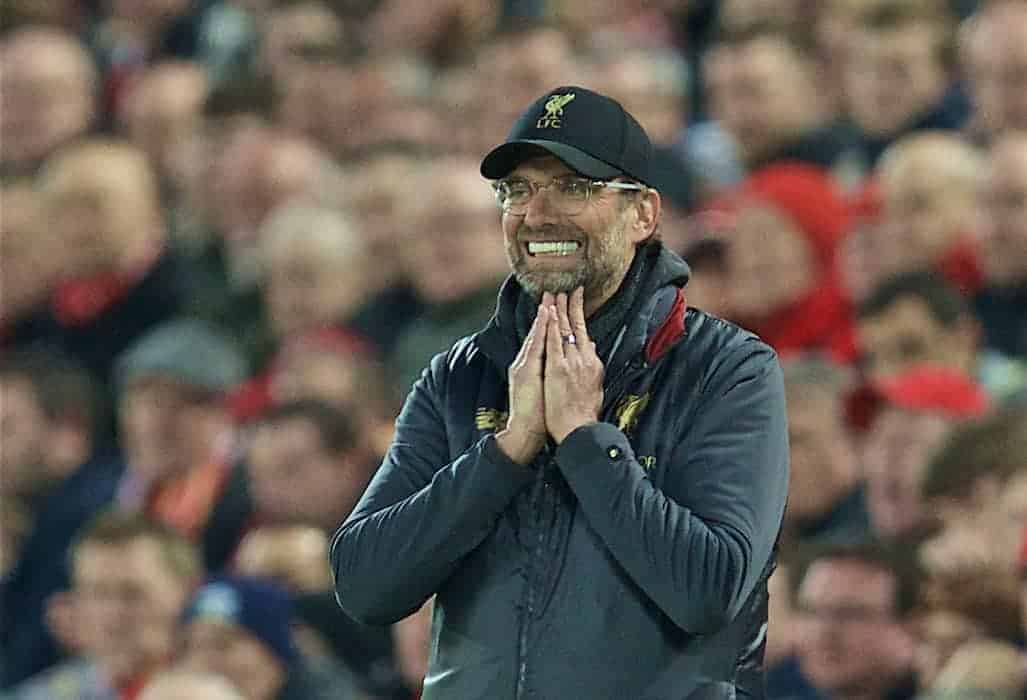 Job done, percentages played, but with extra interest.
Still, there remains work to be done to secure a place in the semi-finals of the Champions League, but we will go into that game having stared an old ghost from the past in the face.
We all know where we were when we lost to Chelsea, at Anfield, towards the tail-end of the 2013/14 season. We know what happened, and we know what it led to. We've never been allowed to forget it and Chelsea's supporters will sing all about it on Sunday.
Time for one of those calm, yet dangerous, Jordan Henderson stares.