Jurgen Klopp spoke of his pride at Liverpool achieving 91 points already this season, following their 5-0 rout of Huddersfield at Anfield.
The Reds produced one of their most fearsome attacking displays of the season on Friday night, comfortably dispatching of their already-relegated opponents.
The win means Liverpool are now on 91 points after 36 matches, which is already their record tally ever – since three points were awarded for wins.
The Reds' previous highest tally was 90 points, achieved in 1987/88. And previous best in the Premier League era was 86 points in 2008/09.
Indeed, remarkably Liverpool have acquired more points than 105 of the last 119 English champions, highlighting just what a superb effort this is.
Speaking in his post-match press conference, Klopp was keen to focus on the achievements of his players:
"It's a good team, eh! I stood with Joe Gomez and said '91 points, it's crazy'. It's only possible because we've got the boys playing like they're playing.

"The attitude they have and the mindset they have is keeping them in the mood they are in. All of that stuff is so important. In the end, we cannot do more than win these games."
Meanwhile, the boss again stressed how he wants to concentrate on achieving 97 points this season and not think about title-rivals Man City:
"Why should we think about where City could slip or not? We play Newcastle in the league in their last home game. We will go there and they will fight.

"Wolves are also a really difficult team to play against, not only Arsenal felt that (on Wednesday) but a lot of teams.

"We don't have to think about something else – if we do the job in these two games and something happens in the other (City) games, then we are there.

"If not, then we still did our 100 per cent best. That's the only thing we really can expect. You cannot ask for luck or destiny, you work for it and then the rest happens.

"These boys are outstanding, that is the reason we are where we are, now let's carry on and we will see where it ends.

"97 points would be history (for LFC), we want to create our own history."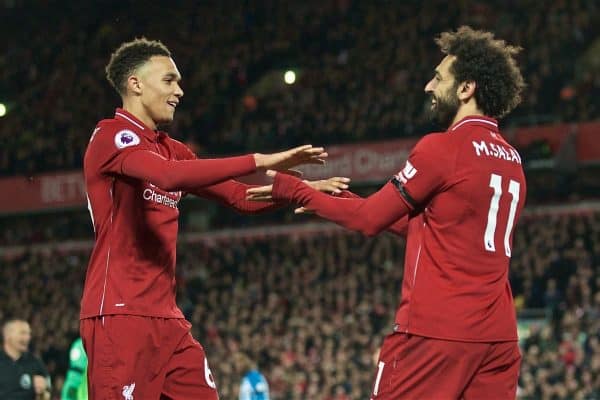 Liverpool are doing all they can in the title race, putting pressure on City ahead of their trip to Burnley on Sunday afternoon.
Whatever happens, this is a truly great effort by Klopp's men and hopefully their brilliance continues into Wednesday's Champions League semi-final first leg away to Barcelona.