Though he may not have scored the goals to fire Liverpool to the Champions League final, analysis ahead of Madrid argues that Alisson is the "real reason."
Few argued with the then world-record £65 million fee the Reds paid to sign Alisson last summer, in the wake of their disappointment in Kyiv, but he has proved worth every penny regardless.
The 26-year-old won the Golden Glove for his first season in the Premier League, with 21 clean sheets ensuring he finished the campaign ahead of his compatriot, Ederson (20).
But as Liverpool prepare to take on Tottenham in the Champions League final on Saturday night, ESPN's Ryan O'Hanlon has covered the extent of Alisson's impact on their European form.
In conversation with data company STATS analyst Paul Power, he assesses their model, which employs artificial intelligence to simulate "how likely a specific keeper is to save a specific shot."
This deduced Alisson to be the best goalkeeper in England in 2018/19, saving 0.31 goals per game more than the average.
"Liverpool needed a goalkeeper who was able to cope in one-on-one situations where the defence just completely collapsed and the keeper had to do something amazing," Power explains.
"Alisson's true strengths were that he was able to make these kind of superhuman saves.
"He would have saved at least seven goals that Mignolet or Karius would have conceded."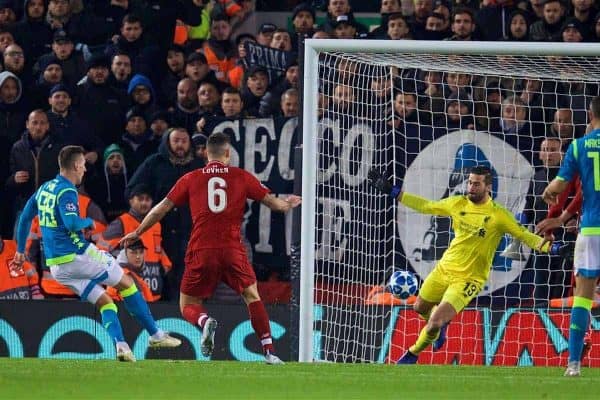 It is noted how Alisson's last-ditch save to deny Arkadiusz Milik in the 1-0 win over Napoli in December, and his five stops in the 4-0 win over Barcelona in the semi-finals, were central to Liverpool's progress to the final.
Two of those in the second leg at Anfield were 'big chances', and with just one away goal effectively deciding the Reds' fate the other way, these were crucial.
Alisson's sprawling save to thwart Milik was one that Power claims would only have been possible for "seven or eight" goalkeepers in world football.
This presents a familiar dichotomy with Loris Karius, who this time last year saw his Liverpool career crumble due to a concussion suffered at the elbow of Sergio Ramos.
Given Karius has now moved on with Besiktas, this is an unwelcome comparison, as the focus should now purely on Alisson, whose efforts between the sticks have been as essential as those of Sadio Mane at the other end.
Speaking to BT Sport's Des Kelly before what he described in an interview last week as "the biggest game of his life," Alisson stressed that his block on Milik was as important as a winning goal.
"It depends on the moment of the game. That save against Napoli was the same as scoring a goal," he said.
"Because after that moment [they] had no chance to score again. So I think it was pretty much like scoring."
And assessing one of those 'big chance' saves to stop Lionel Messi, Alisson said "it was the same thing."
"But it's my job. I'm there for that," he added, with the humility that quickly made him a favourite within the Liverpool squad.
If he makes another on Saturday night—perhaps to keep out the returning Harry Kane—Alisson could become a legend on Merseyside.