What can we say about Virgil van Dijk, his influence on Liverpool and the season he's had? Quite a lot, actually, so let's get on with it.
Liverpool's most pivotal signing of the last decade, no question.
If he goes on to inspire the Reds to the Premier League and further big titles in the next couple of years, we could be talking about him in terms of signings alongside Dalglish and Hyypia.
Awe-inspiring if you're on his side, fear-inducing if you're an opponent; Van Dijk has been immense since the moment he set foot inside Anfield, making a mockery of his world's most-expensive defender fee which now looks nothing short of a bargain.
Virgil van Dijk is the standard bearer for this Liverpool team under Jurgen Klopp.
He holds others accountable, he helps and cajoles, he demands and he provides. Performances, mentality, potential, results—all have been improved by his mere presence.
Every successful team needs multiple leaders. In their Dutch No. 4, Liverpool have one of the greatest of all.
Virgil van Dijk, 2018/19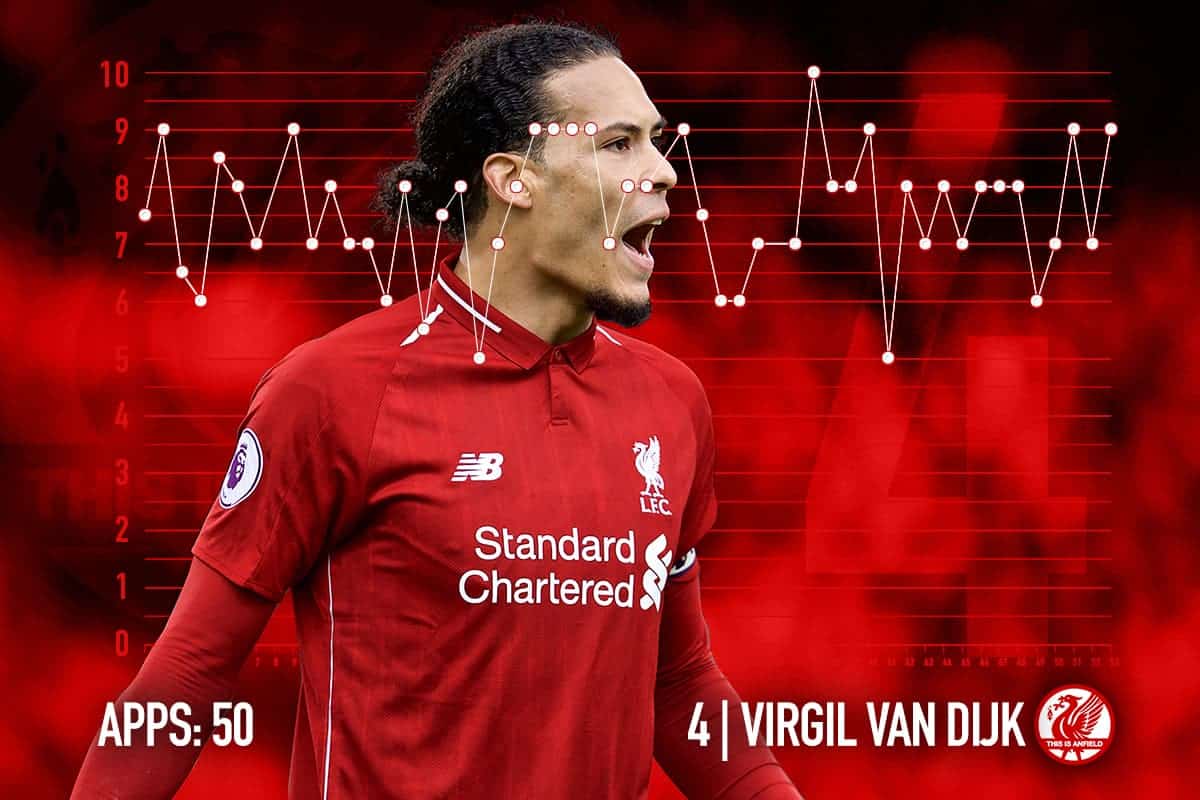 Started: 50 (All competitions)
On as a substitute: 0
Unused sub: 0
Goals: 6
Assists: 4
Our Overall Season Rating: 10
Average TIA Player Rating: 7.58 (Rank: 1st)
Last year's average TIA Player Rating: 7.18 (3rd)
Individually Symbolic of the Entire Team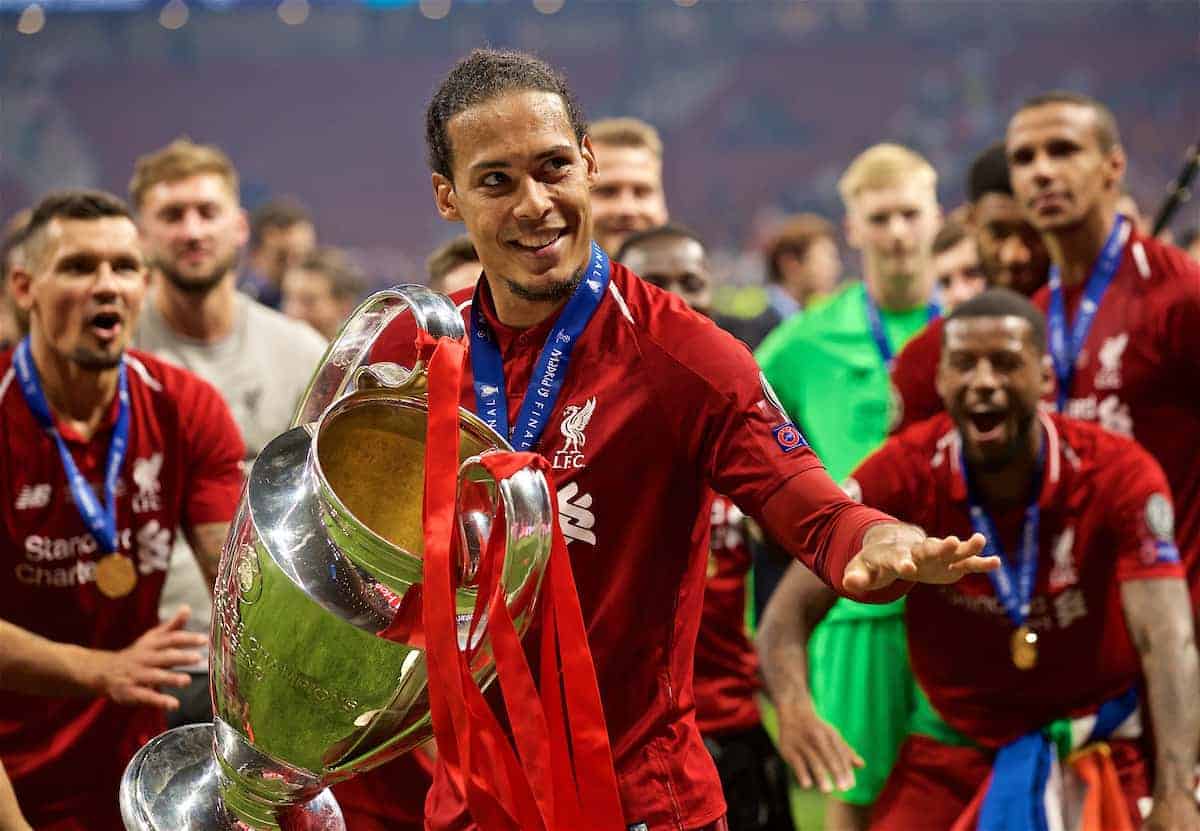 Many forms of praise have come the way of this Liverpool team; many of those relate to the togetherness of the side, the collective being important, the overall ability to beat any side put before them.
Even when specifics are discussed it's often "the attacking trident" or the "defensive upgrades"; just as Klopp wants it, just as he designed it, the strength is in the group.
Van Dijk embodies every trait of the squad and, more than that, reflects it back onto every single other squad member.
First off is his ability to improve others. Not just his central defensive partners, who have all clearly benefitted from his organisational skills and direction, but those further ahead too.
Whether it's setting an expectation and demanding it be matched, or by providing an insurance platform to free up those in midfield and attack, Van Dijk's presence has a knock-on effect.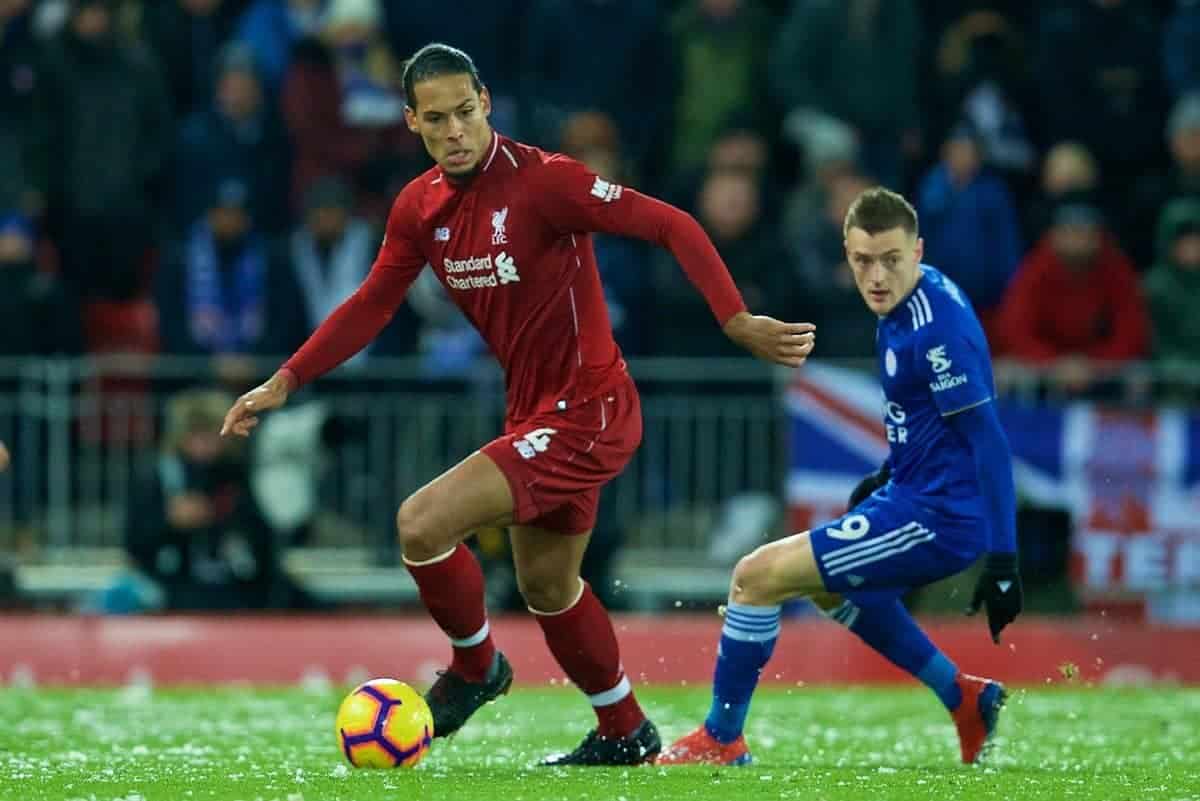 It's not magic, but he clearly has a lasting effect: in his sporadic absences the team looked far more assured of their normal game than they have previously when a key man has been missed.
The team has grown exponentially over the past couple of years, but the big accelerants have been Van Dijk's arrival and the run to the final in Kyiv.
He brings that winning mentality which is so important, which younger stars look to aspire to and which established players strive to match.
Asked about the possibility of going so close in two competitions but finishing the season empty-handed, Van Dijk simply told an interviewer back at the start of May: "We're not going to think about that."
As far as he was concerned it wasn't a possibility, it wasn't worth bothering about.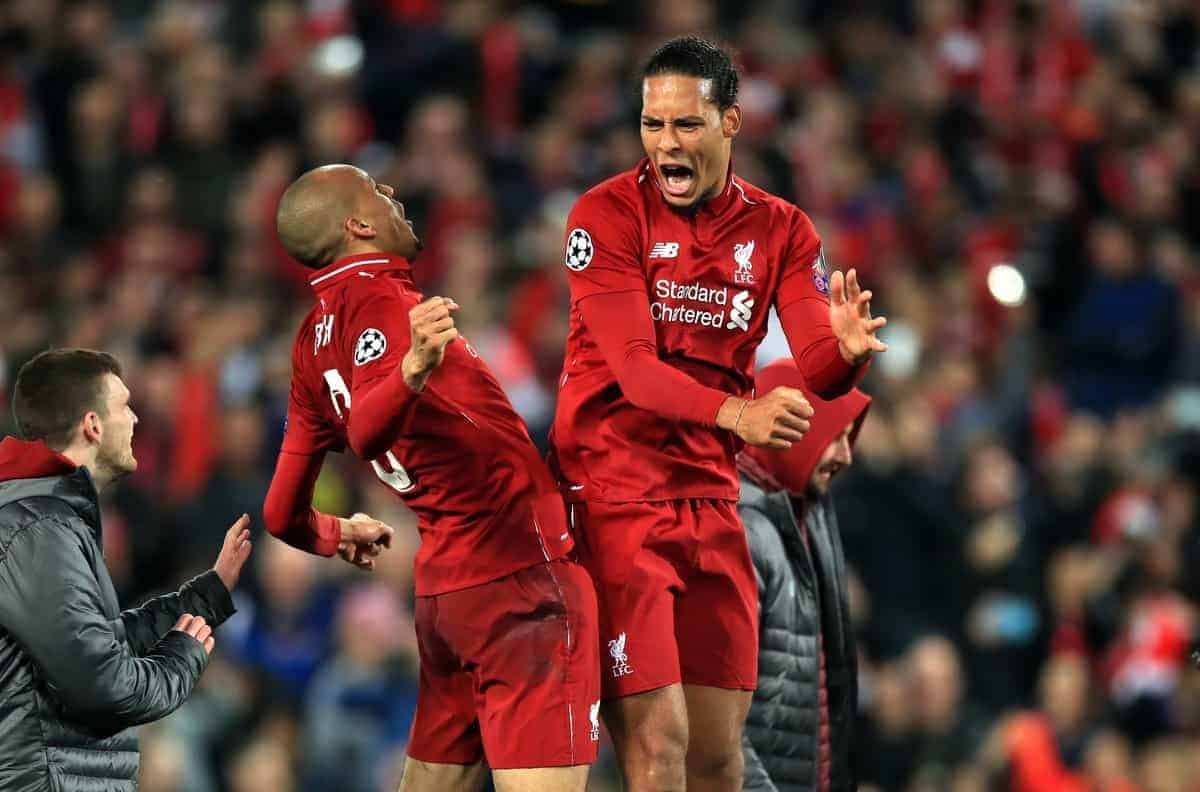 "Anything is possible in football. We definitely believe. That's how we are."
Those words came after a 3-0 reversal to Barcelona, with a long uphill battle ahead. We all know how that one turned out. On and off the pitch, that mentality shows through, again and again.
It's not just the approach, but also the performance: he is absurdly consistent in his level, so often an eight or nine out of 10, once in a while even higher.
Again, that's a team-wide trait which best shows up individually in Van Dijk. The Reds will dominate and play well most of the time—then, sometimes, absolutely blitz a team.
Van Dijk has been key in both halves of the pitch and both penalty boxes. Klopp has very few specialists, wanting a well-rounded team of well-rounded players.
Virgil might have just the one position, but he certainly has more than one role.
Leader, goalscorer, protector, inspiration, crowd favourite, aggressor.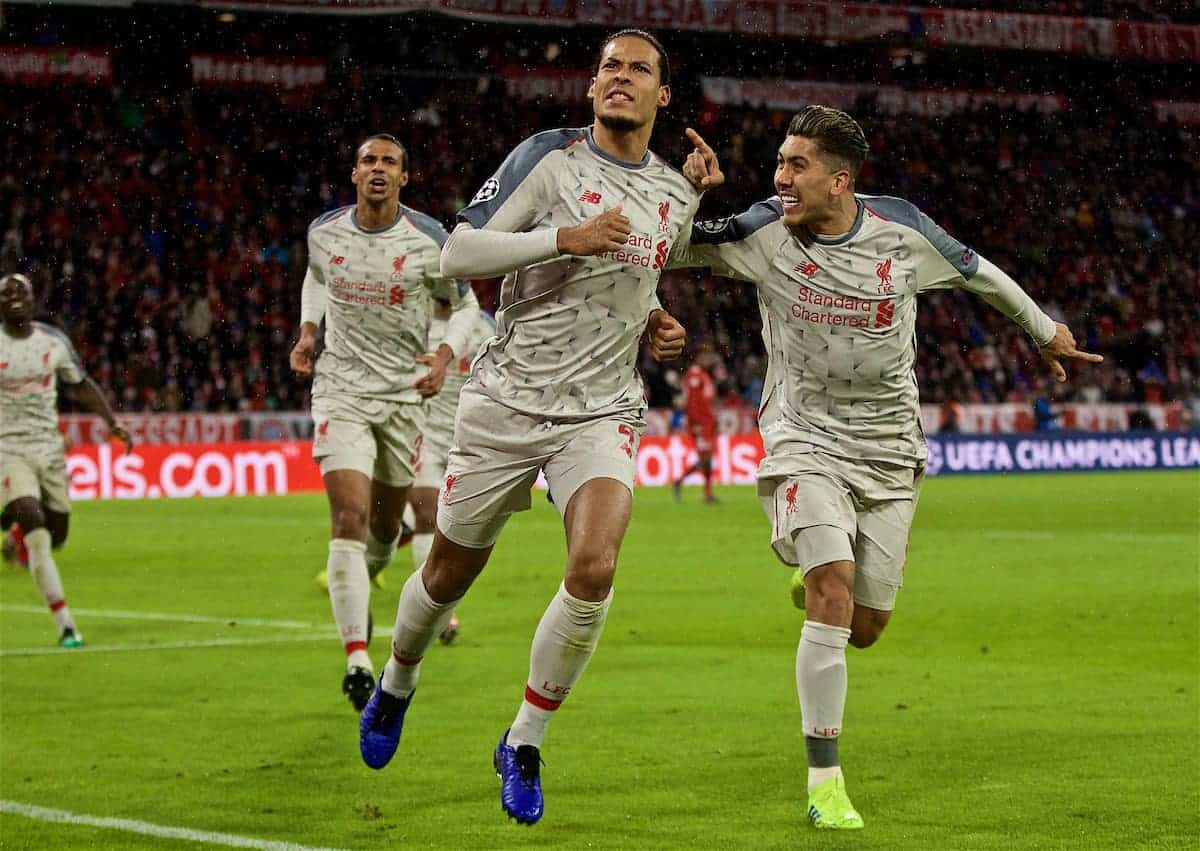 And, on top of all that, he's available almost every week without fail.
He played every minute in Europe with the exception of one match for which he was suspended, and played every game of the Premier League season, being subbed off just the once.
Finally, there's the more down-to-earth connection that football in general craves, but which this Liverpool side seems capable of bringing.
A great player he might be, but humility is there, too—and not just lip service towards fans.
A simple hug and a few words, to a grief-stricken referee back in November, spoke volumes for his personality—just as his last-minute equaliser had spoken of his on-pitch quality mere moments beforehand.
Records, Awards, Moments, Magic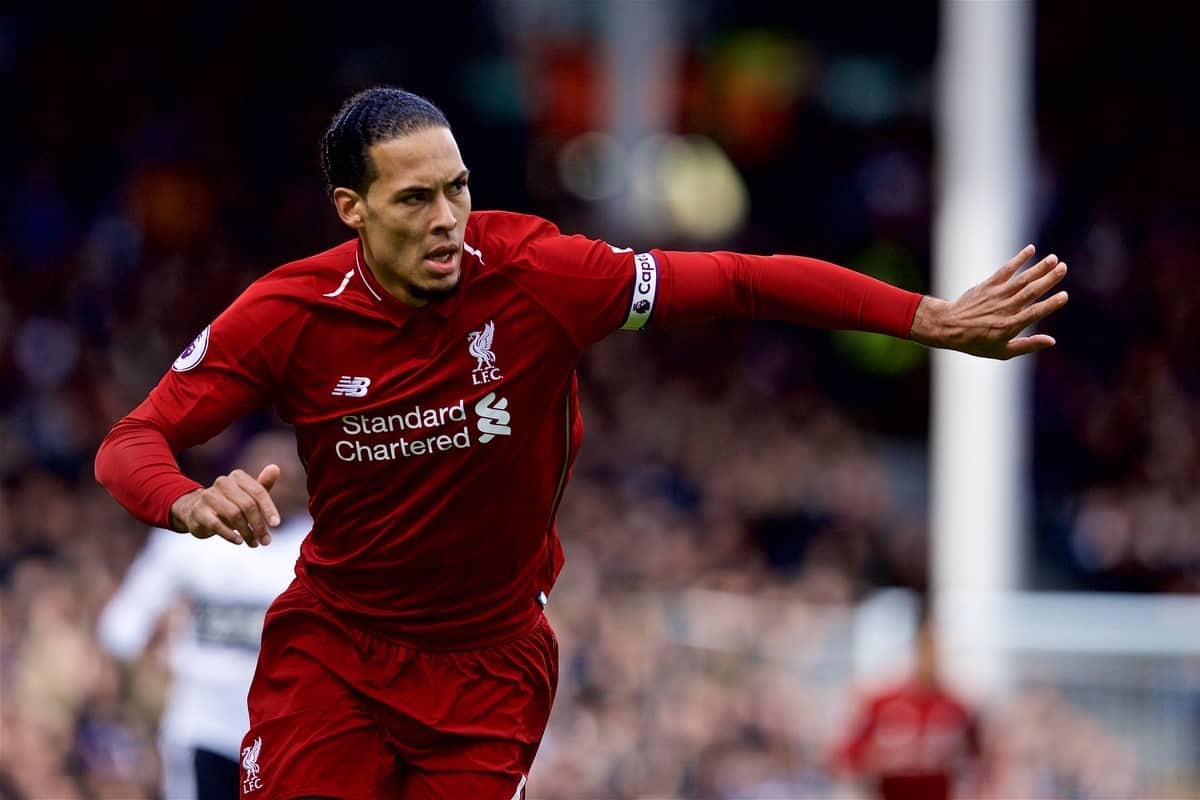 His mark on the team is indelible and indispensable, but his individual action should not be overlooked, either.
It was a quite sensational season for Van Dijk, barely putting a foot wrong and answering any questions over whether he was one of the league's best defenders, one of the world's…or simply No. 1 in his own right.
Emphatically stating his case are a litany of awards: the PFA Players' Player of the Year, a spot in the Premier League Team of the Year, same again in the Champions League Squad of the Year.
He's favourite for the 2019 Ballon d'Or at this stage with many bookmakers and has just enjoyed his first full season as captain of the Netherlands, leading them to the Nations League final and being the face of what is clearly a re-emerging force on the international stage.
Individual moments highlighting his defensive genius come quickly and easily.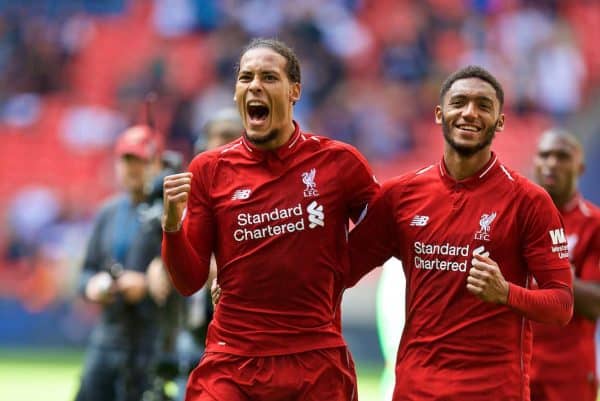 There's winning a foot race against the blindingly quick Adama Traore; recovering to dispossess Son Heung-min in the Champions League final; tag-teaming Willian with Joe Gomez; so many big headers, vital clearances and clever interceptions it's hard to keep track.
Up the other end, the same: goals, yes, and big ones at times, but his ability to pick a pass between the lines instantly after winning possession is underrated.
His driven balls from deep are often opportunities for the forwards to run in on the diagonal, with Sadio Mane's goal against Bayern the best example of such.
Since Van Dijk joined, Liverpool's run of clean sheets has been fantastic. The points won per game on average is elite.
And the games won and titles fought for is emblematic of his incredible quality, shown over and over in 2018/19.
Van Dijk and Liverpool's Future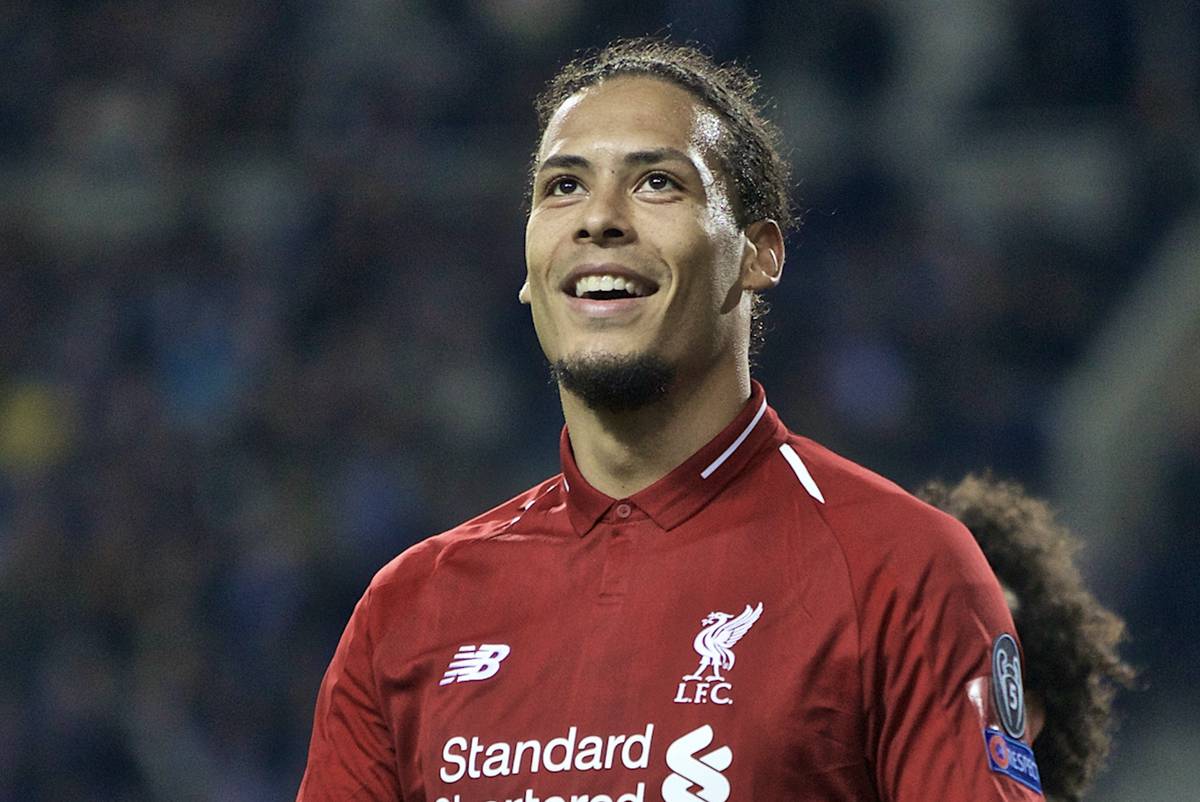 Naturally, there's no moving him.
The 'future' insofar as Van Dijk goes is merely to do with what goes on around him: his short-term and long-term partner at the back and, quite importantly, who is his cover.
The Reds might feel they have enough with one or two young talents, four seniors and Fabinho's ability to slot in at the back.
But a left-sided centre-back who can also play left-back would fill two valuable roles in one, if such can be found over the summer.
As for improving, Van Dijk must maintain the standards he sets, for himself and everyone else.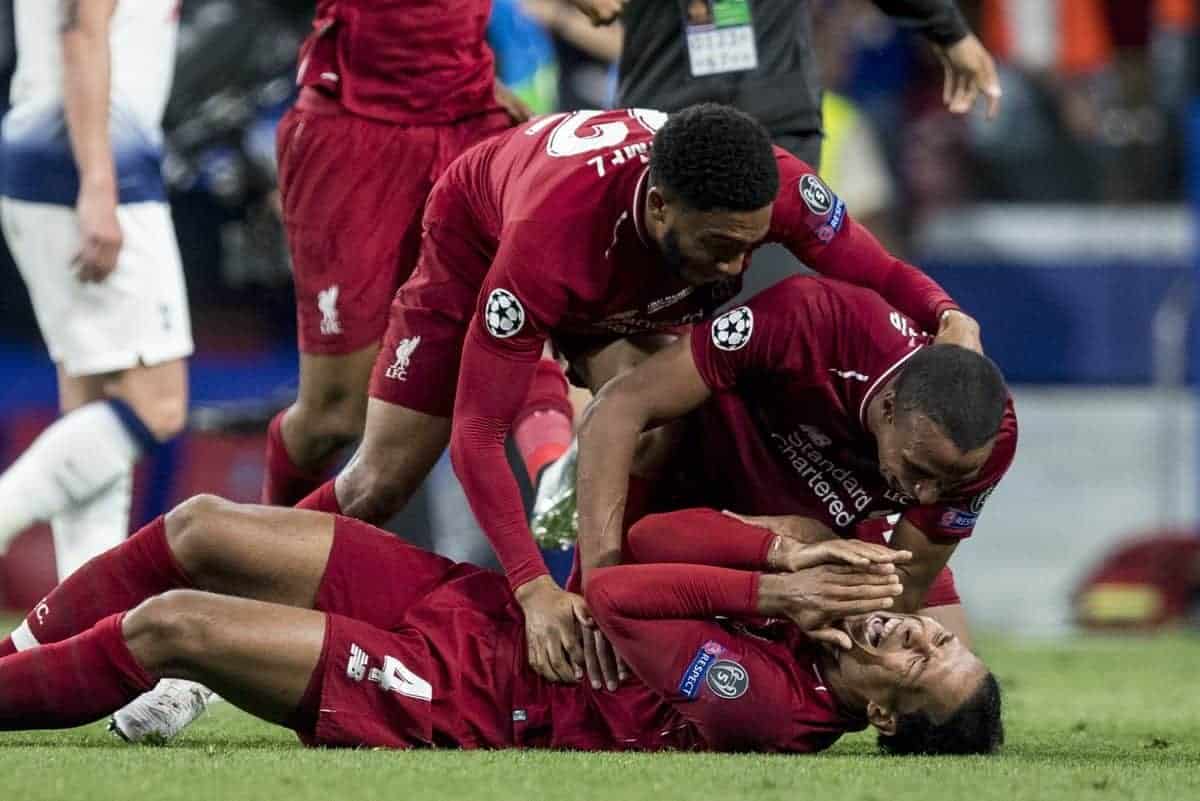 He went a long time without scoring before becoming a reasonably regular in the second half of the campaign, and a man of his power, aerial prowess and ability to escape markers should be aiming for double figures.
Beyond that, ensure his name and that of the team are etched into many more titles in the years to come and Van Dijk could go on to be seen as one of the all-time Liverpool legends.
---
Best moment: Absolute exhibition of two-on-one defending against Spurs in the league, stopping a near-certain goal and the end of the title fight.
Worst moment: Mix-up between himself and Alisson, after James Milner's bad pass, which left ex-Red Ryan Babel with a tap-in for Fulham.
Role next season: Behave. First name on the teamsheet, captain on occasions, leader from the back and one of the world's finest players once again.