James Milner continued to defy both age and doubters in 2018/19, as he finished the season with his most significant piece of silverware yet.
The 2017/18 campaign was meant to be the one where we barely saw Milner feature, as the ageing midfielder was put out to pasture by Jurgen Klopp.
As it transpired, however, the evergreen Yorkshireman made 47 appearances, starting the Champions League final defeat to Real Madrid.
Another season got underway in August, and with incoming pair Fabinho and Naby Keita significant midfield additions, apparently this was going to spell the end for Milner.
The 33-year-old refused to go away, though, and without his understated input Liverpool's last nine months could have panned out very differently.
James Milner, 2018/19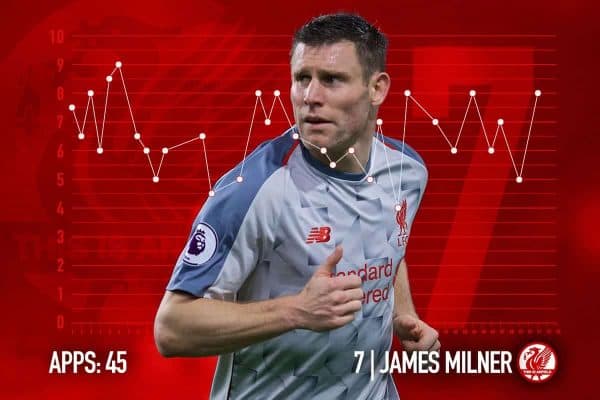 Started: 31 (All competitions)
On as a substitute: 14
Unused sub: 3
Goals: 7
Assists: 6
Our Overall Season Rating: 9
Average TIA Player Rating: 6.54 (Rank: 16th)
Last year's average TIA Player Rating: 6.57
Penalties & Selflessness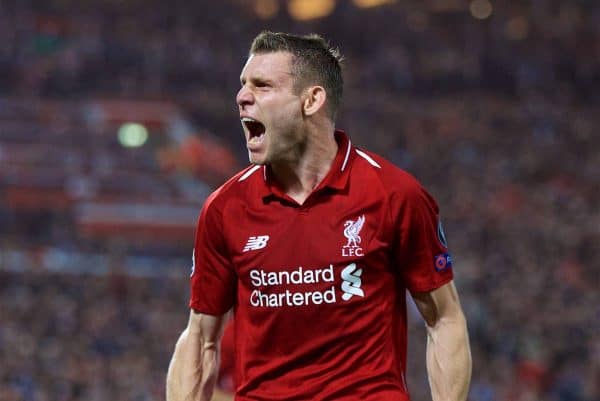 The season began with Milner as a mainstay in Liverpool's starting lineup, contrary to what many perhaps lazily predicted.
He started all of their opening six Premier League fixtures, of which the Reds won every game, topping the table.
Exceptional in the 2-1 win away to Tottenham in September, it was clear very quickly that Milner would remain a handy option for Klopp.
Never one to steal the limelight, the former Man City favourite was instead a key cog in the machine.
Not always a regular, by any means—he started 31 matches in all competitions by the time the season ended—there was never any complaining if he didn't feature and his team ethic was faultless.
Selflessness is a word that will always rightly follow Milner around and that was evident throughout 2018/19, as he sometimes found himself the victim of his own versatility.
The midfielder has made no secret of his dislike at being used at full-back, but he knuckled down and often thrived at either left or right-back, when required.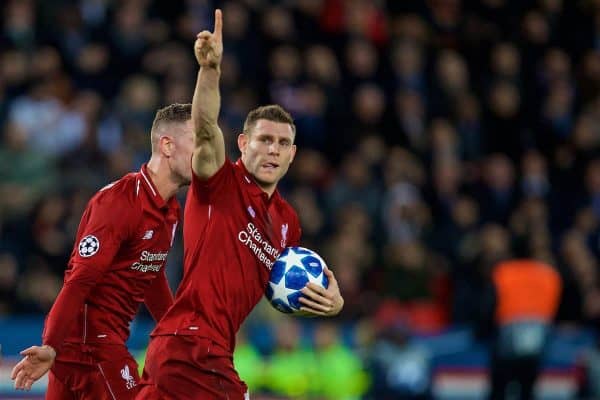 If there's one thing that does separate Milner from his team-mates and most footballers, giving him rare moments in the sun, it's his nervelessness from the penalty spot.
He finished the campaign with a 100 percent record in that department—he has still only missed one for Liverpool—and a number of his spot-kicks came at pivotal times.
A clinical effort put the Reds 1-0 up on the stroke of half-time at Crystal Palace, in what was a hard-earned 2-0 win in the opening away game of the season.
Then came a penalty at home to Paris Saint-Germain, and one in a losing cause in the reverse fixture at Parc des Princes, before his two biggest spot-kick contributions.
What should have been a comfortable win at all-but-relegated Fulham in March became a torrid afternoon, but Milner's late penalty felt as important as Steven Gerrard's on the same spot five years earlier.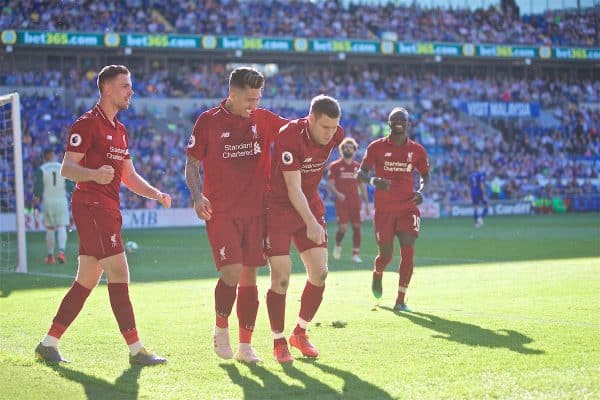 He also sealed victory at Cardiff in another tricky outing, keeping Liverpool's title hopes alive up against his relentless former club.
Those moments were the epitome of Milner the player—mentally strong, efficient and priceless—but there was also so much more to appreciate.
Priceless Experience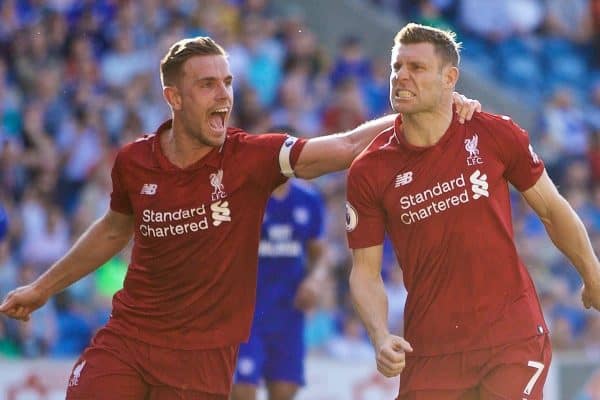 One of the main criticisms aimed at Liverpool in recent years has been a lack of utilising the dark arts and managing games.
It is something that went up a substantial gear in 2018/19, and there is nobody better in that area at Anfield than Milner.
His level of experience and know-how became so vital as the huge games came along, which no doubt played a part in Klopp being keen to field him on the biggest occasions.
In terms of the more eye-catching input, it was only really Milner's penalties that earned acclaim, as well as important goals away to Arsenal and Burnley.
It was the under-the-radar brilliance that benefited Liverpool more than anything, though, and so many of his substitute appearances helped guide Klopp's men through stormy waters.
During periods when Liverpool were winning late on, that ability to win free-kicks, waste time and make the right decisions were every bit as enjoyable as a Mohamed Salah thunderbolt, deft Roberto Firmino touch or silky Keita stepover.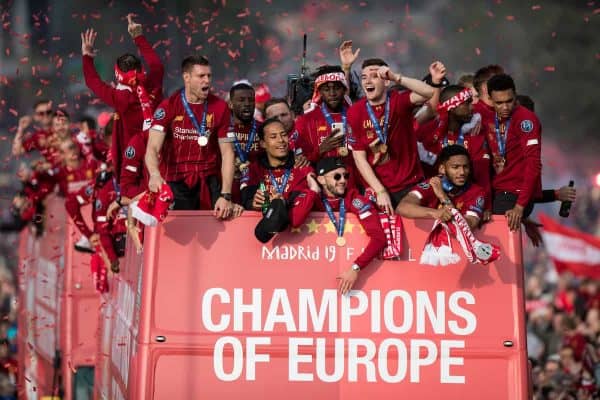 A special word must go to Milner's cameo in Madrid in the Champions League final, as the Reds faced their biggest evening since Istanbul.
In fact, in an admirable career spanning close to 20 years, which has included two Premier League titles and 61 England caps, it was also the defining night of Milner's career.
Introduced in place of Gini Wijnaldum after 62 minutes, he helped his younger colleagues over the finish line against Spurs, firing just wide with the score at 1-0.
A trophy-clinching goal would have all been a bit too high-profile for Milner's liking, of course.
Instead, he slowed things down at every opportunity, brilliantly taking a lifetime to take one corner, simply by placing it outside the quadrant more than once.
The final whistle sealed a magnificent season for Liverpool, and for Milner it was a fully merited success after another season of subtle excellence.
Future Role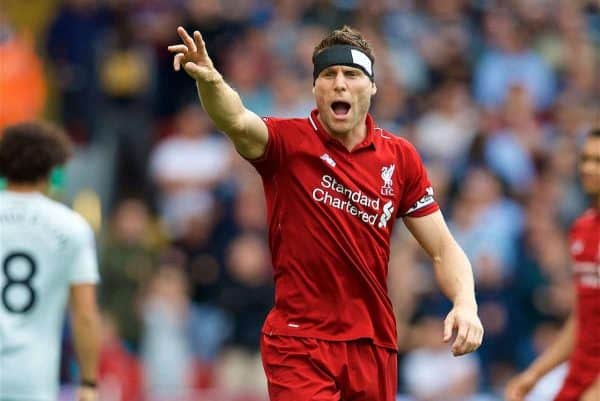 For risk of sounding foolish, next season genuinely should see Milner's playing time become more limited, as he approaches his 34th birthday.
While his quality remains enduring, it is wholly understandable that he isn't quite as nimble as he once was, and Liverpool will have better midfield choices.
Fabinho, Wijnaldum, Keita, Jordan Henderson and Alex Oxlade-Chamberlain all represent younger, better options, and who's to say a new signing won't appear too?
In terms of improvements, it is hard to alter Milner's game too much at this point in his career.
His shortcomings have been plain to see throughout his time on Merseyside, not least away in the Champions League group stage, when a lack of guile and legs proved calamitous alongside Henderson and Wijnaldum.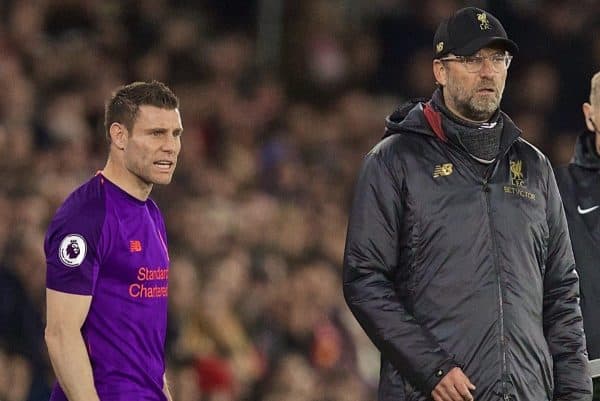 The 2019/20 campaign should be a case of Milner offering effective cameo roles, filling in when required and using his winning mentality on and off the pitch to Liverpool's advantage.
What an asset he has been—he deserves a few Ribenas to celebrate.
---
Best moment: The winning penalty at Fulham.
Worst moment: A torrid afternoon at right-back away to Man United.
Role next season: Squad player, in what could be his swan-song season.