Wolves captain Conor Coady has described Virgil van Dijk as "the best defender in the world," and revealed he watches the Liverpool centre-back to "learn things."
Van Dijk's impact since joining the Reds goes without saying at this stage, and his popularity on Merseyside has been proved as he tops the charts for shirt sales this summer.
The Dutchman is a leading candidate for the Ballon d'Or award, after winning the Champions League and being named the PFA Player of the Year—the first defender to win the honour since John Terry in 2005.
Coady left Liverpool for Huddersfield in 2014, before joining Wolves a year later and establishing himself as captain, leading his side out against his boyhood club three times in 2018/19.
One of those, a 2-0 loss at Molineux in December, saw Van Dijk score one of his six goals of the campaign.
But for Coady he is a role model for "how he makes [defending] look so easy."
"He is world class, I think he's the best defender in the world."

Conor Coady and @Dominicmatteo21 talk about @VirgilvDijk and his influence on the Reds. ? #LFCLater at 21:00 BST: https://t.co/DAxFjeVQu3 pic.twitter.com/jU4QjGqFVx

— LFCTV (@LFCTV) 20 June 2019
"I think the same as every Liverpool fan, I think he's fantastic," he told LFC Later.
"What he's done for this football club and what he's done since he's come to the club has been immense.
"I played against him a couple of times this [season] and he's an absolute Rolls Royce as a defender.
"I think what's best about him is how he makes it look so easy, he really does.
"He's always in control. I remember when [Heung-min] Son was running through on goal in the Champions League final and you always knew he was in control of what he was doing.
"He ends up making a tackle and it goes out for a corner.
"I think that's the best thing about him as a centre-half and I always watch him from my own point of view, to see if you can learn things.
"Because he is world class. I think he's the best defender in the world."

The revelation that Coady watches Van Dijk to pick up tips as a centre-back should come as no surprise, as the Reds' leader is the prototype of a modern defender.
He is undeniably world class, and as Coady asserts, the best when it comes to his position, with countless others no doubt looking to the 27-year-old to learn.
Coady continued to acknowledge the impact he has on others, due to both his quality and his organisational skills—which are key in his own role for Wolves.
"Not just Joel Matip, I think Joe Gomez was the same, I think Lovren's the same when he comes in," he added.
"I honestly do believe when they play next to him [they are better].
"I think they are really good defenders as well, but I think playing next to him [they improve]. I think that's what is so good about him.
"And the people in front of him, he makes them better.
"Because you know there's someone behind you who is going to organise and talk and lead the team like he does. It's brilliant to have."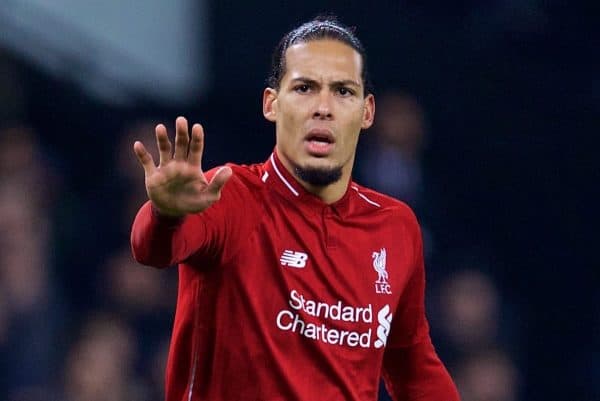 And the midfielder-turned-defender highlighted one key moment from last season which proved Van Dijk's influence as a leader.
"Remember the Newcastle goal, Origi's header, and he tells Shaqiri to take it with it being an in-swinger," Coady said.
"That's just the authority that someone of his stature has within the team."