Between them, Liverpool's full-backs made 23 assists in the Premier League this season. Here's every set-up from Trent Alexander-Arnold and Andy Robertson.
The Reds scored 89 goals in the English top flight on their way to a club-record 97-point total, finishing second behind Man City.
Twenty-three of those 89 goals were teed up by the Reds' right-back and left-back, with Trent breaking the record for the most assists from a defender in a single Premier League season with 12.
It began on the first day of the campaign, as Naby Keita found Robertson driving forward on the left flank and the Scot fizzed the ball across the six-yard box for Mohamed Salah to tap in.
Trent's first of the league season came against Southampton, and unsurprisingly it came from a corner as Joel Matip headed home at Anfield.
Both have made a habit of delivering inch-perfect crosses from deep, providing the Reds with a devastating outlet from both sides of the pitch.
Along with his season-wide record, Trent also became the youngest player to ever record three assists in one Premier League game with a 'hat-trick' against Watford in February.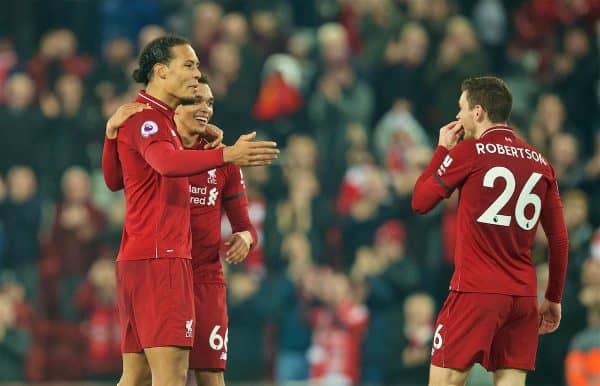 After that win, Jurgen Klopp revealed that the No. 66 had been awarded the match ball, which is typical for a player who scores three.
It was a running narrative for the season that Trent and Robertson were battling each other in their own assists competition, and the right-back just edged it.
In all competitions, Trent tallied 16—the most of any Liverpool player—while Robertson set up 13, which is the joint-second most along with Mo Salah.