It's always said you shouldn't read too much into pre-season and pre-season games in particular, so can we really believe that Jurgen Klopp sees Adam Lallana as No.6?
What are essentially glorified training sessions can quickly kid fans into believing a lie. Take Andriy Vorinin as a case in point.
The enigmatic Ukrainian had a habit of tearing it up in friendlies, bossing run-outs against lower league opposition and heavily rotated sides as if he was Liverpool's great saviour. Come the big kick-off however he'd inevitably vanish, though presumably not to his local barbers.
Voronin's is one of many stories that warn us not to invest too much into these leisurely strolls.
Conversely, there can be tell-tale signs that provide a glimpse into the manager's thinking going into a new campaign. Two years ago it was the sight of James Milner lining up at left-back against Barcelona at Wembley, a position he'd occupy for the duration of 2016/17.
Rewind 12 months and we quickly discovered Xherdan Shaqiri was not bought for the front three, despite popular opinion. Instead the Swiss dynamo was deployed deeper in a nod to the 4-2-3-1 the Reds would adopt up until the turn of the year.
Indeed if you look close enough there are nearly always new ideas being trialled.
Summer 2019's big experiment seems to revolve around Adam Lallana, remember him?
The first two games of pre-season, he of Cruyff Turn fame sat deepest in the midfield three.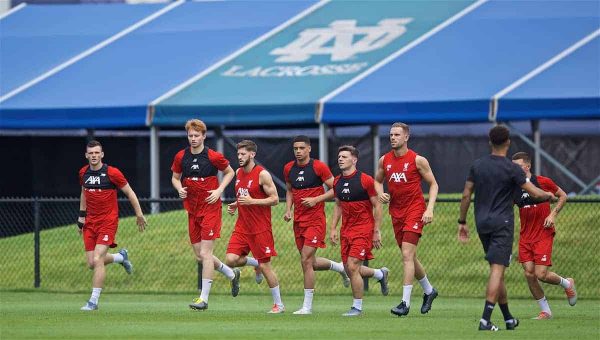 His is a curious change in position to put it mildly. So what is Jurgen Klopp thinking?
The simple explanation could centre around fitness alone. To say Lallana has had an injury-plagued two years is an understatement, figuring just 16 times last season and 15 the one preceding that. In this time he's started just 9 games of football. Nine.
Conscious of just that, maybe Klopp is choosing to put one of his long-time favourites at the heart of the action. Granted, the Tranmere and Bradford games were hardly played at breakneck speed but Lallana was at least able to see plenty of the ball in this withdrawn role.
The expectation is the European Champions will enjoy the lion's share of possession in most of these encounters, even when heading stateside and lining up against sterner opposition. That being the case, the England International can hope to have major involvement and by extension re-familiarise himself with a ball at his feet.
The alternative scenario? Maybe his future genuinely lies as a number 6.
Nobody saw this transformation coming given Lallana was signed with a view to playing as a wide forward. Indeed that's where Brendan Rodgers primarily used his £25 million summer signing in the ill-fated 2014/15 campaign.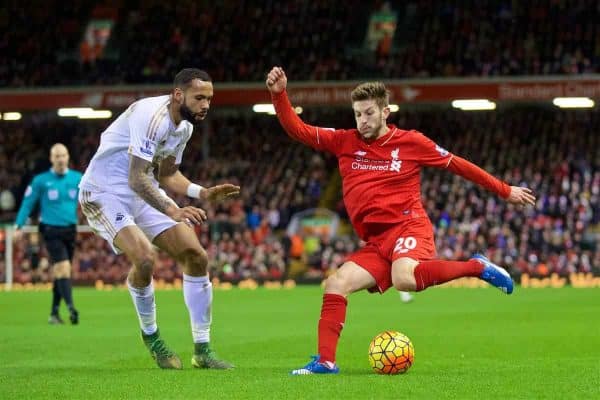 What became quickly apparent was that, in spite of the flicks and tricks, the former Southampton man simply did not possess the requisite pace to threaten from this position. Compare his output with that of Sadio Mane now and the difference is frightening.
Wise to this fact, Klopp instead moved him back into a midfield three and crowned him 'chief presser'. Contrary to his harshest critics, Lallana was instrumental during the early days of the German's reign and kicked on again in his first full season when Champions League football was secured.
Those obsessed with stats will argue he still only managed eight goals in what was clearly his standout year in a red shirt, conveniently forgetting our highest scoring midfielder last term registered seven (six of which were penalties).
The harsh reality is Lallana – for whatever reason – will never be a fan favourite. That matters little however while he has the trust of his manager, something that appears as strong as ever.
Having re-invented the player once, perhaps Klopp has been planning a third incarnation for some time. Whether our number 20 has the attributes to excel in this deep-lying role however is another debate altogether.
Nobody is doubting his touch which is largely exquisite and something that can quickly turn defence into attack. And make no mistake, that is now vital to the way we play.
There is arguably nobody better on the turn in our squad than Gini Wijnaldum, which is why Klopp has no qualms about playing him as the 6 on occasion. The manner in which he sold three Barcelona players a dummy in the Champions League semi-final is evidence of this ability to launch a seemingly impossible breakaway.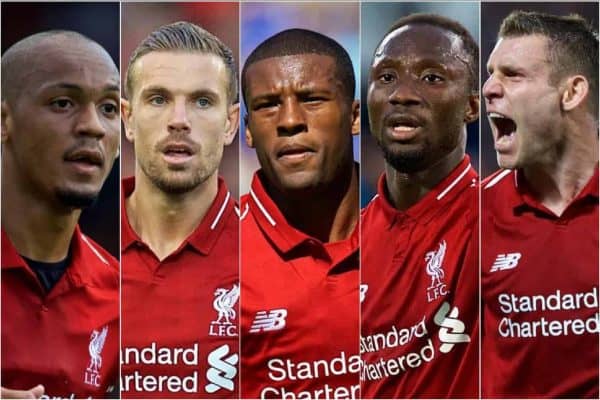 Lallana could do likewise while his skill-set would also offer another creative spark when faced with a low block at home, something we can expect in the majority of games at Anfield next term. The more imagination you have on the field attempting to solve a puzzle like Burnley, the better.
The danger though is that tendency to overplay, particularly if in his own half. Lallana loves to hunt but could just as quickly become the hunted as teams seize on his penchant for an extra touch. Even last weekend against Bradford he was caught out, allowing the Bantams to spring an unlikely counter-attack.
Another reason why this period could be little more than a tribute act is physicality, or a lack thereof. Admittedly, Lallana is no shrinking violet and will always put his foot in. When it comes to pure athleticism however he remains relatively slight. We all remember Yaya Toure literally lifting him off his feet don't we?
The number 6 must be prepared for a battle, something Fabinho never shied away from in his debut campaign. Lallana could quickly resemble a lightweight heading into a bout with some heavyweight grocks. That could get ugly.
Finally we must remember the captain in what is likely to become the pre-season debate. Long recognised as the deepest of our midfielders he (and we) were transported back to 2014 towards the tail end of last season when Jordan Henderson was literally unleashed.
Almost immediately we were reminded as to what he can offer in an attacking sense. Lung busting runs, assists and that long-awaited goal followed in a quite remarkable end to the season. So good and so significant were the skipper's final performances that few now envisage him reverting back to type. Why would he?
And maybe that presents Lallana with a route back into the team, not as a first choice of course but a backup option that will clock up his fair share of games, fitness permitting.
The fact is Adam Lallana's body has let him down for the best part of two years. He's never had the change of pace required to be a top-class, front-three player and cannot be trusted not to break down when leading the next line of attack.
With that in mind this latest change in position is – in all probability – the only way he extends his Liverpool career.
To make a success of it is to stay fit and available for selection. And that's already proving difficult this summer, missing two of the four games so far.