Jurgen Klopp insists there is "nothing serious" with Mohamed Salah's ankle injury, but should Liverpool fans be concerned? Dr. Rajpal Brar analyses.
Salah suffered a left ankle eversion sprain on October 5 following a rash challenge by Leicester City's Hamza Choudhury, during Liverpool's 2-1 victory.
Salah returned 18 days later for a full 90 minutes against Genk in the Champions League—netting the team's fourth goal in the 87th minute—and played last weekend against Tottenham, again putting the ball in the back of the net, this time a penalty in the 75th minute.
However, 10 minutes later, he was subbed off the pitch with an apparent problem to the same left ankle.
In this piece, I'll explain the specifics of the injury, Salah's ongoing return to 100 percent fitness, how worried Liverpool fans should be and the risks moving forward.
The Injury
Mechanism of injury
An eversion or medial (inner) ankle sprain occurs when the ankle is forcibly turned outwards.
This force stretches and damages the ligament complex on the medial side of the ankle, made up of four individual ligaments that are collectively known as the deltoid ligament.
This type of ankle sprain is far less common than the typical inversion or lateral ankle sprain that occurs due to inwards twisting of the ankle, and accounts for the most days lost to sport of any injury.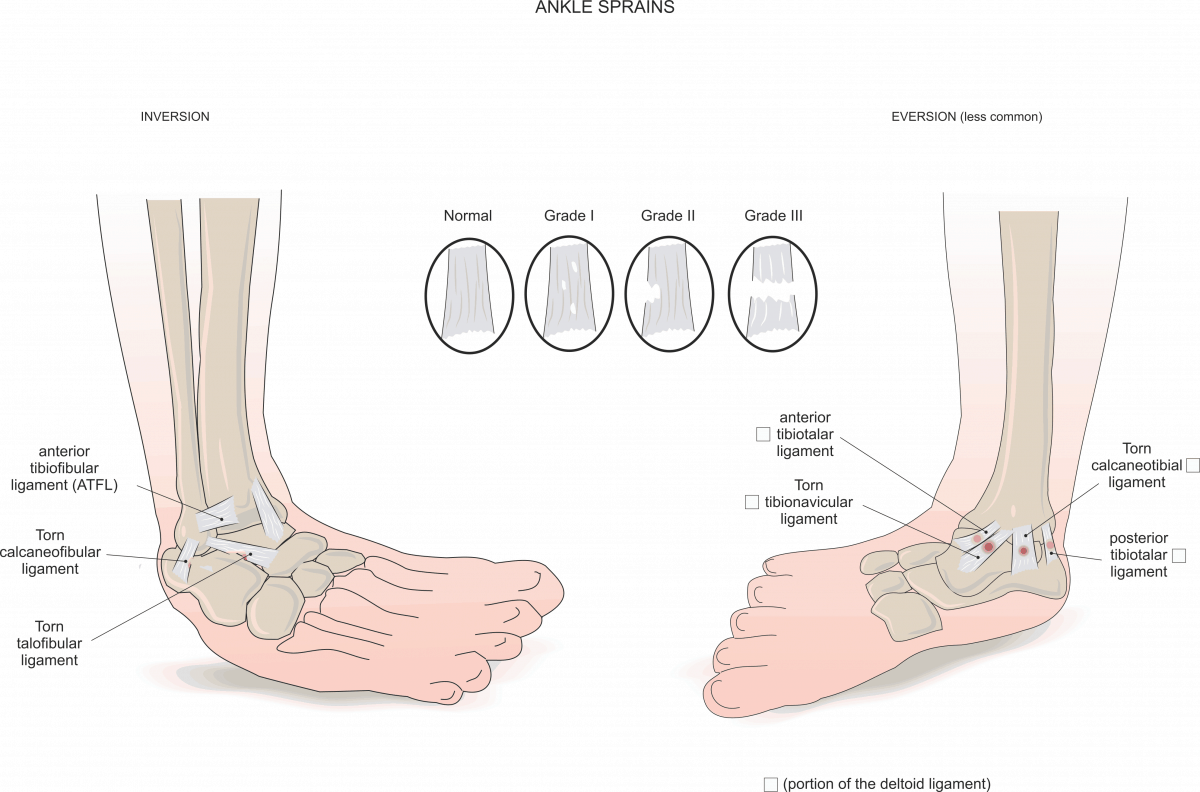 Injury grade
Ankle sprains are graded on a scale from 1 to 3 (reference the picture above), with a higher number corresponding to higher severity of tear.
In Salah's case, it's extremely likely that he suffered a grade 1 mild tear because an MRI showed no overt damage, which is often the case with these injuries.
Return to play timeline
However, because the deltoid ligament complex is very strong, it can take longer to heal and result in an extended absence.
For comparison, the average return to play after a grade 1 inversion sprain is seven to 10 days, whereas the average return after an eversion ankle sprain is upwards of 21 days. Salah missed 18.
How Worrisome Is Salah's Recent Knock?

Even though Salah is back on the pitch, his ankle is still re-acclimating to in-game demands that aren't reproducible off the pitch.
It's a natural part of returning to fitness.
To that point, it's very likely that he experienced mild discomfort and soreness in the ankle after his return and will continue to experience those attributes—albeit to a lesser degree—in the foreseeable future.
Accordingly, when Salah was removed from the Tottenham game, my initial inclination was that it was done for proactive purposes rather than an indicator that he had re-injured the ankle.
Klopp confirmed that inclination after the game when he stated that "it was nothing serious" and further went on to note that "the longer the game goes, you get tired and you get a knock and feel it more and it makes no sense to push it through."
The latter point speaks directly to the re-acclimation process after returning from injury—particularly with the ankle which is heavily involved in all football movements.
As muscle fatigue sets in, the muscles are less able to absorb shock—one of their primary roles—which means more stress into the ankle joint and ligaments.

You combine that with an overt knock on the ankle and you have a tipping point for increased discomfort.
These factors are inherent in Salah's process of returning to full fitness and duly so, Liverpool fans shouldn't have much concern here.
Risks Moving Forward

There's inherently an increased risk for re-injury after any ankle sprain but that's part and parcel with this injury.
That's part of why Liverpool were very measured with Salah's original return and proactive with subbing him out early.
To mitigate those risks of re-injury and compensation, the Liverpool rehab and training staff will continue to focus on ankle strengthening, conditioning and proprioceptive/balance work; all combined with treatment as needed to reduce any swelling and discomfort.
All in All

I haven't seen anything that overly concerns me or is out of the ordinary with Salah's return after an eversion ankle sprain.
Liverpool's medical and coaching staff have shown a very good understanding of risk/reward with their players which often results in them taking practical, proactive measures.
Salah's substitution is another example of that and another indication that he's in excellent hands.