Liverpool have nine matches in December – plus a Premier League game against Brighton that finishes seven hours before you can open door one of your advent calendar – so to say it is going to be a testing period for Jurgen Klopp's squad is an understatement.
The first-team will, of course, only play in eight of those matches with an Under-12s side and probably Andy Lonergan turning out for the Carabao Cup quarter-final at Aston Villa the night before Liverpool's Qatari adventure begins.
Plans are still being finalised, and injuries will be a factor, but from what I've heard Klopp will take his entire senior squad to Qatar (20 outfield players plus three goalkeepers) and Villa will be up against a Liverpool team so inexperienced that they'll be more used to getting lines than playing between them.
If I had to predict the starting XI – and I don't, but wheres the fun in not bothering – then I'd guess (if they're all fit) it'll be something like: Kelleher (or maybe Lonergan), Williams, Hoever, Van Den Berg, Larouci, Dixon-Bonner, Chirivella, Lewis, Kane, Elliott, Longstaff. Dave from accounts will be on the bench alongside Lio Gerrard.
I expect Rhian Brewster and Curtis Jones to travel to Qatar and, given that likely semi-final opponents Monterrey are currently eighth in Mexico's Liga MX with only seven wins from 17 games, there's a high probability that Klopp will rest players and, ironically, play something more akin to a League Cup team against them.
Before then, the Reds have the small matter of four Premier League games and two Champions League encounters to negotiate and they start that run with the opportunity to do themselves a massive favour at Anfield. Beat Napoli.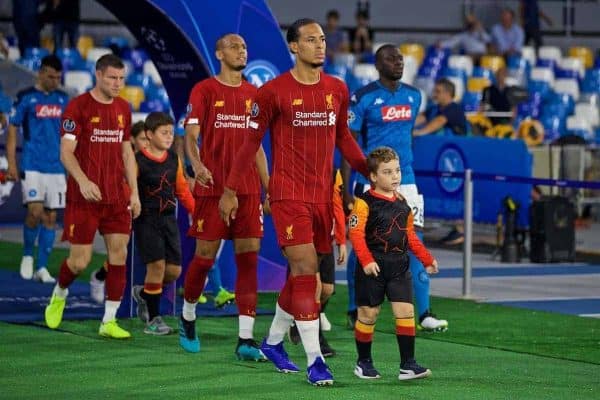 Three points against Carlo Ancelotti's men not only sends the European champions into the last 16 with a game to spare, it wins Group E. Last season's competition proved you don't need to be group winners to go all the way – PSG and Barcelona won Liverpool and Tottenham's groups – but some potentially weak-looking sides could finish as runners-up in the other groups and I'm all for trying to win it again.
On the subject of trying to win both the Premier League and Champions League, by the way, I suggested to Fabinho, in a recent interview for Liverpool FC Magazine, that it's impossible for an English club to do both given no-one has managed it since 1999 and before that it was Liverpool in 1984. He wasn't having any of it.
"Last year we showed it was possible – normally a team with 97 points are champions," he replied. "We were able to maintain the intensity and high standard in both competitions."
He makes a valid point, but for Man City and all that, and like I was saying before quoting the best holding midfielder in Europe, a win against Napoli would be huge because it would make the away trip to Salzburg the mutter of all dead rubbers.
Alf Inge Haaland's lad could increase his transfer value as much as he likes in the Salzburg snow, the result wouldn't matter to Liverpool in the grand scheme of things and that would allow Klopp to give some of his key players a midweek off slap-bang in the middle of the fixture pile-up.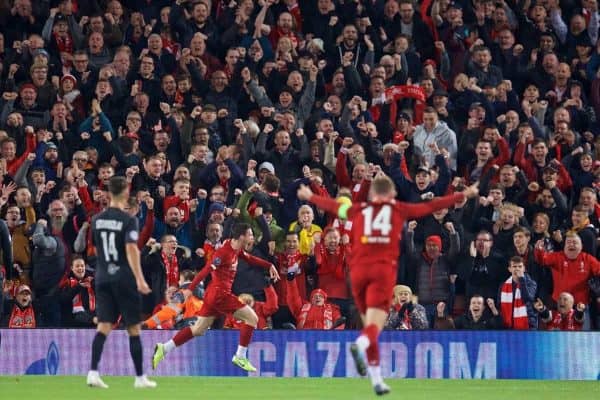 As we learned to our cost last season, Premier League titles can be settled by the finest of margins so the opportunity to avoid a potentially tricky matchday six in Salzburg (if Liverpool don't beat Napoli and RB Salzburg win in Genk the Reds could still go out with a defeat in Austria) and rest a few players instead is one that cannot be missed.
Especially when you consider we've got to go to Leicester City on Boxing Day night after returning from Qatar, so could do with a few fresh players for what looks like a very big game.
Napoli aren't in the best of form, drawing each of their previous five matches to leave Carlo Ancelotti facing a tap on the shoulder from Gennaro Savastano. But they've lost only two away games all season (at Juventus and Roma) and are the sole team to have beaten Liverpool in 2019/20, so anyone attending Anfield suffering from complacency could be in for a rude awakening, particularly as the Reds are yet to keep a clean sheet in a home game.
Had Alisson not made that outstanding late save from Arkadiusz Milik in last season's Anfield group decider Napoli would have gone through and Liverpool would still only have five European Cups, don't forget, so the Italians cannot be underestimated.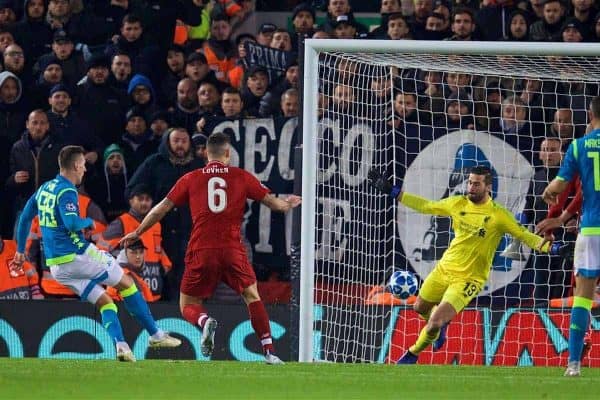 Imagine how they felt that night after getting dumped into the Europa League despite it being their only Champions League defeat whereas the Reds had lost all three away games. They'll remember that in the Anfield dressing-room and be up for it.
That said, when Liverpool are at it I'd back them to beat anyone at Anfield on a European night and I suspect Klopp has drilled it into his players to get the job done by treating Napoli like they're Man City visiting for a Premier League game.
A win would make a big difference to Liverpool's season and their aspirations of winning both the Champions League and Premier League. It's an opportunity not to be missed.
---
* Chris McLoughlin writes for This Is Anfield each week; he's also senior writer for the Official LFC Matchday Programme and LFC Magazine. You can order both here.