Back in March, Anfield Road End expansion contractors the Buckingham Group told This Is Anfield to expect a 'wow' moment in the summer, which is now evident.
At the six-month mark in construction, project director Colin Roddy explained how progress on redeveloping the Anfield Road End will hit a milestone at the end of June.
"You'll really get a feeling for the height of the structure at about the end of June, start of July," he said.
"We hope to see the first grandstand steel go up and we can appreciate what we're building here."
With June now turning to July, exclusive footage provided for This Is Anfield shows that 'wow' moment in effect, as the framework for the new upper tier is put in place.
Two mammoth cranes have now arrived on site, dwarfing the existing machinery, ready to lift the roof truss in place.
At that point, the full height of the new Anfield Road End will be able to be appreciated, but for now, there is a stark indication of how high it will be.
The new stand is being built outside of the current structure, to eventually be joined on, with there having been no disruption to the normal matchday process.
And with the upper tier under construction, new footage starts to outline how the Anfield Road End will look upon its completion.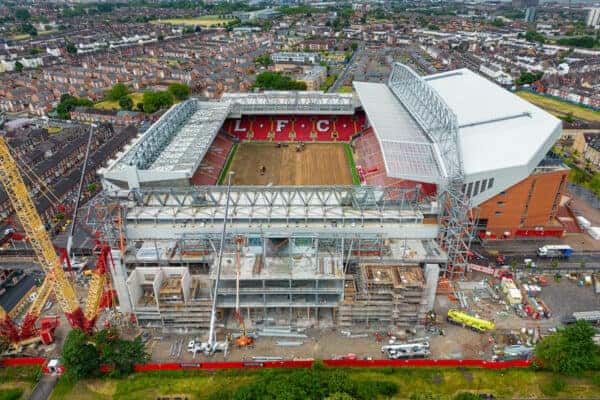 The site now dominates the surrounding area, with redevelopment work progressing swiftly during an extended break between games.
Liverpool last played at Anfield on May 22 and will not be back until July 31, though there have been three major concerts held at the stadium over the summer, too – the Rolling Stones (June 9), Elton John (June 17) and Eagles (June 20).
That gives contractors an uninterrupted month to work, while the club have also used the opportunity post-season to lay a new pitch ahead of the 2022/23 campaign.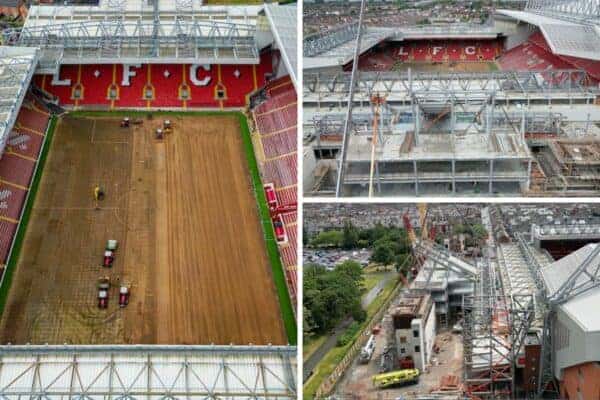 The Anfield Road End redevelopment will add around 7,000 extra seats at a cost of £80 million, raising the stand's capacity to 15,967 and the stadium's to 61,015.
It is on schedule for completion next summer.