Almost everyone will have an unpopular opinion about the football club they support, and that is certainly the case for Liverpool fans as many share theirs.
The beauty of football is that, beyond the points on the board, it is entirely subjective.
It is this that fuels the debates in pubs, on terraces and, more frequently now, on social media, where more questionable views are often aired.
Liverpool supporters are no different, and the contrast in success and failure over the years has made for a variety of opinions among Reds.
? What is your unpopular LFC opinion? pic.twitter.com/iLykwor50o

— This Is Anfield (@thisisanfield) June 29, 2022
This Is Anfield asked fans for their unpopular opinions on Liverpool – be that on or off the pitch – on social media this week.
Here are some of the standouts from Twitter, Facebook and Instagram.
There were polarising opinions on FSG, as ever…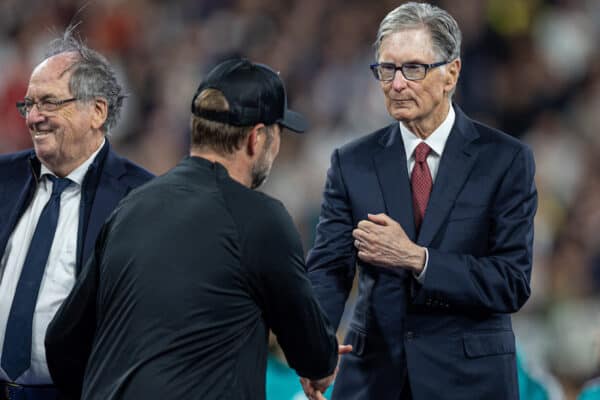 "FSG are actually good owners."

– @tomdeakin123 on Twitter.
"The owners have spent f**k all on players and have been extremely lucky that Edwards did such a great job in getting big money on player sales.

"They are also extremely lucky that Klopp and the management can turn most of our signings into world-class players.

"There's a reason why the fans sing 'the reds have got no money…', our net spend compared to the big teams is tiny!

"If the owners spent big on players, we'd have dominated the league like City, and picked up more cups. Fact!"

– Pol O Breaslain on Facebook.
"FSG is nowhere as bad as most fans say/think."

– qvaturt on Instagram.
"FSG have Stockholm Syndromed 'top Reds' into believing it's normal for one of the best clubs in the world in terms of earnings, success and standing to go into every transfer window without a transfer budget, to make do and wait 'til next year's big spend that never happens."

– @jakeyboyred on Twitter.
The Anfield atmosphere was a big focus…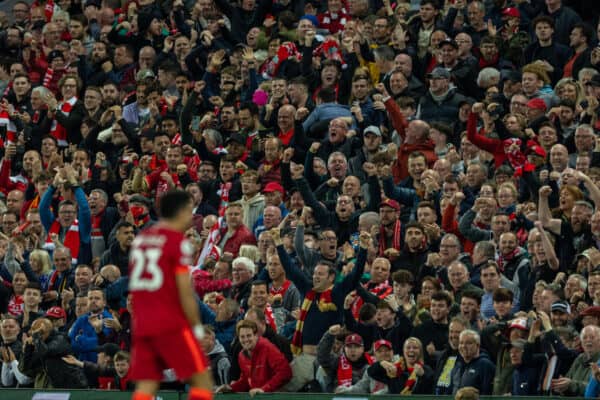 "Our atmosphere (apart from big games) is massively overrated. Your normal 3pm kickoff or early kickoff, the atmosphere is crap."

– Mark James Bergqvist on Facebook.
"That the non-Champions League Anfield atmosphere isn't all that.

"(Caveat that I believe it's because proper fans are priced out of lots of games)."

– @LeeAGraham on Twitter.
"The average age of the crowd is too old and this limits the atmosphere."

– ZeusGrobbelaar on Twitter.
There was plenty of player praise…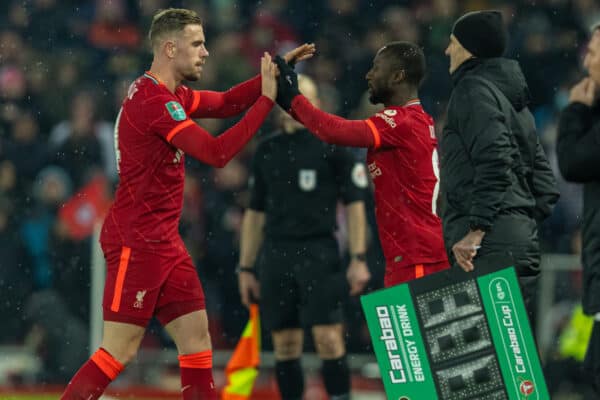 "Both Jordan Henderson and Naby Keita are really good players and you don't have to love one and hate the other…"

– @HenryJackson87 on Twitter.
"Liverpool don't need a midfielder because C. Jones is gonna step up."

– @RasmusNder on Twitter.
"Everyone saying Diaz, Nunez, Salah up front. I'd stick Jota in for a while. Let him step up. 20 odd goals last year. Feels like the forgotten man which is pretty scandalous."

– Justin Martin on Facebook.
"Sadio did not get the appreciation he deserves."

– Can Cicek on Instagram.
…and criticism!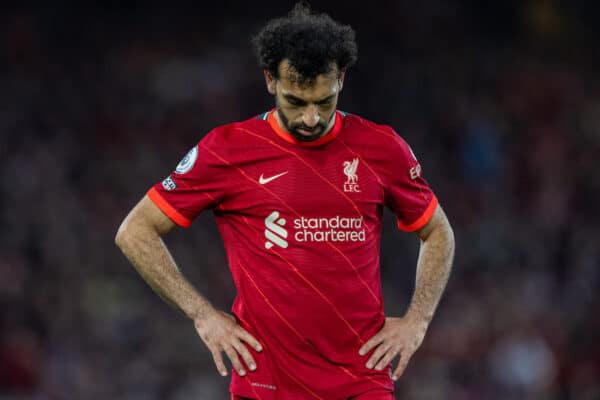 "Harvey Elliott won't make it as a Liverpool player. Too slow, questionable attitude."

– @PD_Deluxe on Twitter.
"Divock Origi isn't a Liverpool Legend. Coasted off five or six important goals. Very average player who sat on a big contract and saw out his last few years at Liverpool."

– Gary Elwill on Instagram.
"Virgil is not as great as everyone thinks. He was at fault for various goals which we conceded this season."

– elpistolero1702 on Instagram.
"Salah is an average forward who looks good because of the sheer number of chances created by the rest of the team…"

– Simon Hazeldine on Facebook.
---
What are your unpopular Liverpool opinions? Let us know in the comments below!