From 'better than Erling Haaland' to 'just a shit Andy Carroll' and now a much-missed influence in a humiliating defeat to bottom-of-the-league Nottingham Forest, it's been quite the four months for Darwin Nunez.
Goals-wise, it started with a top-off, tongue-out close-range header against Man City in the Community Shield. A close-range finish with a sprinkle of stardust followed at Fulham, before a penalty box poach against Arsenal, a side-footed finish against Rangers and a match-winning header against West Ham.
Amongst it all, Nunez inexplicably headbutted Crystal Palace's Joachim Andersen on his Anfield debut, earning himself a three-match ban in the process. A further two opportunities to shine were denied by the death of the Queen.
So what do we make of the man with 13 caps for Uruguay now?
Plenty have rushed to judgement but it's worth remembering the 23-year-old forward has made just six starts in competitive matches for The Reds since his move from Benfica for an initial £64 million.
A further six appearances from the bench have seen him clock up only 574 minutes for Liverpool so far.
A goal at just under every 115 minutes can be improved upon, but for all the talk – and there remains plenty – that he should have scored a lot more, he is actually exceeding his expected goals figure of 4.7.
A mixed bag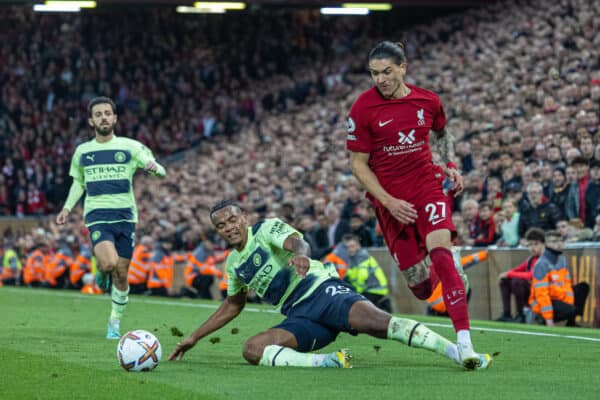 Away from statistics, Nunez's performances have been a mixed bag and opinions continue to be divided about quality and worth.
The attributes to cause defensive headaches have been clear – pace, power, a rocket shot and little concern for reputation. Once on the pitch, there is an aura of no cares given about the number 27, fitting as he inherited the shirt from Divock Origi, the most unpredictable man on earth.
There is a feeling that a truly spectacular goal is in the post as Nunez's instinctive volley on the run against West Ham signposted.
On the flip side, he has made easier chances look difficult. His decision-making has been severely lacking in key moments and his passing completion at 69 per cent is the worst out of those in Liverpool's squad with significant minutes this season.
A considered review would conclude he has done OK, that there have been mitigating circumstances – not least Liverpool's form, there have been hints of more to come, and we'll wait and see for the rest.
Judging too soon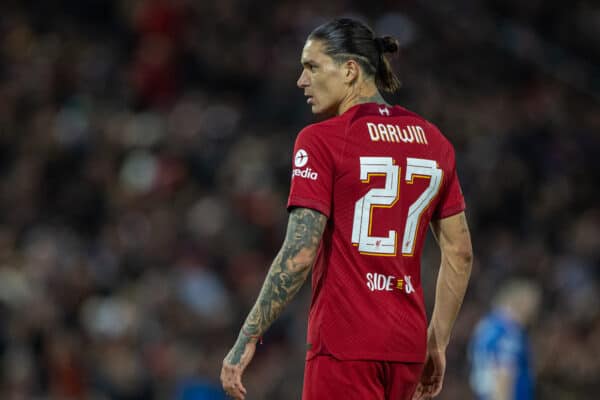 Much of football media doesn't really have time for 'considered' though, and patience is always at a premium when a player could become a club-record signing.
It has felt like there are people out there desperate to label Nunez a "flop" from the get go.
But in terms of his first 12 appearances for The Reds how has he compared to forwards of Liverpool's past?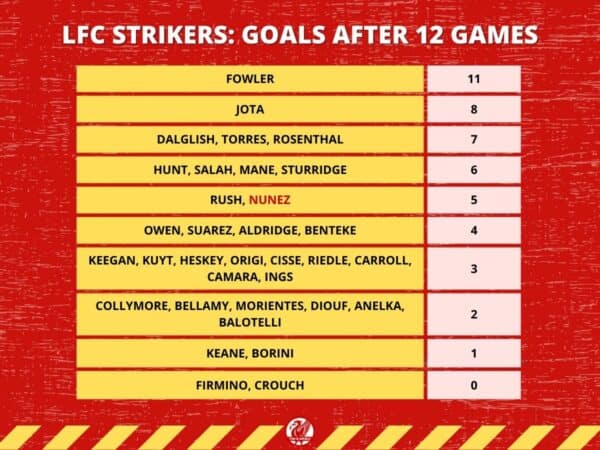 Not bad when you look at it this way. It's also a lesson in not reading too much into a dozen first-team appearances.
Club record goalscorer Ian Rush, signed for a record fee for a teenager in April 1980, didn't make his Liverpool debut until December of that year. His first goal for The Reds eventually came in September 1981 in the 7-0 Anfield demolition of Finnish side Oulun Palloseura.
Rushie went on to score 30 that season, followed by hauls of 31, 47, 26, 33 and 40 in the next five campaigns.
Before, team-mates had described him as "ordinary" while Bob Paisley had allowed the Welshman to believe he could be allowed to leave.
The rest is history: 346 goals in 660 games. A haul unlikely to ever be topped.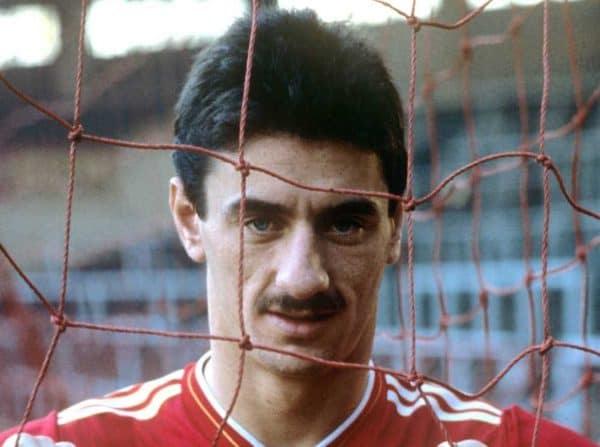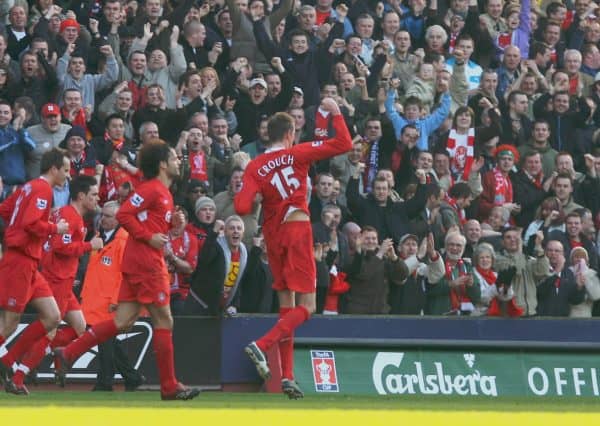 At the bottom of the list is the liked and likeable Peter Crouch. Infamously, he went 18 games without a goal for Liverpool, describing it as "the worst time in my football career".
A deflected effort against Wigan ended his 1,229-minute wait for a goal and Crouch went on to score double figures in each of his three seasons with the club, leaving as an FA Cup winner with figures of 42 goals in 134 appearances.
The unhelpful comparison
Back to Nunez. He admitted going six appearances without a goal was worrying him, while Klopp revealed he sat him down to reassure him about his work so far.
Now though, the injury aside and with the red card in the past, he has looked like a happy man, while Anfield has played its part by serenading him a number of times from the stands after he secured three points against West Ham.
The turnaround was welcome after recent mischief making.
With football content having developed the way it has, there is no extreme angle that someone somewhere isn't prepared to take in the name of clicks.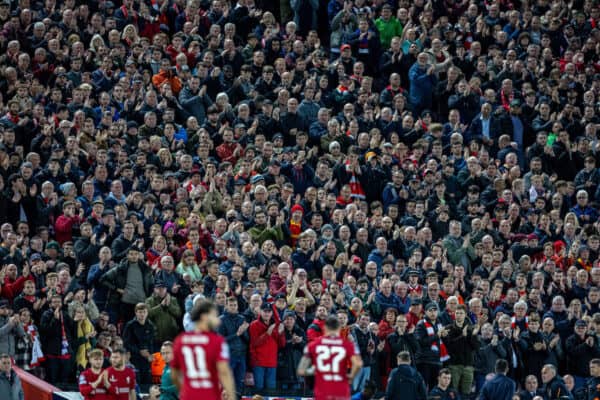 So we had a furore over a short clip of the forward seemingly blasting a ball aimlessly wide in training for his country in September.
And in the same month a journalist no-one had heard of quoted sources never named in Spanish newspaper El Pais, claiming Liverpool had already accepted they had made the biggest mistake of Klopp's reign in spending big on Nunez.
Nunez, it's worth noting, is 6,600 miles from home with the added challenge of a new language to learn.
Remember your first day at your job or day one at school? Remember the nerves, the unfamiliarity; that feeling you were out of your comfort zone?
It's something that will chime with most. Yet, when it comes to footballers, that reality is often forgotten.
Nunez, pre Liverpool, had already swapped life in the area he grew up in, Artigas, for the capital Montevideo aged 14, leaving his family behind to sign for Peñarol.
Reports in Uruguay say he struggled with homesickness, returning to his family for a year before going back to his first club.
At 20, Nunez moved to Spain, signing for Almería, committing to life in a new country and a new league thousands of miles from home. Just a year on, he was packing up once more, this time jetting the much shorter trip of 390 miles to Lisbon for Benfica.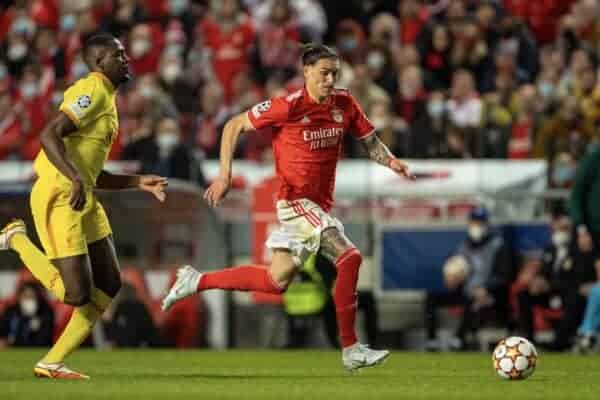 Roll on two years, and England is now his home.
The psychological challenge of such moves is rarely referenced or factored into early performances of a new player.
Instead, Nunez – from day one – has unhelpfully been compared to Erling Haaland.
One was as proven of a marksman as you can possibly be at 22 years old; the closest thing to guaranteed goals: 86 in 89 appearances for Dortmund with 15 of those coming in the Champions League in just 13 turnouts.
Nunez, by contrast, had impressed with two goals against Liverpool in Europe, but was still regarded as a rough diamond. His Benfica stats read 48 goals in 85 appearances, with six in 10 Champions League games and five in seven in the Europa League.
Of those goals, 34 came in 41 games last season. The campaign before doubts about his ability that have been voiced here were similarly expressed in Portugal.
The Community Shield allowed for the Nunez v Haaland narrative to gain further legs. Here was the man from Benfica blotting the scoresheet already, while the former Dortmund man was skying presentable chances.
The reactionary churn of football media meant bait and banter was soon bulging from the internet's seams – Liverpool had done the better business. Nunez had won the battle of the strikers.
Since then, perceptions have shifted and shifted again. Haaland has 22 goals and three assists from 1,213 minutes across 15 appearances for Manchester City.
His agent is already talking about him becoming the first £1 billion player.
'Raw, potential, chaos'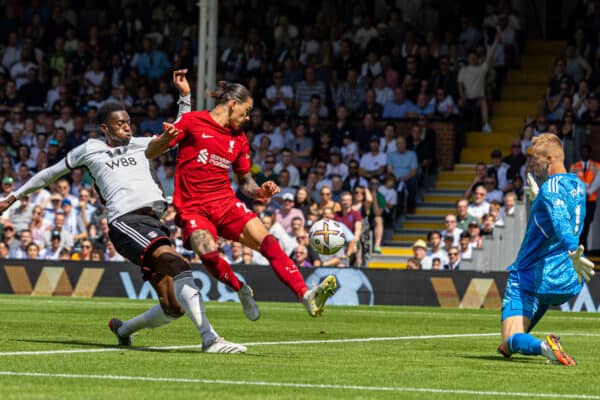 Nunez is best judged on his own merit therefore but how soon is now to deliver a verdict on a Liverpool striker?
Gauging opinions on Twitter before his first goal at Anfield in a Liverpool shirt, the matchwinner against West Ham, the range of views from supporters stretched from dismissive to hero-worship, with plenty of doubts in between.
Interested to gauge some thoughts/feeling on Darwin Nunez.

So far it's 518 minutes (five starts) for #LFC for the 23-year-old, with a return of four goals and one assist.

Concerned about his overall play?

Think he's doing fine?

Think he'll come good?

Etc.

— Gareth Roberts (@robbohuyton) October 18, 2022
Common words and phrases across the hundreds of replies included "raw", "potential, and "chaos".
Some supporters seem worried, while others are endeared and all in.
The reality is Nunez is always going to carry his price tag around. It will never be far from a scribe's fingers. He is also walking in the boots, at least in the eyes of many, of Sadio Mane; a striker who scored 120 goals for Liverpool and is the 14th highest scorer in the history of the club.
Liverpool have been historically spoiled for striking talent and it is a tough act to follow. Plenty have squirmed under the spotlight.
Nunez will be aiming to walk among the star names rather than being listed alongside Carroll, Benteke, Borini and Balotelli as strikers that came, saw and failed to conquer.
A six-year contract suggests there is plenty of confidence he will fall into the former category. And while outsiders will focus on negatives, Klopp's transfer record remains more hit than miss and deserves some trust.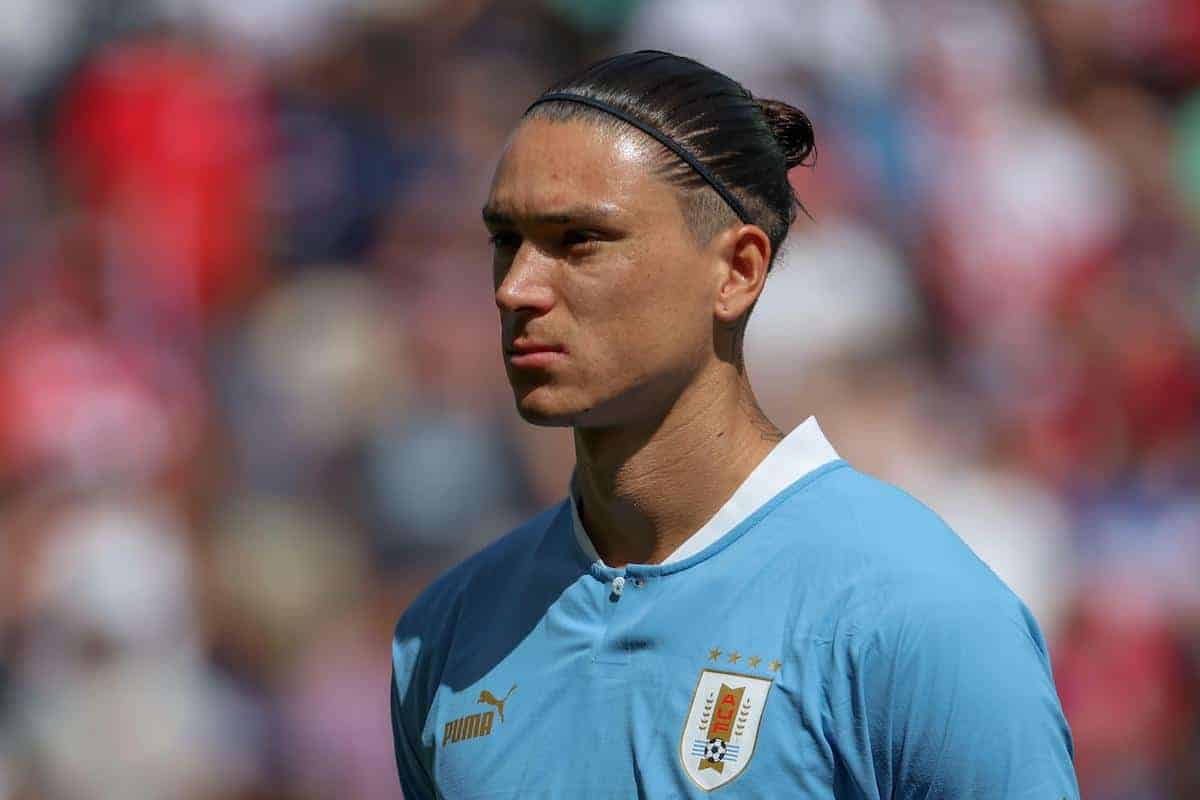 Other players, including Andy Robertson and Fabinho, have needed time to adapt.
And Luis Suarez, alongside the scouts at Man United and Newcastle, seemed convinced of Nunez's talents before he arrived at Liverpool.
"I have 15 years of international experience, so I know a thing or two about forwards," Suarez told Barcelona. "And I told them, 'pay attention to this one, he's very good, he has very interesting things'."
Barcelona's loss is hopefully Liverpool's gain.
A poacher was certainly missed on Saturday and Liverpool now have six more games before the break for the World Cup. You can bet the defences of Ajax, Leeds, Napoli, Spurs, Derby and Southampton would rather face a side without Nunez than with.
There can't be many Liverpool fans who aren't praying the opposite is true.
The wider debate about Nunez's worth, value and standing in club history is for another time.
For now, that famous Paisley quote rings true: "If you're in the penalty area and don't know what to do with the ball, put it in the net and we'll discuss the options later."