You can argue over transfers and whether that's Jurgen Klopp's or FSG's 'fault' but training is Klopp's remit, 100%.
The Liverpool manager is constantly calling for more time in the schedule for training. In reality, his wish has been granted this season, but instead of improvements, we've actually got worse as training time has increased.
"In football, there are two ways to improve. One is to sign good players and the second is training, having time together is always good." – Jurgen Klopp, 2019
Klopp has a long and successful record of improving and developing players, irrespective of if he inherited them or if he signed them.
The German values the time he has on the training pitch and it forms the foundations from which his team thrive as individuals and as a collective.
But consistent sessions at the AXA Training Centre, previously Melwood, have not always been on the cards due to Liverpool's success on the pitch resulting in more games and less time for training.
In 2022/23, however, the Liverpool manager has never had more time with his squad on the training track, and yet we're not seeing the level of improvement we ought to have.
Klopp got his wish

Roberto Firmino, Ilkay Gundogan, Pierre-Emerick Aubameyang, Mario Gotze, Robert Lewandowski, Marco Reus and Trent Alexander-Arnold are just some of the players who have publicly credited Klopp for making them better players.
The list could go on and on.
Klopp knows how to get the best out of a player and his support staff are just as invaluable to the process as he is.
In the words of Liverpool's elite development coach, Vitor Matos, Klopp "has the gift of reaching into everyone's heart and demanding the most. It is almost as if in each training session I receive a masterclass."
His record of improving players is tremendous, even with training limitations and a gruelling schedule.

"In any sport, the basic requirement for any performance is training. But we don't have time to practice because we play all the time," Klopp said back in 2022.
In 2021/22, Liverpool played in every fixture possible, amounting to 63 games for an average of a game every 4.5 days, inclusive of every international break.
When you factor in recovery days and a game every weekend and midweek, there was limited, if any, opportunity for training sessions to take place beyond tactical work for the next opponent.
If you compare that to this season, the Reds have played 31 games to date, which makes for an average of a match every 5.9 days – also inclusive of international breaks, namely the World Cup.
For a team that has had training time restricted in recent years, that's a significant difference.
And let's not forget they spent 12 days in Dubai for a mini-preseason before domestic action returned after the World Cup, and only seven Reds featured in Qatar.
"In these 10, 11 days, the kids especially, everybody made a real step forward," Klopp said of the time spent in Dubai. Sadly, it's not been a consistent theme on their return to England.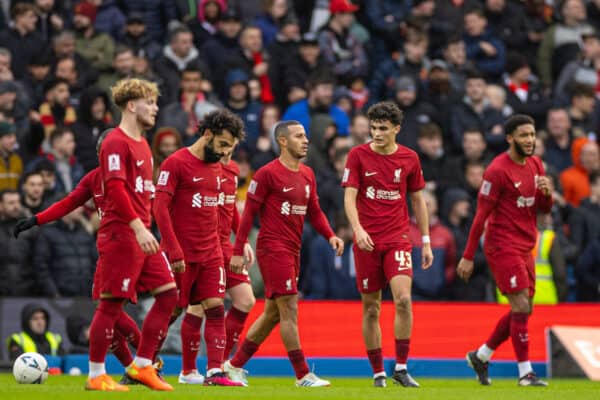 Early exits from domestic cup competitions have freed up Liverpool's schedule and their first 10 games of the year take place over 50 days, from Brentford to Real Madrid, a game every five days.
The time between the last match at Brighton to the next at Wolves (Feb 4) is six days, a nine-day break then follows before five days separate Everton's visit (Feb 13) and the trip to Newcastle (Feb 18).
Plenty of time to train, then – although Klopp still, bemusingly, continues to state otherwise.
But that won't fill many with confidence as increased training time throughout the season so far has yet to consistently translate on the pitch, both with performances and results.
Even Andy Robertson admitted after defeat at Brighton in the FA Cup that despite wanting a "new start" at the turn of the year, "we've probably been worse."
So what is going on?
The big issue

Pep Lijnders has said "training is our transfer" and for many years Klopp and his staff have found solutions to Liverpool's issues on the training track, working out any kinks.
The Reds' problems are only mounting this season and we have seen tweaks to the formation, changes to personnel and recently a renewed emphasis on becoming compact.
But Liverpool have just one win from their last six games, have lost four since returning from the World Cup break and have conceded 15 goals in the last nine.
After uninterrupted time in Dubai and a 'kinder' schedule to start the year, you expected the work on the training pitches to start to translate into a markedly improved Liverpool, even if results lagged behind to start.
So has the intensity of training sessions dropped? Are they no longer as effective? Is there a lack of fresh stimulation? Is cumulative fatigue from years of sessions under Klopp only adding to the tired legs and minds?
The latter would not be surprising in the least!

It can only be speculation but for how much Klopp and Lijnders stress the importance of training, something is amiss, whether that be from application, fatigue or the messages delivered.
Klopp never hides his desire for more time to work with his team and his wishes have been delivered, now at the cost of involvement in two cup competitions.
And the improvement you'd expect to see in individuals and as a collective have not been forthcoming — Stefan Bajcetic being the obvious exception — an issue that should not be so easily overlooked amid all the transfer talk, as Klopp has complete control over training.
"The talk of Plan B shows a lack of understanding," Klopp said back in 2017. "In the moment when you are not feeling confident, you cannot change too many things – that's insecurity."

It's an ideology that will not have changed drastically in the last six years for Klopp, but Liverpool need to rediscover their confidence and their principles, and it all starts in training.
With a maximum 26 games left this season in the next 157 days, should Liverpool spectacularly make it to the Champions League final, the Reds will have an average of a game every six days.
That offers ample training time, affording Klopp the platform to turn one of the biggest current issues into a springboard from which to bounce back.
"In football, there are two ways to improve. One is to sign good players and the second is training" – with the former off the table, the latter is where Klopp has to hone his focus.