News emerged that Fenway Sports Group were exploring new investment for Liverpool in November, but their full intentions remain unclear.
Up until now, FSG are not believed to have received any offers for either a minority or majority stake in the club, with reports suggesting they are leaning towards partial investment, rather than a full sale.
Sir Martin Broughton, who sold Liverpool to FSG in 2010, recently said he had made "one or two inquiries" with possible investors on behalf of the club's American owners.
And although they came to nothing, with Broughton deciding against involvement in a new bid for the club, he does claim to have spoken to Liverpool and FSG chairman Tom Werner about their intentions.
Werner is believed to have told Broughton that FSG are "testing the water" after seeing Chelsea sold for huge money last year.
"I was surprised but not astonished when I heard," Broughton told the Echo.

"They have shown with Boston [Red Sox] that they are in it for the long term, they are not short-term investors going in for the short term and flipping three, four or five years.
"They have been here 13 years now and they saw the Chelsea deal and I think certainly realised that prices were maybe higher than they had in their mind of the increase in value that they had during that time, so [they said]: 'Why don't we test the market?'
"I spoke to Tom Werner and asked him were they seeking to sell? Were they seeking investment? What was the objective? And he said: 'There isn't one. We're testing the water. If there is an offer that is a very high figure then we'd be daft not to look at it.
"'If there is an investor that wants to come, we'd certainly be willing to look at that and we wouldn't be at all surprised if we didn't get either and we continued to hold it. We're comfortable with that too. So it wasn't that we have got an exit plan, it was more that testing the markets to see what is out there.'"
Clearly, FSG are not desperate for a sale, and would be more than happy to retain at least some involvement in the club.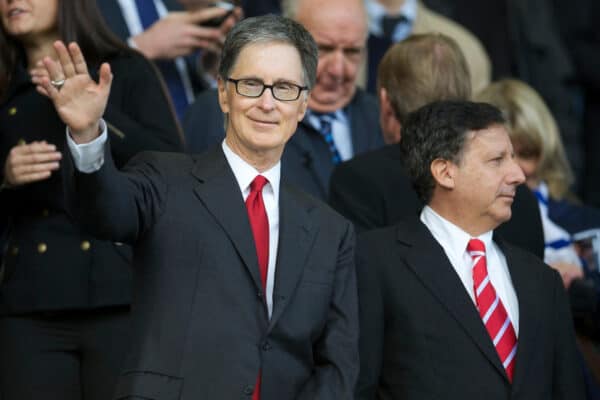 Whether they can find a party that would agree to a minority stake is a different story, with some reports this week suggesting that a Qatari consortium have withdrawn their interest and are now lining up a bid for Man United.
Broughton believes FSG would not simply be looking to sell to the highest bidders, and will want to ensure that the club remains in good hands going forward.
"I would be astonished if they weren't concerned about the legacy they leave," Broughton added.
"I don't think they are people who will walk away [having sold] to the highest bidder, walking away thinking: 'Well we got a great price, what a good deal, let's move on'. I think their heart is in Liverpool now."
For now, the future of Liverpool's ownership situation remains uncertain, but anyone hoping for or expecting a big-money full takeover in the near future may end up disappointed.