A journalist who has previously reported that a consortium from Qatar have been in talks to buy Liverpool has now claimed they have "moved on."
There has been little in the way of concrete developments since it was revealed that FSG were exploring the possibility of selling the club last November.
Many have since reported that Liverpool's owners are now leaning towards partial investment of the club, rather than a full sale, but all scenarios remain on the table for the time being.
One group who have been tentatively linked with a possible takeover at Anfield are the Qatar Investment Authority (QIA), a $450 billion sovereign wealth fund.
Sports finance journalist Alex Miller previously reported that QIA have held talks with FSG and were weighing up a possible offer for the club.
But earlier this week, the Telegraph's Sam Wallace reported that the same group were expected to make a bid for Man United in the coming days.
QIA have moved on from @LFC to @ManUtd as they couldn't negotiate a majority share with FSG… there are at least two Qatar-based parties interested in United… unclear whether there remains any possible route back to Liverpool for QIA…

— Alex Miller (@alexmiller73) February 15, 2023
QIA not willing to invest close to £2billion for a minority share in @LFC…

— Alex Miller (@alexmiller73) February 15, 2023
Miller's latest update would certainly fit in with that information, with him now reporting that QIA "moved on" from Liverpool "as they couldn't negotiate a majority share with FSG" and are "not willing to invest close to £2 billion for a minority share" at Liverpool.
On the contrary, the Liverpool Echo's business of football writer Dave Powell claims that QIA have not held any talks regarding a percentage stake at Liverpool.
Powell additionally reports that FSG have not received offers of any kind for the time being.
A full takeover appears to be much more likely at United than it is at Liverpool, with the Glazer family expected to receive a number of offers that would see them hand over the reigns at Old Trafford.
Miller adds that it is "unclear" whether there could be a scenario where QIA return to the negotiating table for Liverpool.
While the legitimacy of his information remains unclear, it does appear that some interested parties are being put off by the prospect of a minority share rather than a full takeover.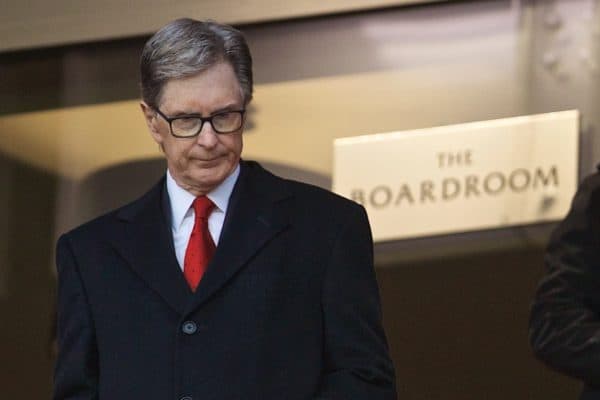 For the time being, a full sale of Liverpool would appear to be unlikely, and any consortiums looking to invest in a Premier League club would surely be more inclined to purchase the whole club, rather than part of it.
Last week, former Liverpool chairman Martin Broughton, who was in attendance at Anfield for Monday's Merseyside derby, questioned whether the Reds or United "would get the kind of prices they floated" for their clubs.
FSG may be warming to the idea of a strategic partner at Liverpool, but finding a consortium who would adhere to such an agreement may be easier said than done.