The postponed visit of Fulham coupled with an international break means that Liverpool now face 17 days without a game. So what can Jurgen Klopp focus on?
In a season interrupted during the winter for a World Cup in Qatar, you might be forgiven for wondering how the Reds have ended up with such an extended rest.
Fulham were scheduled to come to Anfield on March 18 but their FA Cup run has dictated that this will now be played at a later date, while the final international break of the season is also upon us.
Klopp's Liverpool have typically been a side which has thrived upon rhythm, and breaks such as this have not necessarily been a good thing in recent times.
The return is far from gentle.

---
Liverpool's trip to Man City signals the start of what Klopp described as a "proper football week," in which Chelsea comes three days later before league leaders Arsenal visit Anfield the following weekend.
The manager has said that those three fixtures will "define" both this season and next, and the break is likely to be heavily focused on that set of games.
Here are some of the issues the manager should look to address ahead of one final top-four push from the beginning of April.
Get Diaz ready and raring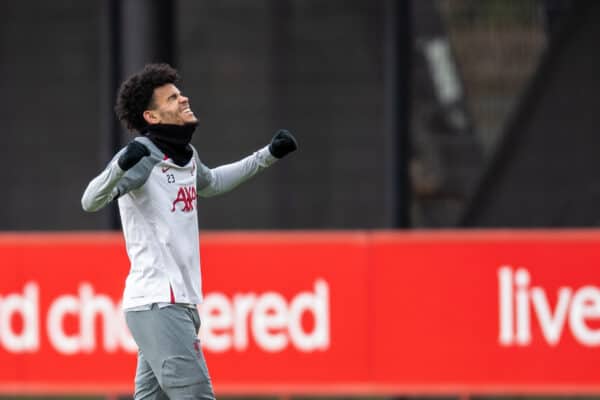 If Liverpool can find any way to integrate anything close to the best version of Luis Diaz into the side then they must seize the opportunity.
The Colombian was one of the campaign's standout performers prior to a knee injury picked up in October, and a full return to the team could provide a welcome boost at just the right moment.
The arrival of Cody Gakpo has eased some of the damage, with the Dutchman finding his feet at the club in recent weeks.
But Diaz unquestionably possesses enough quality to work his way back into that forward line and will be hoping to do so sooner rather than later.
It provides the boss with a healthy dilemma in that Darwin Nunez has occupied the left slot within the front three in Diaz's absence and has been arguably Liverpool's biggest attacking threat during that period.
Diogo Jota also returned to action last month, meaning that Liverpool could suddenly be left with a wealth of options up front and cause real headaches for opposition managers.
Solve the midfield conundrum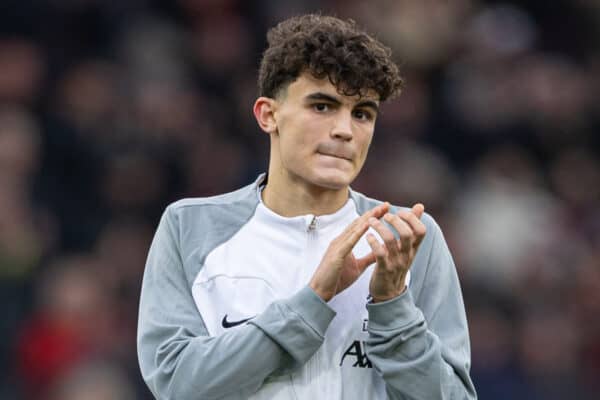 A season-ending injury to Stefan Bajcetic is the latest in a long line of Liverpool casualties this campaign and makes picking a starting midfield even more difficult than it was.
Bacjetic joins compatriot Thiago on the sidelines in what has been a turbulent season for the Reds' midfield.
The news came shortly after Jordan Henderson was ruled out of the trip to Real Madrid with an illness, although the captain will be available after the break.
Earlier this season Liverpool switched to a system with just two central midfielders, and although it was more due to circumstance and scoreline there was something of a return to that in Madrid, when Klopp fielded four forwards and had James Milner and Fabinho sitting in behind.
Either way, Klopp will need to find a way to field a competent midfield between now and the end of the season with those he has got available if there is to be any hope of achieving a top-four spot.
Sort out the away problem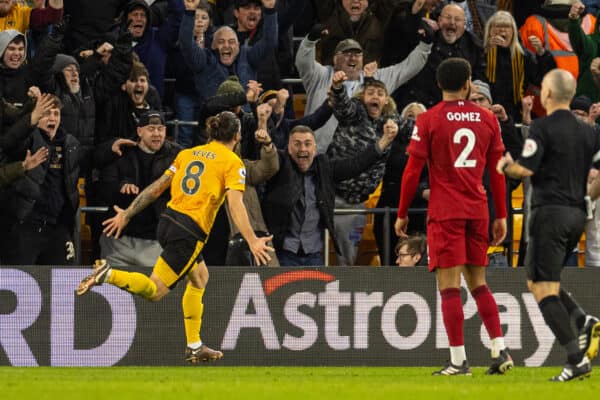 Liverpool's form away from home is a serious cause for concern and will need to significantly improve if anything is to be salvaged from the season.
It is now just three wins from 13 in the Premier League away from Anfield, and it appears that the side still lacks the confidence required to get the sort of results which came so easily last season.
The Reds sit 13th in the away league table, and Klopp recently admitted that he was "concerned" by his team's struggles on their travels.
Trips to the Etihad and Stamford Bridge await after the international break – a brutal start irrespective of form or belief.
And the manager will be hoping for a significant improvement on the showing away at Bournemouth in Liverpool's last league outing.
Find a role for Carvalho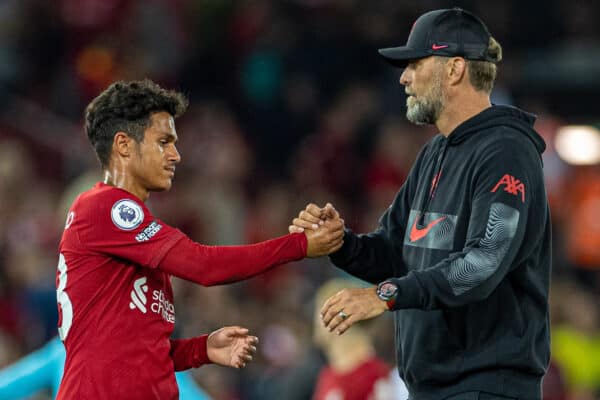 There will, of course, be plenty of players who will remain at Kirkby aside from mid-season holidays, and it presents an opportunity for Klopp to take a closer look at those players.
Only 12 first-team players have been called up to represent their national teams, which means 17 will be available for training.
It presents an opportunity for Klopp to take a look at those players and perhaps work with some of the fringe players more closely.
One of those names is Fabio Carvalho, who hadn't featured in the Premier League for four months before being briefly introduced away at Bournemouth in injury time.
It will no doubt have been a discouraging time for the 20-year-old, who enjoyed more regular minutes prior to his last league start away at Nottingham Forest, and the youngster will be hoping to use this period to impress the manager and his staff.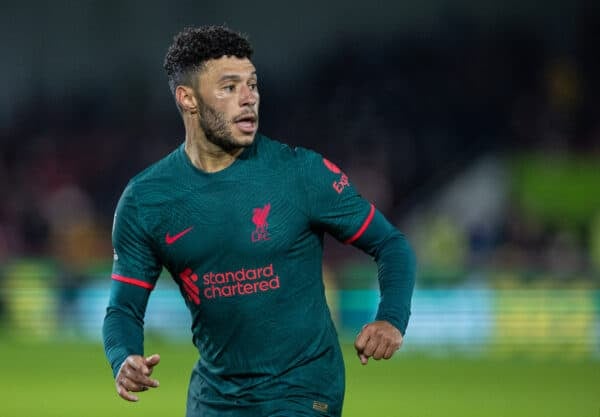 Alex Oxlade-Chamberlain will also be hoping to stake a claim for more game time in what has been a stop-start season for the 29-year-old.
A hamstring injury kept the midfielder out of action for the first two months of the season, but a bright cameo at the Bernabeu indicated that he is still a viable option as his contract nears its expiry.
The same could be said of loanee Arthur, who could present an unlikely option in the wake of Bajcetic's injury.
Plan for the summer ahead

It is in the back of many supporters' minds, and it would be naive to think that the club aren't already putting the wheels in motion for both ins and outs this summer.
There is little doubt that Liverpool will need to make moves in a number of different areas in the transfer window, with the midfield remaining the key topic on most people's lips.
More recently, noises have been made about the need for greater competition at right-back, and a new centre-back is also likely to be needed sooner rather than later.
It is rare that Klopp has such time and breathing space to even consider such issues when games are coming thick and fast.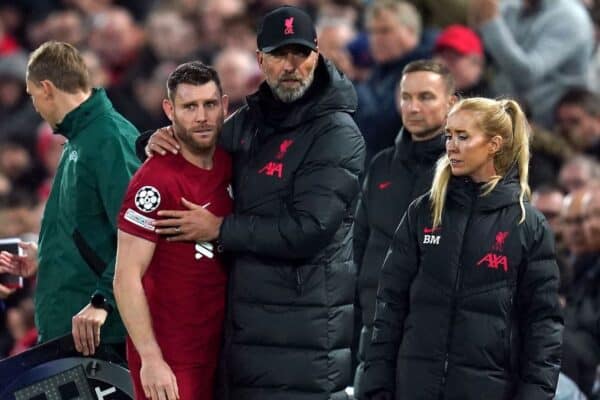 But a break such as this may present an opportunity to ponder the priority areas for the summer, as well as talks over the futures of those whose contracts are coming to an end.
Roberto Firmino has already confirmed his exit this summer, with the fate of Oxlade-Chamberlain, Naby Keita and James Milner yet to be determined.
If all of those players are to leave on a free, it will only accentuate the need for midfield reinforcements next season.