It was a historic night for Mohamed Salah as he equalled, and subsequently broke, Robbie Fowler's Liverpool FC Premier League goal record.
The Egyptian described the moment as "special," and it comes just days after he became only the second Liverpool player to hit 20 goals in six successive seasons.
Immediately after the game, Paul Joyce of the Times reported that he was presented with a commemorative shirt with 129 on the back to mark the occasion.
Players and supporters were quick to react to the record, with teammate Andy Robertson full of praise for Liverpool's No. 11 after his 129th Premier League goal.
"The record breaker, I don't know how many records that he's broken but I know that one means a lot to him," Robertson told LFCTV.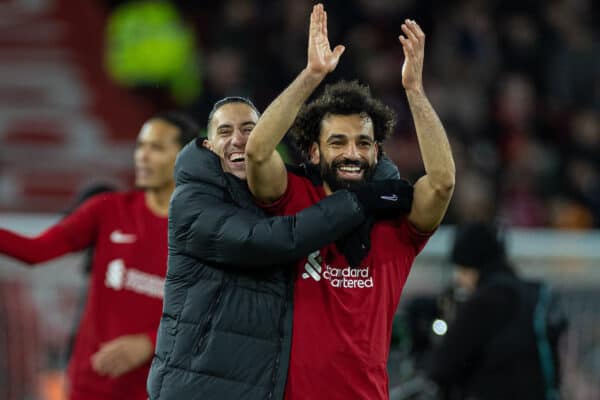 "Obviously Robbie Fowler, fantastic player for this club. A legend in his own right and for Mo to beat him, and not to take anything away from Robbie, but in quite a lot less games.
"He'll go down as one of the greats for this club, the Premier League, everything.
"For this club, he'll go down as one of the all-time greats and he deserves everything he got."
Huge congrats @MoSalah ?? #LiverpoolLegend @LFC pic.twitter.com/vqIyBE4HO8

— Robbie Fowler (@Robbie9Fowler) March 5, 2023
The Scotland captain also made a cheeky jibe about Salah's public speaking skills:
"He got a massive cheer in the changing room when he came in, his speech wasn't great but hey-ho.
"He's a fantastic player, a fantastic person. He'll be hungry for more."
Ominous!