Liverpool's 7-0 trouncing of Man United was a thrilling watch and provided plenty for fans to rejoice over.
Liverpool managed their biggest-ever victory over the Red Devils, beating their previous best: a 7-1 win in the 1895/96 season.
Cody Gakpo netted Liverpool's first just before halftime, then from the moment the Reds stepped back out after the break, they looked unstoppable.
Here are just some of the things that supporters have been discussing since the final whistle.
'The Butcher' sent for a hot dog
The perfect GIF doesn't exis…..

*Picks jaw up off floor* pic.twitter.com/TUpJYMN4hc

— Ben Webb (@BenWebbLFC) March 5, 2023
On a night when Mo Salah scored twice, breaking Robbie Fowler's Premier League goalscoring record for Liverpool, the Egyptian reminded us just how much talent he has.
In the buildup to Gakpo's delightful dink over David de Gea, Salah turned Lisandro Martinez inside out and supporters loved it…
Lots of great moments in this match but I think my favourite was when Salah turned Martinez into a pretzel in the build-up to the third goal.

— Biggies Malls 2.0 (@Biggies_MaIIs) March 5, 2023
Salah sent Martinez looking for the exit door. pic.twitter.com/9KceQNF0oM

— DaveOCKOP (@DaveOCKOP) March 5, 2023
This is the only Arab owner Manchester Utd are getting ??? pic.twitter.com/qZVK8sk4Su

— Salah Central (@SalahCentral) March 5, 2023
Trent's nod to Firmino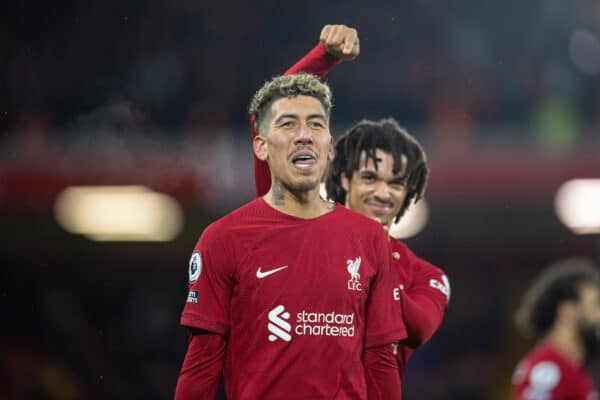 It was an evening full of emotion for Roberto Firmino, who was featuring in his first game since the news broke that he would be leaving at the end of the season, something Klopp confirmed after the game.
The crowd were singing his name even while the Brazilian was on the bench, and to the delight of Anfield, he was the man to score Liverpool's seventh.
There was plenty of love for Firmino after the match, and not just from the supporters…
Thought Trent's tribute to Bobby Firmino after the goal he scored & specially after the news yesterday was touching. pic.twitter.com/3HpckozDyy

— Moby (@Mobyhaque1) March 5, 2023
Look how happy ibou and trent are for bobby ???? pic.twitter.com/zQyKrrdVc8

— ? (@lfc___3) March 6, 2023
Trent putting the crown on Mo
Trent sending Bobby for an ovation

??????????

— keith costigan (@KeithCostigan) March 5, 2023
Absolutely loved it when Trent signaled to the fans, and made Firmino go back.

Bobby will always be a legend.?? https://t.co/8Aujj93eVM

— Agbavi fka A Very Known Stranger. ? (@niyi_knowbl3) March 5, 2023
Klopp's fume at pitch invader
that fan sticking one on Robertson and Jones….missed Klopp wanting to fight him pic.twitter.com/dgmT0Gu6ZV

— ?? (@DjimiTraore) March 5, 2023
Klopp wasn't pleased after a pitch invader slipped and nearly injured Andy Robertson and Curtis Jones in the immediate celebration following Firmino's late goal.
Some supporters managed to see the funny side, though.
Liverpool fan runs on the pitch and slides into Robertson, Klopp was furiouspic.twitter.com/SfptWtuB6S

— EmanDaGoon™ (@EmanDaGoon) March 5, 2023
The only Liverpool fan not feeling good tonight is that lad who ran on the pitch, skittled two players and then got both barrels off Klopp as he was dragged off by security!! What a cabbage! ???????????????

— Philip Russell (@phillyrussell) March 5, 2023
His reaction when the fan ran on the pitch!!….I would not mess with Klopp!! ? https://t.co/C4fHbqAFHL

— Andrew Tyler (@Andi316) March 5, 2023
Good job that fan was being held by the stewards cos I reckon Klopp would've lamped him if he wasn't!

— Matt Ladson (@mattladson) March 5, 2023
#ManUtd most effective tackle was when a #LFC fan ran on the pitch, slipped, and clattered #Robertson ??? . #LFCMUN pic.twitter.com/5hOahqh5p1

— Andy Barr (@10Yetis) March 5, 2023
The FSG out plane

Shortly before kick-off, a plane flew over Anfield with a banner carrying the words "FSG out – Klopp in – Enough is enough."
Whatever your thoughts on the owners, someone's clearly wasted a lot of money paying for this flight!
Whomever paid for that plane, what a waste of money and time. FSG far from perfect but Jesus ?

— Alan Breen (@FowlersGod) March 5, 2023
Plane seems to have done the trick. FSG have somehow turned on the style on the pitch after their run of poor form.

— Darren Bellamy (@DazzaBellamy) March 5, 2023
Don't know if Klopp's got the money to take over from FSG https://t.co/rNKMKCV8ZJ

— R8 ?? (@Nabyllionaire) March 5, 2023
Would love to know which current football club owners the INDIVIDUAL who organised the plane (which the majority inside Anfield found an utter embarrassment) looks upon in envy. Man City? PSG? Real Madrid? Kroenke? Saudis? https://t.co/eTg7hcPwn3

— Chris Bascombe (@_ChrisBascombe) March 6, 2023
Thoughts and prayers with whoever paid money for that plane to fly an FSG out banner ahead of a home game against Man Utd. Brainless. #LFC

— VVDFC (@VVDFC1) March 5, 2023
Salah holds Nunez back
Nunez was ready to kill him, Salah had to hold him back ??? pic.twitter.com/CvK0Aw9TyB

— Talha (@LFC_Talha) March 5, 2023
After Darwin Nunez lost his cool earlier this season, getting sent off for a 'headbutt' on Crystal Palace's Joachim Andersen, Man United knew they could wind the Uruguayan up.
At 4-0 down, there was little left for the visitors to do other than annoy the Liverpool players, and when Luke Shaw nudged Nunez in the back while the forward was on the floor, Liverpool's attacker came close to responding.
Fortunately, Salah was on hand to diffuse the situation:
Salah holding Nunez back like "not today" ????

— ? (@applekaurr) March 5, 2023
See Salah holding Nunez back so he didn't do anything stupid after he got fouled by McCramperty. Salah knew he could lose his head. Well done lad ??

— Batchowski19x (@batchowski19x) March 5, 2023
Not Salah holding Nunez to the ground so he doesn't fucking start smth LMAOOO

— ali (@liverpoolsbitch) March 5, 2023
Up the Reds!