Former Liverpool midfielder and cult hero, Lucas Leiva, has announced his early retirement due to a heart condition.
The 36-year-old was in tears as he held a press conference to confirm the news on Friday afternoon, having first been pulled from pre-season training last December.
It's a sad end to the career for Lucas, who played 346 times for Liverpool between 2007 and 2017, having returned to his boyhood club, Gremio, last summer.
Sadly, testing in pre-season with the Brazilian club revealed an abnormality was found in his heartbeat, described as an "alteration of the cardiac rhythm."
The player was instructed to stay away from high-performance physical activities for a period of two-three months, with Steven Gerrard and Jordan Henderson among those to have sent their well wishes to their former teammate.
Now, the sad news has been confirmed that he has been forced into early retirement.
Lucas told reporters: "It's been a difficult period. I think this is the first time I've cried over this case.
"But I can only thank you. I'm ending where I'd like, not the way I'd like. I'm sure a new cycle will begin. I had a lot of hope that it could reverse, but it was not the case. My health comes first."
Lucas Leiva anunciando sua aposentadoria, impossível não se emocionar ?

Saúde e obrigado por tudo, LUCAS! pic.twitter.com/20QkHR7wsW

— ? ? ? ? ? ¹ ? ? ³ (@bernapoa2) March 17, 2023
Broadcasting the press conference, one Brazilian news outlet described the emotional scenes, saying: "Lucas Leiva was very emotional announcing his retirement, due to heart problems. I don't know about you, but the intern here cried along with him."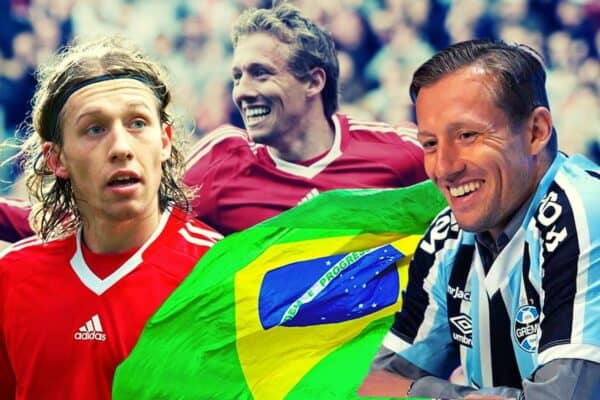 Writing on Instagram to review his career, Lucas said of his time at Liverpool: "In 2007 I moved to the giant Liverpool, which has been part of my life for 10 years, and I am very proud to say that today Liverpool is my home! I am proud to be an English citizen along with my family, I am a Scouser."
Lucas retires from football having made 586 appearances for his three clubs – Gremio, Liverpool and Lazio – plus 22 international appearances for Brazil.