Liverpool were woeful in their 4-1 defeat away to Man City, as the watching media bemoaned yet more Reds haplessness in an awful season.
Another Saturday lunchtime game, another weekend ruined early!
Jurgen Klopp's men took the lead at the Etihad, thanks to a beautifully-taken Mohamed Salah effort, but it was only downhill from there.
Having drawn level before half-time, City then pulled away in the second half, with Liverpool showing very little fight.
Here's how the media assessed the Reds' latest defeat.
This was yet another awful display by Liverpool…

Sam Wallace of the Telegraph was almost embarrassed by the ease at which City earned all three points:
"A giant performance from Pep Guardiola's players that makes it seven straight wins in all competitions and five points behind Arsenal at full-time.

"It was some way to start their nine-game April epic that will do so much to dictate the outcome of a potentially historic season. They will not encounter many opponents as passive as they found Liverpool in the second half in particular.

"An embarrassment for Klopp who had made all five substitutions before Guardiola made his first with eight minutes left.

"His Liverpool team never looked like they might win it, even when Mohamed Salah gave them a surprising early lead. Liverpool rarely had the ball in the second half, and they seemed not to know how they might get it, as the goals came."
Defensive woes were again a major issue, according to the Mirror's Colin Millar:
"Much has been made of Liverpool's need to revamp their midfield and this was the latest indication that the side's defensive structure is in desperate need of renovation.

"Unbelievably, this was the ninth match this season in which Jurgen Klopp's side had conceded three or more goals!

"It was the second time it had happened against Man City, while also occurring twice against Brighton alongside games against Napoli, Real Madrid, Arsenal, Brentford and Wolves."

James Pearce of The Athletic echoed that, admitting defensive shortcomings have been a huge problem all season:
"It would be easy for Klopp to dismiss this — far more than some of Liverpool's other defeats this season — as a simple case of being outmaneuvered by a brilliant team and sure enough there were periods when, with and without the ball, they performed almost exactly as he would have wished.

"But there were moments when their defending simply wasn't good enough.

"What seemed like little things — Andy Robertson being sucked in towards a challenge on De Bruyne in the build-up to City's first goal, leaving Mahrez in space behind him, or Jordan Henderson losing track of De Bruyne on the halfway line in the build-up to the second — effectively left Liverpool's whole defence exposed.

"Trent Alexander-Arnold and Virgil van Dijk were both too casual for the fourth.

"That has been the story of their season: individual mistakes compounding a collective malaise, or is it the other way around?

"For so much of Klopp's tenure, the enthusiasm and intensity of this Liverpool team has appeared contagious. This season it is errors that have been allowed to spread."
Phil McNulty of BBC Sport felt this was another sign of Liverpool's huge decline this season:
"Liverpool have been the shadow on Manchester City's shoulder in the title races of recent times – now they are simply a shadow of the side that chased a historic quadruple last season.

"Jurgen Klopp's team may occasionally show their former selves, like in the 7-0 demolition of Manchester United, but too often this season they have been mediocre and now they face a fight to finish in the top four.

[…]

"Much is made of Liverpool's pursuit of Jude Bellingham but even if they are successful against opposition from many of Europe's elite, the idea that the brilliant teenager will cure all their ills is a delusion.

"Klopp looked, in turns, furious and bemused at Liverpool's rank bad defending, lack of intensity and the manner in which they were over-powered – but given their previous form this season, he should not have been that surprised."
Too many players simply weren't good enough…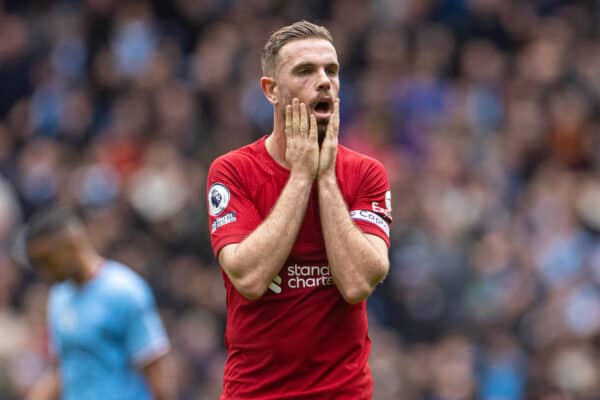 This Is Anfield's Mark Delgado focused on inept pair Jordan Henderson and Trent Alexander-Arnold:
"Jordan Henderson was perhaps the worst player on the pitch first half, but the captain is spared being the biggest fall-guy for the match as a whole on account of two defensive team-mates.

"Alexander-Arnold put in perhaps the most pathetic and disinterested showing the Premier League has seen this season, starting with losing his head in a series of battles against Jack Grealish – clipping his head with a boot, then fouling him on purpose – and ended with the right-back not bothering to track the same player in the slightest for the fourth goal of the day."
In between slating Liverpool's performance, McNulty also lambasted some usual Reds suspects:
"The midfield pairing of Jordan Henderson and Fabinho look tired and vulnerable and Virgil van Dijk has lost much of his old authority at the heart of the defence.

"Alexander-Arnold had another dismal 90 minutes and Andrew Robertson, his full-back partner on the other side, did not fare much better. Both were left exposed and City took full toll."
Does this Reds side even deserve Champions League football?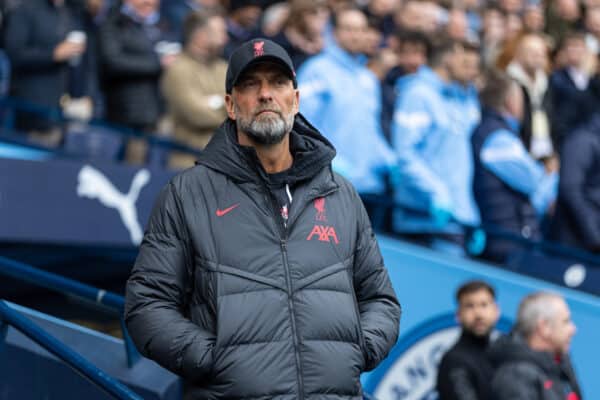 Delgado looked ahead to what is now likely to be a defining week, in terms of Liverpool's top-four chances:
"Next up after this thrashing is Chelsea in midweek, then league leaders Arsenal.

"They sound horribly tough matches and no doubt will be, but the Blues have been as bad as the Reds this season and we usually have the Gunners' number at Anfield. Title pressure does strange things to teams, too.

"As such, there's no imminent need for total despair and giving up on the top four if you hadn't already done so before kickoff against City.

"Three massive matches were never going to yield nine points to this team this season, but six from nine would likely take us a step closer to the top four than we were before the international break.

"So take the defeat, take out the dismal performers, and go again in midweek – this time preferably without collapsing in boneless fashion after taking the lead."
On Twitter, David Lynch even looked beyond this season and focused on a pivotal summer at Anfield:
Foolish to think a Liverpool side with this away record would take anything but a heavy beating from treble-chasing Man City today. But, while the gap looks humongous right now, you're never as far away from challenging as you think. Have to get this crucial summer right.

— David Lynch (@dmlynch) April 1, 2023
Finally, Neil Jones' damning assessment for Goal suggested he doesn't believe a top-four finish is on the cards:
"Klopp must have been heartbroken watching City toy with his dejected side in the closing stages here. He will have heard the chants of 'you're getting sacked in the morning' from the home fans, and will certainly have noticed the swathes of empty blue seats in the away end, well before the final whistle.

"Whatever he is trying at the moment, it ain't working. Liverpool are weak, timid and far, far too easy to play against. They lose their focus and their confidence at the drop of a hat, and concede goals that an Under-11s reserve team would be embarrassed by.

"They had only four shots here, their lowest total in a Premier League game since 2011, but this was not a story of attacking struggles. It wasn't even one of defensive frailties or midfield weakness, to be honest.

"The truth is, this a team that simply cannot do what it used to, and its problems are so vast that even Klopp, a genius of a manager, may find the task beyond him."